Click on the name of the Soldiers for more details.
Earl

T

Forbes
Unit: 17 Engr Bn 2nd Armd Div, Company A or B
Rank: Private
Born: 1912
Awards and Citations: Silver Star, Purple Heart
Enlisted: 09/15/1943
Deceased: 01/04/1945 KIA (Killed in Action)
Location: Belgium, Ardennes region: Odeigne, La Batty, Cosy, Erezee, Beffe, Devant-Tâve, Lamorménil, Dochamps, Amonines
Hometown:
Army Serial Number: 3589476
Burial: Henri-Chapelle American Cemetery and Memorial
Henri-Chapelle, Arrondissement de Verviers, Liège, Belgium
Plot: H row 7 grave 36
GPS (lat/lon): 50°41'50.2″N 5°54'11.2″E
Biographical Info
Location grave Private Earl T Forbes at the Henri-Chapelle American Cemetary:

Where was Private Earl T Forbes killed in action?
Campaign: Belgium The Ardennes, battle of the Bulge, second phase.
Now follows historic information on what happend on the 4th of January 1944
Platoons clearing mines with front line elements firing the period Jan 4-8; "C" Co. had charge of constructing a corduroy bypass, and Co, "D" was removing mines and pulling outpost duty with tanks. Bulldozers were worked steadily filling crater holes, pushing knocked out vehicles off roads and assisting in the removal of road blocks. Moving Hq. to Erezee, the Bn made a study of stream crossings of L´ourthe River near Houffalize.
(Source: Unit History of the 17th Armored Engineer Battalion)
---
=========================================================================
"4 january:
No change in Command Post. (Morville, Belgium)
Comapny A & B actively engaged clearing roads of mines and de-icing to support advance of Combat Commands.
Company C trained in Threadway Bridge and assisted Company B in Maintenance of roads.
Recon platoon also worked on Roads.
LT Gish assinged to Company A to replace LT Smith.
Company B had 3 casualties, Company A had one.
(Source: After action report, JANUARY 1945, 17th Armored Engineer Battalion)
=========================================================================
4th January; Combat Command A, Taskfore A, with attached:
– 1 platoon, Company A, 17th Armored Engineer Battalion.
"Brigadier General Collier's Combat Command A starting to attack on January 4, planning to capture the town called "Beffe"
The weather was terrible, lots of snow, mist and very low tempratures, the roads were very slippery because they were coverd with ice.

The left column of Taskforce A remained near Magoster, driving the enemy from the immidiate region. As the haze lifted, the Americans spoteed 7 German tank in a valley about 800 yards to the south west.

A Tankdestroyer cam forward too engage the enemy tanks but it was destroyed after firing a single shot. At 8:00 PM Lt Clnl. Huge O'Farrell, the taskforce Commander, cosolidated both collumns at Beffe and sent a patrol to determen if "Consy" were held by the enemy. He had an unconfimed report that the town and the road junction were clear. In fact, the enemy was in the hamlet, and in strenght: the next day the battle to take, it was bitter.
4th January; Combat Command A, Taskfore B, with attached:
– 1 platoon, Company A, 17th Armored Engineer Battalion
Taskforce B planned to capture "Devantave" on January 4. The Germans attacked at 4:50 AM, 6:15 AM and at 8:30 PM, attempting to drive them from the village. All three attacks were repulsed by artillery firing fuze VT8OE (POZIT) with deadly effect. The Taskforce resuming its attack at 3:35 PM ran into stiff resistance on the outskirts of town. After destroying 4 enemy tanks, it pulled back to the woods West of the objective to consolidate for the night. The men could hear the enemy digging and improving their positions, but heard nothing else unusual.

4th January; Combat Command B, Taskfore Y, with attached:
– 1 platoon, Company B, 17th Armored Engineer Battalion
In the left sector of the division zone, general White orderd Taskforce Y of Combat Command B to attack and capture "Lamormenil". Its advance was contested by small arms, artillery, mortar and anti-tankfire as well as roadblocks. By 11:00 AM elements of the command had entered the edge of the townn and by noon had forced the enemy troops out. Still, when the 3rd battalion, 333rd Infantry regiment, 84th Division, began moving into the town later in the day, the Germans from positions on the high ground west of the town layed heavy fire along the road which the infantryman were using. The Taskforce regrouped and attack to take that high ground, but the determend resistance forced the man to halt and consolidate positions for the night.

4th January; Combat Command B, Taskfore X, with attached:
– 1 platoon, Company B, 17th Armored Engineer Battalion
Taskforce X continued to advance down the "La Batty-Odeigne" road to take Odeigne and "Dochamps". The two columns move forward against heavy resistance, with the infantrymen suffering more than the tankers. Furthermore, the cold weather was taking it toll. The Americans slowly moved ahead but the enemy limited their advance to about 1200 yards. By the end of the day, one column was finally in posistion to attack Odeigne. The men were orderd into defensive position for the night and to prepare for the next day action.

4th January; Combat Command A Reserce, (Taskfore R), with attached:
– 1 platoon, Company A, 17th Armored Engineer Battalion
Combat Command Reserve, which had not been commited to the battle, had been placed on a 30minute alert when fight openend. It was orderd to "Le Batty" too join combat command B.
(Source: Book: Hells on Wheels 1942 – 1945 by Donald E. Houston)
Location where Private Earl T. Forbes was killed in action:
Private Earl T. Forbes was with one of the platoons of Company A or Company B, it is not possible to tell on which of the actions of the Taskforces he was Killed in Action.
We do know they it was a period with lots of work done under direct enemy fire from small arms, artillery and mortarfire, and that there were casualties during mine sweeping.
On the 4th of January he was Killed in Action, at the same period between 4th and 6th of January 4 men went missing. It is possible that Private Earl T. Forbes was first reported as Missing and later on found to be Killed in Action.
---
Newspaper article:
The Times (Munster, Indiana, United States of America) · 7 Mar 1945, Wed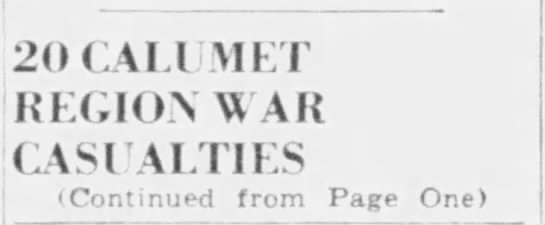 ---
Casualtylist Earl T Forbes Detail, Lake County, Indiana
Earl T Forbes Burial Record
The location of the house where Earl T Forbes lived with the family, as an 28 year old "Section Laborer" for a Railway Company:

Adress: Unites States, Indiana, Gary Lake, Fairbanksstreet 857
The household in the year 1920 of Earl T Forbes with the family, where he lived as an 7 years old son:
| US Sensus 1920 | Role | Gender | Age | Birthplace |
| --- | --- | --- | --- | --- |
| Silas T Forbes | Head | Male | 55 | New York |
| Mary J Forbes | Wife | Female | 45 | Indiana |
| Gladys M Forbes | Daughter | Female | 17 | Indiana |
| Birdie B Forbes | Daughter | Female | 15 | Indiana |
| Fred T Forbes | Son | Male | 13 | Indiana |
| Earl T Forbes | Son | Male | 7 | Indiana |
| Raymond L Forbes | Son | Male | 5 | Indiana |
| Florence H Forbes Daughter F 3 Indiana | Daughter | Female | 3 | Indiana |
Father: Thadeus S Forbes
Mother: Mary J Quadlin – Forbes
Enlistment details
Race: White
Birth: 1912 Indiana, Furnesville, Porter County
Residence: Lake County, Indiana
Height: unknown
Weight: unknown
Civilian Occupation: Transportation occupations, n. e. c.
Marital Status: Single, with dependents
Education: Grammar School
Citizenship: U.S. Citizen
Rank: Private
Enlistment date: September 15, 1943
Enlistment location: unknown
Enlistment Term: Enlistment for duration of War plus six months
PICTURES:

———-
Research © by: Martijn Brandjes
Text © by: Martijn Brandjes
Photos © by: Moos Raaijmakers, findagrave.com
Categories:
17 Engr Bn 2nd Armd Div - A Company,
17 Engr Bn 2nd Armd Div - B Company