Normandy Campaign – France
The 17th Armored Engineer Bn. departed from Tidworth 6 June 1944, for the marshalling area near Portland, England. Co. "A" was attached to CC. "A", Co. "B" to CC. "B", Co. "D" to the 82nd Rcn. Bn., Hq Co. and Co. "C" with one platoon of Co. "E" moved under division control. One platoon of Co. "E" with a few vehicles and drivers from each company and the personnel section remained at Tidworth to come at a later date (D plus 30).
Coming across the channel in LSTs the trip was unforgettable in the vast numbers of ships of all types which composed the invasion armada and the large number of plnes flying overhead. Landing at Omaha "Red" Beach, in the vicinity of Saint-Laurent-sur-Mer, the first of the Bn. to reach France was Co. "A" on 9 june, followed by Co. "D" the next day, and Hq Co, Co. "C", CC. "E" and the Medical Det. 11 June 1944. Co. "B" arrived 12 june, and the rear detachment 3 July.
---
(Edit 1: the information from the Captain Orville "Pete" Cowart gives more insight of the first 17th Engineers that landed, reade more here: Captain Orville "Pete" Cowart)
---
The Bn, after reassembling and de-water-proofing near Mosles, moved to the vicinity of La Mine, France on 11 June. Bivouacking in the woods near Division Hq, the units under Bn Control worked on road improvement, set up water points which during this period showed an average output of approximately 18.000 Gallons a day – the highest they ever recorded – and built several small bridges in rear areas. Enemy planes strafed the areas on several occasions, and "Bedcheck Charlie" came over every night.
---
---
On 13 June Co. "A" and a detachment of Co. "E" supported the attack of CC. "A" near Carentan. A flamethrower party was furnished 3/41, and the tank dozer was used considerable in making paths through hedgerows for tank advance. The entire company was employed in mine sweeping operations and in holding defensive positions. (Enemy Artillery fire killed Pvt John Hoffman, and Francis Bonitatebus, Co. "A", and Pvt Raymond V. Larking Co. "E" on 15 June, the first casualties of the Bn. on the continent.) The force returned to the vicinity of La Mine 17 June after the very successful operation which had prevented our beach-head from being cut in half.
---
(Edit 1: these are the graves of Private Francis J Bonitatibus, Private John Hoffman, Private Raymond V. Larking who were killed in action by artillery on June 15 1944)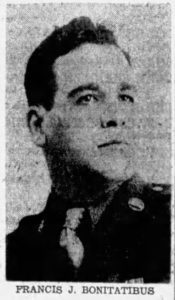 ---
(Edit 2: It is remarkable that the names of Hoffman, Bonatibus and Larking are being mentioned in the unit History, but that Sergeant Elmo C. Farrow is not.
This could be explained by the fact that Elmo C. Farrow "died of wounds", so that he was wounded during the enemy artillery and was sent back to a Medical Post, and died later on that day due to his wounds. It could be that the front elements never knew about his death and therefore was not mentioned in the after action reports.
The grave of Sergeant Elmo C. Farrowwho died of wounds June 15, 1944.

---
Read more here about: After Action reports HQ CCA 1 june – 30 june 1944 (Source: Ike Skelton Combined Arms Research Library)
---
Read more about "Omaha Beach de 'Le Ruquet' Draw, Normandie, Frankrijk 1944 here"
---
(Read more about: Private First Class, Kenneth C. Hanna)
---
2nd Lt. Raphael E. Januzzi, Sgt. Gordon F. Walker, and Pvt Anthoney DiBartollo, of the Reconnaissance platoon, were killed 16 June when they drove into an enemy ambush near Saint-Clair-Sur Elle while making a road and bridge reconnaissance. Considerable work ot this type was being preformed during the period 18 to 30 June, and training was being carried on in breaching hedgerows and other operations.
---
(Edit 3: This is the grave of Sergeant Gordon F Walker from Recon platoon, HQ, who was killed in action by an enemy ambush with machinegunfire)
---
(Edit 4: This is the grave of Anthony Di Bartollo of Recon platoon, HQ, who was killed in action by an enemy ambush with machinegunfire)
(Edit 5: The 2nd Lieutenant Recon platoon, HQ, who was killed during the ambush with machinegunfire was 2nd LT Raphael E Jannuzzi)
---
(Edit 6: This is the Gravestone of Private John Michael Cabey who died of wounds on June 19th 1944)
---
(Edit 7: read more about this periode in the Afer Action reports june 12th, 1944 to june 29th 1944)
---
On 1st July 1944 the Bn. was placed on the line in defensive positions near Caumont-l'Éventé, Companies "A" and "B" in the front lines with their respective Combat Commands and the remainder of the Divisional Reserve in the vicinity of Balleroy. CC. "A" during this period constructed numerous tanks trails to the front using bulldozers, culverts and logs. A Minefield consisting of 1185 mines was laid and wires in before Co. "H", 41st Inf. Position by the 1st and 2nd platoons, and the 3rd platoon removed 36 hawking grenades from a roadblock and laid 20 American mines at the same location. Co. "B" was doing like work in its sector, building four miles or roads to the front, placing mines in front of the Infantry, and built bomb shelters for CC. "B"
Relieved from these positions 16 July, the Bn. moved back to the vicinity of La Mine to prepare for the next operation.
---
Article from Lieutenant Edwin E Spears, Company C 17th Armored Engineer Battalion:
`Constant drone of airplanes'

ED SPEARS, ASHEVILLE

Memories of the Allied landings in Normandy 50 years ago can be recalled only in part, some impressions vivid, but in large part a jumble of details of a somewhat forgotten historic event. On June 6, 1944, I was riding a train from the 2nd Armored Division's training site at Tidworth Barracks, west of London, to the Operation Overlord staging in the Southhampton area on the southern coast of Great Britain. Throughout the trip we could hear the almost constant drone of airplanes overhead, carrying paratroopers for the initial landings (some on D minus 1) in Ft.ance and attacking defense installations as assault forces came ashore. The assault troops, of course, were the real heroes of D-Day, taking casualties from enemy fire and the landing process itself as the men waded ashore from the front ramps of landing craft while naval warships pounded enemy targets with gunfire. It was they who made the beachheads secure for the arrival of succeed-ing forces. At the British port the platoon I commanded (some 50 men) of the 17th Armored Engineer Battalion loaded aboard a Landing Ship Tank with our three half-tracks, two jeeps and one truck that had been waterproofed in advance. Changes in the weather delayed our departure date. Tank units and other forces of the division embarked on June 8, our divisional history reports, and reached Omaha Beach landing areas by midnight, with one LST sinking from an enemy mine, but as a whole the group encountered little resistance in moving inland to the assigned assembly area near the village of Mosles. As I remember it, my group landed at D-plus-5 on Omaha Red. The beach area debris and the thought that snipers might he watching made us apprehensive, but the landing itself came off in a routine manner. We moved inland to our assigned bivouac with no major difficulties. Another officer of my battalion, we heard later, had the misfortune of riding up the beach past a point where Gen. George Patton was observing, and was fined by the general for a uniform violation. Tanks, infantry and artillery of the division's Combat Command A had their first major contact with German forces June 13 during a sweep into the Carentan area held by the 101st Airborne Division. Back in our bivouac area I recall the many flights of aircraft overhead, and the sight of one small plane that buzzed our area and drew the comment: "Look at the Red Cross plane!" A bit of strafing awakened us to the fact that the insignia was a swastika. Getting troops ashore was a turning point in the war, but in itself was a prelude to long days of fighting ahead. At the beachhead bivouac we underwent intensive training in overcoming the hedgerows common in that part of France. our company being assigned a tank with bulldozer blade to knock holes in hedgerows; also in dealing with mines and booby traps and the use of demolitions. Heavy resistance was encountered weeks later as the Allied forces broke out from the beachhead and carried out a war of movement across France. Belgium and Holland and on into Germany where the 2nd Armored Hell on Wheels took a leading role in initial occupation of Berlin.
(Transcribed: Martijn Brandjes)
More info about LT Edwin E Spears here: LT Edwin E Spears