Updated
"06-2021"
Unit history of the 17th Armored Engineer Battalion from July 1940 to May 1945
On oktober 1st, 1933 the unit was initiated as the 17th Engineer Battalion (Heavy Ponton) Motorized.
Activated on 1 July 1940, as an organic part of the Second Armored Division on july 15th 1940 at Fort Benning, Georgia. The unit originally was designated 17th Engineer Battalion (Armored) under a Table of Organization that called for a Hq and Hq Company, three line companies, "A", "B", and "C", and a bridge company "D" with a Medical Detachment and Chaplain attached.
However, it was 26 August 1940 when the first personnel arrived at Fort Benning, to begin the Battalions first Morning report. On that day 14 EM of the original cadre arrived from the 1st Engr. Bn (C) of the 1st Infantry Division at Fort Du Pont, Del. (a few of these having been transferred from the 29th Topographical Engr. Bn Shortly before), and S/Sgt Edward L. Bass, the ranking NCO, reported the men in and they were set up in pyramidal tents in the "Frying Pan" Area in Fort Benning proper. The following day (27 Aug 1940) 11 EM arrived from the 16th Engr. Bn. (Armd) of the 1st Armd Div at Fort Knox, Kentucky and 19 EM came from the 5th and 13th Engineer Regiments at Fort Belvoir, Virginia. – Which was the complete enlisted cadre.
---
---
Edit: Read more about Lieutenant Francis Turner and his heroic action here: Veteran Mr Francis C. Turner
---
Enlistment pictures during basic training
---
Edit: Read more about Technical Corporal Paul Ouellette here: Technical Corporal Paul Ouellette
---
---
Edit: Read more about Corporal Sam Payne here: Corporal Sam Payne
---
The first officer assigned to the Bn to arrive at Fort Benning was 1st Lt. W.W. Smith, a West Point Graduate who came from Fort Knox, arriving 4 September 1940, and who assumed temporary command. Two days later other officers began arriving and Major Howard Peckham assumed command.
Other officers assignment at this time were Major Lustenberger as Executive Officer, Capt. Benjamin S. Shute As CO of Hq Co. and BSO, 1st Lt. Frisby as CO of Co. "A" (with 1st Lewis W Correll second in command), 1st Lt. Logan as CO of Co. "B", 1st Lt. William Lewis as CO of Co. "C" and 1st Lt. Stephen E. Smith as CO of Co. "D"; 1st Lt Henry W. Hurley was Bn Adjutant and 1st Lt. Hagen was S-3, From the enlisted men, S/Sgt Ballard was the ADE Sergeant, S/Sgt Vause the Motor Sgt, S/Sgt Dewey Lee the Sgt Major, Sgt Kill the Supply Sgt, and in the companies the first Sergeants were Sgt Wilson, Co. "A", Sgt Kane, Co. "B", Sgt Wilson, Co. "C"
---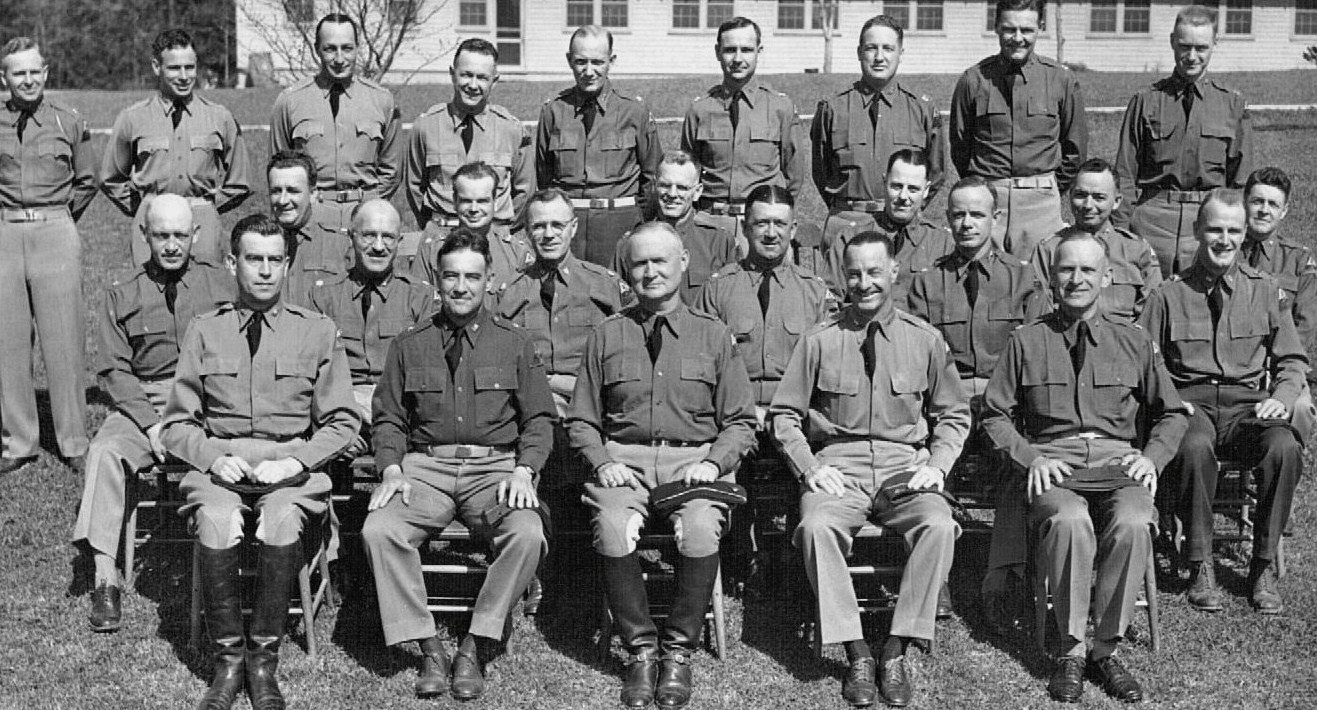 ---
On 10 September a group of 300 men was transferred in from the 20th and 4th Engr Regiments, and then followed the period of drawing equipment and carrying out basic training, with replacements coming in regularly, those after this date being primarily from new recruitments in the Regular Army, until the first built up to strength. Six water points were drawn, light pontoon (10 ton) bridging equipment, bull dozers, halftracks, ¼ ton and 2 ½ ton trucks, and the various other organizational equipment. In November the Bn setup one of the 21 training companies then organised throughout the division, which Maj. Lustenburger commanded and S/Sgt Bass (Who had been division water supervisor) was 1st Sgt, and in this company the new men then being assigned to the Engineers were given basic and special training.
---
Newspaper article 1940
United States Army's new pistol and target range at Fort Benning, Ga., will bear the name "Frey Range" In honor of Sergt. Walter F. Frey of Company A, 17th Engineers's Battalion, who was fatally injured there on October 10 while driving a motorcycle. Copy of an official order from Major General Frederdall so designating the new range was received yesterday by Sergeant Frey's parents, Mr. and Mrs. Emil Fred of 160 Prospect Street, together with a letter from the young soldier's commanding officer, Captain V. Frisbie. "Sergeant Frey had completed his first three-year enlistment tn the Army on September 15 and had re-enlisted just before the fatal accident. The general order from the Fort Benning commander states that the new pistol and 1,000-inch target range constructed by the Second Armored Division north of Upatoi Creek is designated as "Frey Range" in honor of Sergt. Walter J. Frey, Company A, 17th Engineers Battalion, who died nt Fort Benning October 10 from injuries received as a result of a motorcycle accident. The order was issued by Major F. M. Smith, adjutant. Captain Frisby's letter to the father includes the following: "This memorial to Sergeant Frey commemorates his last duty to his country. It was during the construction of this range. by Company A, 17th Engineers Battalion, that Sersreant Frey was fatally injured. It is, however, only a small measure of the high regard in which he was held by his fellow soldiers and superior officers. It seems most fitting and appropriate that the range should commemorate the faithful service of your son. Trusting you and Mrs. Frey are well, I am sincerely yours, Captaia V. Frisby."

The Wilkes-Barre Record
(Wilkes-Barre, Pennsylvania)
28 Nov 1940, Thu • Page 24
---
Early December the Bn moved with the division to the Harmony Church area just outside Fort Benning. By this time the unit was up to strength. Also at this time Maj. Peckham was assigned to the Div. Hq. Staff, ad Maj. Shute assumed command. Promotions also raised Lt. Hurley to Major , and he was mande Exec O. And Capt Correll became Asst Div Engr. Capt. Southard at that time was Personnel Adjutant.
During the early months of 1941 cadres were being sent out to the 3rd and 4th Armored Divisions, but men and Officers were being replaced, and all training was intensified to prepare the unit for participation in the coming manoeuvres. Valuable experience in march discipline, in building bridges, supplying water, working on roads, in reading and distributing maps, and in living in the field was gained by the engineers in the Tennessee, Louisiana and Carolina manoeuvres in the summer and fall of 1941.
---
10-2020
Video: Scenes of Army war games in Louisania
---
---
---
---
By RALPH McGlLL

Oh the Engineers….
" There was the yellow river. 314 feet wide, a matter of 25 feet deep, and running rather swiftly. General George S. Patton stood watching as the 17th Engineers, men and non-coms, started in to build a steel bridge across the Chattahoovhee river at a point on the Fort Benning Reservation. The picturesque and efficient commander of the Second Armored Division watched that span of steel grow, swiftly and surely. Sections of the treadways, attached to huge rubber pontoons, less vulnerable to rifle or machinegun fire than the ordinary boat of wood or" metal, were rafted into place and the steel sections locked. The men, less than 100 of them to build a steel bridge more than .100 feet across a swift river, worked hard, fast and efficiently. About 40 percent of them were selectees. On the bank stood a group of visiting officer. This was the first test of something the officers of armored divisions have been wanting a bridge to take their tanks across streams speedily and safely. The old wooden bridge, built across wooden supports placed on boats of aluminum, was all right for horses and wagons. It was " not so good for automobiles if the weather was wet and muddy. It was not at all good for tanks. Its position was so that if a tank or one of the modern trucks, was off line a few inches, that section of the bridge would tilt. As it tilted it pushed that end of the boats below into the water. The tank, or truck, as the bridge tilted, slid off into the water. This bridge was the first of its kind, on rubber boats, which don't sink. The treadways keep the tanks and trucks in line. They can whizz across.

THE AMERICAN SOLDIER
General Patton looked on, following every move with interest. "I get a real thrill out of watching these engineers work." he said. "There is no finer soldier or man anywhere than those in the American army." From visiting officers, too, there were words of high praise for the army and for the selectees. "You can't pour too much work on them," they said. "They are great soldiers." The life of an engineer or a soldier in the armored divisions is not a bed of roses. Yet their morale is high and always has been. They are doing things, advancing, developing. The cavalryman becomes very angry with any critic who suggests the horse is finished as an attacking unit. But it is. The horse remains as a secondary force to bring up artillery or supplies in certain types of terrain. But the horse, as much as we like him, is cast for a secondary role. The ubiquitous, arrogant little "peep." which can go almst any place a tank tan go. is faster and ran maneuver in no more spare. The army has been going along with the old-type pontoon bridges. They could be put down fast. The boats were of aluminum. On them were laid the stringers. There were crosspieces. or sills, and rails. Across the sidepieces were placed the heavy floor pieces, each weighing (and this surprised me) 150 pounds each. The steel bridge weighs less. They could be put down with great rapidity, in a sort of assembly line plan. It was great work. But there were hundreds of planks and sills and stringers. There were clamps and connections. Each stringer had four places to be clamped. This new type, which grew out of the mind of an engineering officer who had a tank slide on the old-type wet, muddy bridge, can be used with the rubber boats or the aluminum boats. It is composed of steel treadways. They have a four-inch raised rail which keeps tanks or trucks or "peeps" or "jeeps" in line and in center. The rubber boals are less vulnerable to fire and they won't fill with water and sink. Horses can't go across on the steel treadways. If they should have animals to transport, they can put planking across and let them go. But the motorized armored divisions want speed. They want their tanks and half-tracks and their scout ears to cross bridges swiftly. On this new type, the first real advance in pontoon bridges since the pontoon was invented, the scout cars can travel 30 miles an hour, and the tanks can go 20 and 25. "

TIME IS OF THE ESSENCE"
The Germans developed the best-trained army in. the world by refusing to accept the traditional equipment and developing new guns, new tanks, new methods of attack fitted to the machine age. They also developed a closer contact between men and officers: a teaching of the individual soldier, and this has been done in our army to some extent. It has been done in the armored divisions more than in any other. Every man has got to know his job. They can't be just automatons waiting on parade for commands. "Time is of the essence." The armored divisions had to make a fight to get their new-type bridge built and made ready for a test. There was considerable opposition to it. Now, they've got it and it is a great advance. It has other merits aside from permitting quicker construction, more safety for transport and more speed. You can carry this new type pontoon (rubber boats inflated on the shore) in the regular trucks of the engineering company. The boats can be seen from the air and the countryside. They can't be hidden. You can carry 30 feet of bridge on one truck. With boat pontoons you carry 15 feet in one truck plus a trailer. You needed almost 200 men for the old type. For the new one you need less than 100. It was a real thrill seeing 315 feet of river spanned for heavy tanks in 2 hours and 6 minutes. They'll cut that to 1,5 hours.

The Atlanta Constitution (Atlanta, Fulton, Georgia, United States of America) · 20 Dec 1941 (Newspapers.com)
---
---
---
---
The bn was re-designated 17th Armored Engineer Bn on 8 January 1942 on receipt of a new Table of Organization. During the Latter part of March 1942 Co. "D" was re-designated Co. "E", which thereafter was the letter for the bridge company, and the new Co. "D" was organized from the remainder of the Bn a fourth line company. At the time of this change Capt. Ray became the first CO of Co. "E" and 1st Lt. Carter was given command of Co. "D" Bridge equipment also was changed, and Co. "E" began drawing the M-1 Tread way ( 15 foot) which was carried on semitrailers and unloaded with cranes.
Training with the new bridging equipment was instituted, and during the Carolina Manoeuvres that summer its tactical employment was practiced, one large bridge being built over the PeeDee River by company "B"
---
---
After the manoeuvres, the Division was assembled during August at Fort Bragg, N. "Staging Area" to prepare for overseas shipment and landing on a hostile shore – the location of which was known only to the higher ranking officers. In September the invasion teams were organised, issued special equipment and given special training. The plan called for the employment Co. "A" in entirely, the three line platoons of Companies "B", "C" and "D", and a bridge platoon of Co. "E". The departure of Colonel Hute placed Lt. Col. Hurley in command of the Bn at this time, and a accompanied Maj. Gen. Harmon on the expedition as Task Force Engineer.
---
Pittsburgher Technical Sergeant From the Sales and Service Division of an industrial appliance organization to Technical Sergeant, U. S. Army, is the history of a Pittsburgher, John H. Newman of 4375 Schenley Terrace. He first en listed in October, 1937, and re-enlisted in 1940. At present is Technical Sergeant, headquarters Com pany, Engineer School Service Command, Corps of Engineers, Fort Belvoir, Virginia. Formerly he was in charge of Recruit Training, 17th Engineers, 2nd Armored Division, Fort Benning, Ga. Sgt. Newman John Harold Eastman, son of Mrs. Sara Eastman, 7515 Finance St., Homewood, is stationed at Jacksonville, Fla., with the U. S. Naval Air.

The Pittsburgh Press (Pittsburgh, Allegheny, Pennsylvania) · 2 Jan 1942 (newspapers.com)
---
ALWAYS TOGETHER—Corp. Charles (right) and Sonny Logue, soldiers of an Engineer Battalion at Fort Benning, Ga. FORT BENNING, Ga., March 11— shipped to the Second Armored friThousands of soldiers and hundreds Division's Replacement Training Center here. For six weeks they of training camps scattered through- slept alongside one another in the !out the land, but yet two brothers same barracks, drilled side by side have somehow always managed to and learned the fundamentals of a , be together. And now after a year's blitz soldier together. But at the !service with the 17th Engineer Bat- I end of this period they were to talon of the Second Armored Divi- leave the training center to take sion, the brothers Logue of West different positions with the division. Roxbury have been accepted in the Sonny was assigned to the 17th Army Air Corps. Maybe the two Engineers; Charles was sent to the will some day fly together. 68th Armored Regiment. They were "Perhaps it's the hand of God," in the same division all right, but Charles, the elder brother, said, "but they were not together. Charles, somehow or other Sonny and I have reporting to his new company, ex-never been separated. We've seen plained the situation, and his com-a lot together, and if our luck holds pany commander had Charles trans-out perhaps we may go right on !erred to the 17th Engineers. seeing it through together: This was the way they wanted it, All their lives, Charles and Sonny, at last. During the day they would two of seven children of Mr. and pass one another on their way to Mrs. Aloysius Logue, 9 Garden st., duty; Sonny, now a private with a 1were inseparable. But Uncle Sam demolition squad, and Charles, cor-almost broke the team up when oneiporal in a combat platoon. At night, day he called Sonny to the colors. , they would read their letters from Five days later, Charles walked out home, which were sent to them by of his office and into the office of a their parents on alternate days. ' recruiting board. In a few hours he Packages were split in two-maple was once again by Sonny's side— sugar cake for Charles, the brown i this time at Fort Devens. I bread for Sonny. On maneuvers. But Devens was only a stopping- Charles very often became sepa-off place for rookies, and in a few rated from his outfit, but strangely days Sonny had his orders to leave. enough he could always find Sonny. His barrack bags were packed, and A year passed. and then the Jap with his platoon he marched off to flew over Pearl Harbor. Sonny the troop train. Charles was not to wanted action. Without telling make this trip. At the station a few Charles, he applied for the Air Corps names were read off a list. These and was accepted. But that is some-, men would report back to their com- thing you don't keep long from a panics. Sonny's name was on the brother. And three weeks later. list. Once again the brothers were Charles was facing the same board together. that examined his younger brother. One week later, they were both He, too, was accepted.

The Boston Globe (Boston, Suffolk, Massachusetts, United States of America) · 11 Mar 1942
---
---
"06-2021"
Wedding First Sergeant Frank Arnone with Grace M LaRocco in 1942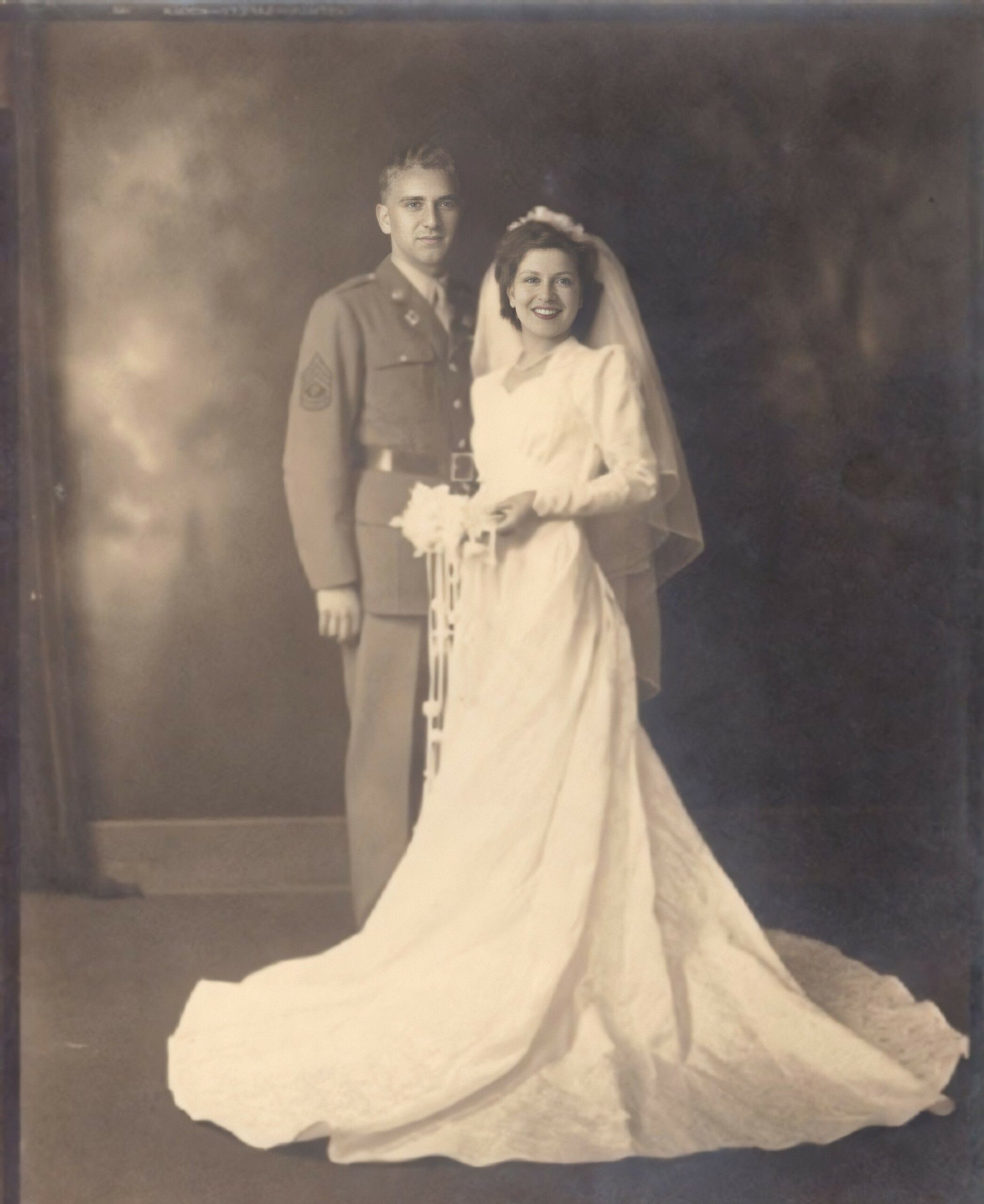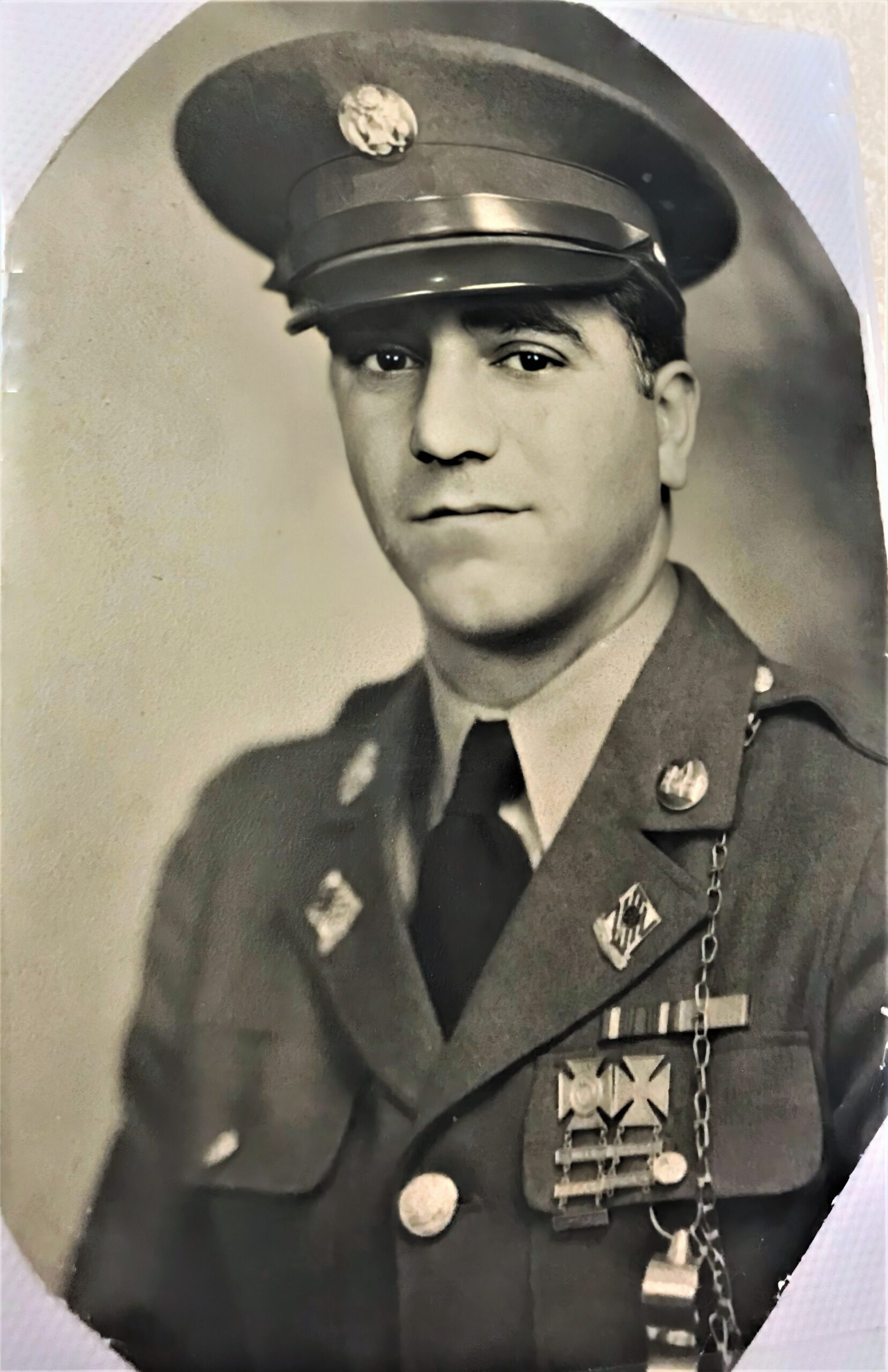 ---
"06-2021"
DEATHS STROM, Private Wilfred, 36, of Company D, 17th Armored Engineers battalion, Fort Braggs, N, C., died here October 10, 1942. Native of Pine City, Minnesota. Only survivor known here his father, George W Strom, of Pine City. Body sent October 13 with millitary escort to Pine City for funeral services and interment. (Carder Funeral home in charge.)

Private Wilfred Strom – Daily Press (Newport News, Newport News, Virginia, United States of America) · 14 Oct 1942

Private Wilfred Strom dies October 10, 1942
---