Constructed by:
17th Armored Engineer, Company "B"
Date:
18 September 1944
Build in time:
1,5 hours
Place:
Across the Geleenbeek stream, at Vaesrade, Nuth, Holland at the Krathagermolen.
Length:
60 Foot
---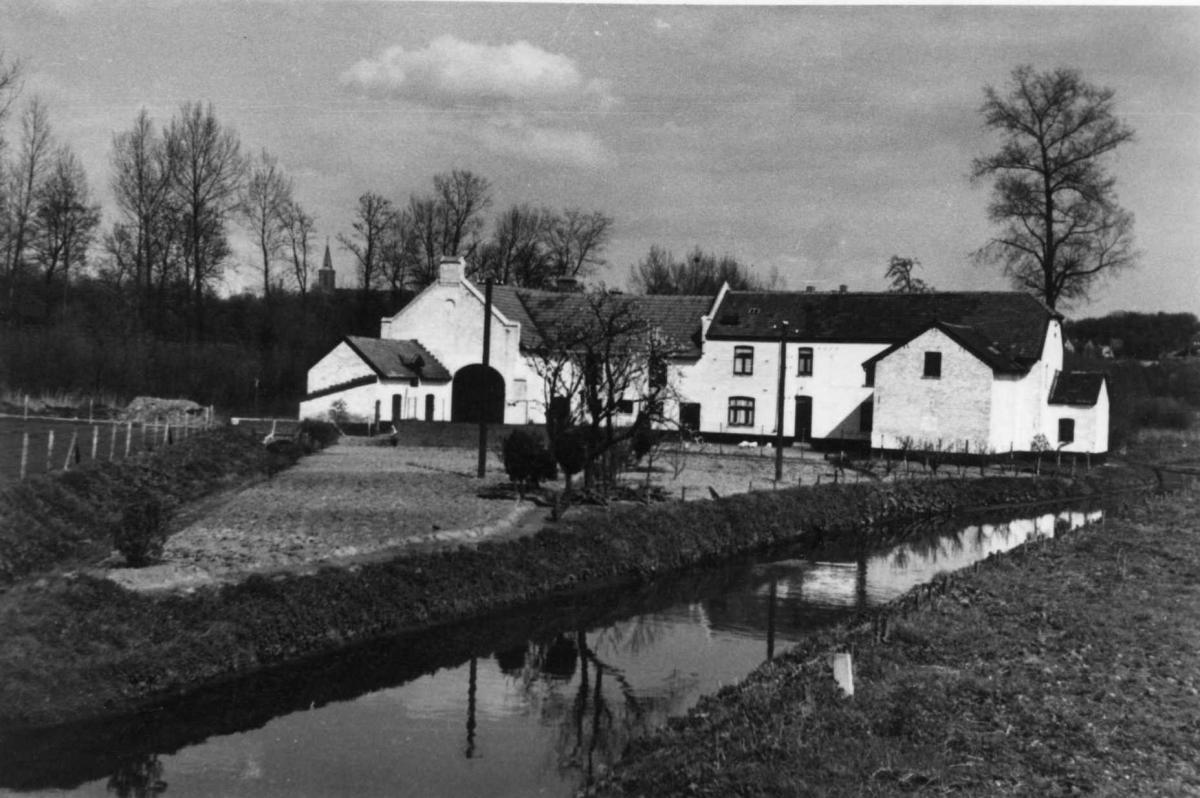 1944
---
Current location:
---
Information:
Nuth was freed on Monday, September 18 in the morning. Because the
Kathager bridge over the Geleenbeek under
the eyes of the rising Americans was blown up, the Allied advance was delayed. After the
Germans were driven out by American artillery, in one and a half hours time built a bridge that was that was strong enhough that it carry Sherman tanks. Via Vaesrade they moved in the direction of Amstenrade and Brunssum.
(Source: http://www.xixcorps.nl)
---
Geleenbeek stream

Bridge across the Geleenbeek stream
On 18 September, 1944 the 17th built a bridge across the Geleenbeek stream near Kathagermolen as all the bridges across the stream around Schinnen had been destroyed by the retreating German army. During the construction, the engineers were fired on by enemy machine gun emplacements in the treeline on the far bank. The gunfire missed the engineers and a US tank responded, firing several high-explosive rounds into the trees and silencing the enemy guns. Two 60 feet beam bridges were completed: one at Kathagermolen and one at Schinnen.
(Source: http://www.xixcorps.nl, www.revolvy.com, http://www.82ndengineers.org)

---
Information from Unit History
Still with CC "B", Baker Co. during this period passed through Maastricht on 15 Sept., and the next day the 1st and 2ndPlatoons constructed two threat way crossings of 30 foot length over the Beck River (Edit: now called the river "Beek or Keutelbeek"), this work being done under heavy mortar fire and small arms fire. The enemy fire prevented the 3rd Platoon from building another bridge, but instead it crossed the river and removed a minefield then took outpost duty. The attack followed towards Sittard, and on 19 Sept. at Hillensberg the 1st Platoon was the first troops of CC "B" to cross into Germany. That day the 3rd Platoon built a 30 foot bridge and removed three minefields. On 20 Sept. Co. "B" reassembled and moved to an area near Krobeck, Holland to Prepare for the coming operations.
---
Research: M. Brandjes