---
On 21 April Bn HQ and "B" and "C" Companies moved to Einbeck, and with Co. "A" at Gebharshagen and Co, "D" at Scllingen, Security and Administrative measures were instituted to control the assigned sectors in conjunction with military Covernment. In the CC "R" area platoons of Co. "C"were placed in the towns of Salzerhelden, Hollenstedt and Hockelheim, while the 1st platoon of Co. "B", under Lt. Bourquin, took over Military Covernment duties in Einbeck. Road checkpoints were set up at routes leading into the divisional sector. Patrols were sent out to check bridges for prepared demolitions, and the villages throughout the area searched for weapons. An inventory of power plants, ware-houses and industries was taken. The large numbers of Allied Prisoners of war and displaced persons constituted another problem. These were classified and segregated and some were being evacuated by the time a new area was assigned in which the division would assemble.
---
Research 2019: We know from the after action reports that the 17th Armored Engineer Battalion were occupied with what was the called "Displaced Persons and Allied Prisoners of war". There were thousends of French, Dutch, Belgiums, Luxemburgers and Russians. The reports states that the Engineers were to care for them, arranged food and send them to hospitals. Evntually they arranged transport for the Displaced persons. The names of locations where the Companies oft the 17th Engineers were active tell us that these "Displaced Persons" were actually liberated persons from the "Halberstadt-Zwieberge Concentration Camps", a subcamp of the Buchenwald concentration camp.
Of interest is that all details regarding the camp were sealed and classified by the US Government; presumably because of the camp's involvement with an improved version of theV-1 flying bomb. In 1997, the information was declassified.
This camp was first liberated by the 8th Armord Division, but the 2nd Armored were on the east flank and were much needed to arrange a safe situation with eventually 5000 underfed persons. The concentration camps became the "Displaced persons" evecuation area. The 17th Engineers were active within these camps from 21st till 29th of April 1945.
---
---
Told by Mark Hiett, son of David E Hiett:
I remember him telling of going to Buchenwald. He said he decided not to go inside the camp though and bought the pictures either out side the camp or maybe in Berlin. In the April 9th letter he tells of liberating slave labor camps but he never talked in detail about what he actually saw or experienced first hand. I believe he wanted to bring these pictures home to show what they had been fighting for and what kind of evil the Nazis represented. He said that when he first got back some people could not and did not believe what he and many vets were saying about what they saw and went through. That may have been one of the reasons why he and so many of them did not talk about it very much. I remember seeing him get very emotional the rare times when he would talk about what some civilians went through. My niece who is 38 years old now told me that when she was around 10 years old they were learning about the war in school and she knew he had been in it so she asked him if he would come to her class and talk about it. He got real quiet and emotional and just shook his head saying "no I can't." She kept asking and all he would say is "no I can't." She was too young to realize why so her mother took her to another room and told her not to ask Papa about the war because it's too hard for him to talk about.
---
---
During this time Co. "E" was bivouacked in the vicinity of Immendorf, performing maintenance and drawing new bridge equipment. All elements of the Bn moved into a new assembly area nearby, Hq. And Co. "E" at Beddeckenstedt, Co. "A" at Sottru, Co. "B" at Binder, Co. "C"at Sillium, and Co. "D" at Holle. Also Co. "B", 852 A/B Engr Bn, which was attached to the dicvision, moved into Beddeckenstedt* under Bn control. Arriving in the new area the 5th of May 1945, the division was relieved of all occupational duties, and begun maintenance and rest perio that extended through "VE-Day" and the weeks of "Readjustment" and "Redeployment" that followed.
---
(*Edit 1: there is a picture of Lieutenant Franics Turner with his fellow officers, 17th Armored Engineer Battalion at Baddeckenstedt Railwaystation Germany, spring1945)
---
---
Berlin 1945
"10-2020"
Video: 2ND ARMORED DIVISION TROOPS ARRIVE IN BERLIN 7/4/1945
---
Video: 2nd Armored Division vehicles, US and Russian army ceremony, A. Hitler Youth Barracks, Berlin
---
Video: 2nd Armored Division around Berlin, Germany 7/7/1945
---
---
---
Photos taken by 17th Engineer T/SGT Ketchpaw, in Berlin Germany, spring / summer 1945
Just before the liberation of Berlin Gordon Ketchpaw was injured with a hernia putting a transmission back into a big truck. He was sent back to England for surgery. After his recovery he rejoined Co. E in Berlin. The men of Co. E had already exchanged names for a list to have reunions after their return to the States. His name didn't get on it and it was about 30 years before he knew that there were reunions every year since the end of the War. (Source Dave Ketchpaw)
"12-10-2020"
Note: the man are wearing the helmet liners with the 2nd Armored Division symbol painted on them, probably done for the presentation of the Division to the President Harry S Truman.
---
---
---
Note: Location; Tiergarten park at the Charlottenberger Chaussee or Bismarkstrasse or Unter den Linden, Mitte, Berlin, Germany. Stands erected by the Russians at , for the Big Three Meeting. Three paintings of Allied leaders are shown, from left to right: President Harry S. Truman of the United States, Josef Stalin of the Soviet Union, and Winston Churchill of Great Britain.
Text by the truck: Да здравствует победа англо-советско-американского боевого союза над немецко-фашистскими захватчиками" = 'Long live the victory of the Anglo-Soviet-American Alliance on the German-Fascist usurps / attackers"
(Information by Laurens Huizer, may 2018)
Location monument:

---
Note: The heavily bombed Alexanderplatz in Berlin with concrete stands with posters of Stalin and senior Russian Generals.

---
The colorpencil drawing of Corporal Sam Payne 17th Armored Engineer Battalion, Baker Company, by Schulz-Neudamm in july 1945, taken at Berlin.
The colorpencil drawing of Lieutenant Orville Cowart by Schulz-Neudamm in August 1945, taken at Berlin.
---
---
Photos taken in Berlin by PFC Willian E Struble Company E, 17th Armored Engineer Battalion
---
The 2nd Armored Headquarters was in Berlin. When on August 9, 1945 the President of the United States Harry S. Truman inspected the troops of the 2nd Armored Division the Streamer of "Normandy" was presented to the 17th Armored Engineer Battalion Guidon. *
"10-10-2020"
STIMSON AND PATTON REVIEW 2ND ARMORED DIVISION, BERLIN, GERMANY ; ARRIVAL OF VIP'S, BERLIN, GERMANY
POTSDAM CONFERENCE, President Truman presents a DUC to E Coy, 17th Armored Engineer Battalion, 07/06/1945
---
---
---
After the VE day the Engineers were sent home and were eventually discharged from active service. The received a "Discharge Document", an example of this document we have from the Cook of the Headquarters Company, Company A; TEC 4 Adelard Henry "Cappy" Pelletier.
---
Mr. Truman also conferred with y Secretary of State James F. Byrnes, veteran of the Yalta conference, and – with the President's chief of staff, t Admiral William D. Leahy. t Stopping outside Hitler's Chanhcellery, the President shook his head at the destruction and told reporters: "It is a terrible thing, but they brought it on themselfs" President Truman, an artillery captain in the last war presented a citation to Company F of the 17th Armored Engineer battalion –which crossed the Rhine under fire—and commented: "I am only sorry that I didn't get a chance to participate in some phase of this war myself." 'He made the award' from a half-, track personnel carrier In which he stood with Secretary Byrnes, Ad-miral Leahy, and his military and naval-aides. He wore a blue suit and the familiar gray hat. He inspected the Second Armored Division in company of its commander, Brigadier General John H. Collier. Then his wide tour of Berlin carried into some sections of the Russian occupation zone. Passing through the Brandenburg gate, he was saluted by Colonel General Alexander Gorbatov, commander of, Berlin, and by his deputy, Major General Nikolai Barinov. Breadlines The Presidential car was accompanied by a small Secret Service party and a detail of Army riflemen. Major General Floyd L.. Parks.. U. S. member of the Berlin kommandatur directed the party through streets of ruined buildings to the KaLserdam, Bismarck strasse, Berlinerstrasse through the Tiergarten. the Grossestrum monument, and Unter Den Linden. The President saw breadlines amid crumbling buildings. Including wreckage of the Reichstag and debris which is all that remains of the famous Adlon hotel and pictures of himself among the Big Three along a load in the Russian section. Berliners walking the streets or riding bicycles paid little attention to, the procession. The Second division band played the Star Spangled Banner as President Truman arrived for the Divisional inspection. Baring his gray head to the hot sun, he acknowledged the salutes of the soldiers. Heavy and medium tanks, tankdestroyers and other weapons extended two miles down the highway presented in turn with the emblem of the 17th Armored Engineer Battalion, the President said: "I'll take it to the White House and a' keep it in my office."………
(Transcribed by Martijn Brandjes)
---
05-2021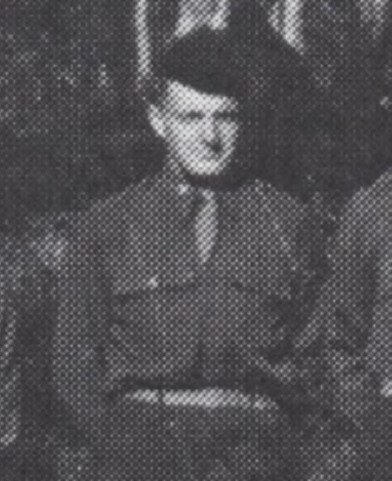 Truman Honors Outfit
Including Lt. Kabler Lt. William M. Kabler, 30, of Alex-andria, Va., is serving as transporta-tion officer with Company E of the 17th Armored Engineer Battalion, 2d Armored Division, which was awarded the Presidential Unit Cita-tion July 17 in a personal presenta-tion by President Truman outside Potsdam, Germany. The award, presented on the Avus superhighway between Potsdam and Berlin, was made for the company's performance in spanning the Rhine River under German fire last March, when the engineers broke all exist-ing bridge-building records in con-structing the 1,146-foot treadway pontoon bridge in nine hours. In accepting the emblem of the 17th after the presentation cere-mony President Truman said he would "take it back to the White House" and keep it in his office.

Transcribed: HE SUNDAY STAR, Wahshinton, DC Sunday, July 29, 1945
---
09-2020
---
Technician Fifth Grade Walter J. Maliski, 315 Taughannock Bvld.; 17th Engineers; Jan. 24, 1941, to July 1; French Morocco, Algeria, Sicily, Normandy, Northern France and Rhineland. (newspapers.com)
(Technician Fifth Grade Walter J. Maliski Returned from Service)
---
Mrs. Maggie Williams, who is visiting her children, Carl Williams and Mrs. Williams, Seymour R1 and Mrs. Edna Fitch, Seymour R2. has received some interesting photographs from her son, Cpl. William Williams, who is a member of the 17th Engineers, 2nd Armored "Hell On Wheels" Divi-sion, now in Berlin. The photographs show bridges over the Elbe, Rhine and Roer rivers which Cpl. Williams' division built. An enclosed clipping also tells of the accomplishments of the division and reports that 5,485 feet of treadway bridge were constructed in Europe by the engineering group. Landing in Africa, the division was sent to England, where, prior to the invasion of France, they practiced building bridges late at night over the Thames. Bridges of all sizes were constructed in all parts of Europe by these engineers, and the little one plaxed just as important parts as the large ones, the article concludes. Cpl. Williams, who formerly lived in Oakland City, was inducted into the army from Seymour in one of the first groups of coun-ty men to enter the armed forces. In the army over four years, he has been overseas thirty-three months and has over 100 points under the army service plan. At the time of his induction he was employed by the Riverview Ceme-tery Association. He has been in Africa, England, France, Belgium, Holland and Germany. His division, the 2nd Armored, was due to arrive in Berlin this week.
---
Sergeant Joseph Bernosky

With The Colors , Birthday Greetings
Sgt. Joseph Bernosky Recently promoted to his present rank, Sgt. Joseph Bernosky, son of Mr. and Mrs. Joseph Bernosky, of William Penn, is observing his birthday today in Berlin, Germany. He entered the service in Decem-ber, 1942, and received basic train-ing at Fort Knox, Kentucky. His oversea service includes campaigns in Africa, England, France, Holland, Belgium and Germany. He is now serving with the 17th Armored Engineers "Hell On Wheels" division.
(Transcribed by Martijn Brandjes)
---
William D Irwin Freeport Journal-Standard (Freeport, Stephenson, Illinois) · 20 Nov 1945
William D. Irwin, 925 South Car-roll avenue, 11i18 received hiA dis-charge at Camp Grant. He served three years overseas with the 9th and 1st alT111e$, the "Hell On WheelP division, the I'lth armored engineers battalion of the 2nd ar-tnored division, end participated in the Sicilian, Normandy, northern France, Ardennes, Rhineland and Central European campaigns. He wears the'ETO ribbon, Silver and Bronze battle stars, Good Conduct medal, Victory medal, five overseas service' bars, and the Belgian Four-;were WX (first to be issued to any foreign division by the Belgian gov-ernrnentl. He participated in the Battle of the Bulge and crossed the Rhine on the bridge built by U. S. engineers in seven hours. 1115 vision drove on into Berlin to en-ter the big parade on the day Pres-ident Truman was there.
(Transcribed by Martijn Brandjes)
Obituary Find a Grave.com:
William D. Irwin

Freeport – William D. Irwin, 75, of Freeport died Tuesday, July 29, 1997 at his home. Born September 1, 1921 in Mount Carroll, he was the son of Robert A. and Grace (Sisler) Irwin. On June 8, 1946 he married Ellen Francke in Mount Carroll.

He worked at Crum & Forster Insurance Company prior to 18 years employment at Stover Steel Tank Company and 10 years at Sundstrand Company in Rockford. A World War II Army veteran, he served with the 17th Armored Engineers, 2nd Armored Division, and was a Boy Scout and troop leader for 15 years. He was a former treasurer of Stover Steel Tank Credit Union, past president of Blackhawk Area Credit Union, and member of Second Presbyterian Church.

He is survived by his wife; two sons, David (Barbara) Irwin of Denver, Colorado, and Daniel (Camelia) Irwin of Shreveport, Louisiana; two sisters, Dorothy Pottle of Sarasota, Florida and Margaret (Robert) Barnhart of Cincinnati, Ohio; and one grandson. He was preceded in death by one brother, Robert, and one sister, Vera.

Funeral service will be 3:30 p.m. Saturday at Walker Mortuary with Elder Tom Hoefle of Second Presbyterian Church officiating. Burial will be in Chapel Hill Memorial Gardens. Friends may call from 4 to 6 p.m. Friday at Walker Mortuary. Memorial donations may be made to a cancer association of choice.
---
Edwin E Spears Asheville Citizen-Times (Asheville, Buncombe, North Carolina, United States of America) · 16 Dec 1945
Three Spears Brothers Are Given Discharges

All three sons of Mr. and Mrs. A. R. Spears of Canton, recently discharged from the army, will spend the Christmas holiday period with their parents. Charles, who was released Nov, 15 returned home after 24 months, overseas service with the 871st Airborne engineer battalion. He was sergeant in charge of a gun section of the unit whose primary job warsi the construction of air strips among others those at Wadke, Biak, New Guinea, and the Philippines. Algie, Jr., also served in the Pacific as gunner on a B-24 of the 321st Bomber squadron. 90th Jolly Roger group. A staff sergeant he accompanied the squadron from bases at Biak and the Philippines on missions over China. Indo-China. Formost, the Philippines, anti Western Pacific area. He was discharged Dec. 10.
Returning home Dec. 9, Edwin Spears has seen service with the 17th armored engineer battalion in North Africa, England, France, Belgium, Holland, and Germany as platoon leader and company executive officer. His terminal leave will expire in February. Charles and Algie. Jr., wil return to Houston, Texas, after Christmas, where they were employed before the war.
Read more about Edwin E Spears here: LT Edwin E Spears
---
Hardin Brothers Are On Duty Overseas Corp

Hardin Brothers Are On Duty Overseas Corp. J. W. Hardin and Ptr 3c' Harvey R. Hardin, sons of Mr. and Mrs. J. M. Hardin. Route 3, Jackson, are on duty in the armed forces overseas. Corp. Hardin entered the service September 30, 1943; received his training at Camp Gruber, Okla., and Camp Maxey. Tex., and went overseas in August, 1944. He served with the 17th Engineer Battalion in France, Belgium and Germany and is now with the occupation troops at Nuernberg, Germany. He holds four battle stars. Ptr 3c Hardin volunteered for Navy duty December 28, 1944 and received his boot training at Great Lakes, 111. He received further training at Davisville, R. I. after which he went overseas in May. He is on duty with the Seabees on Eniwetok
---
Corporal Edward J Sammons 17th Engineer, Daily Press (Newport News, Virginia)17 Jun 1945, SunPage 18 (Source Newspapers.com)
---
"02-2020"
Germany, Berlin 1945
The men of the E Company, 17th Armored Engineer Battalion
Names of the Engineers on the back of the photo:
(Leo) Rinkle – Markey – (F.) Liss
Feyedelen – Taylor – Fongemie – Niegman – Masch
(Vernon F.) Sykes – (Allen) Elks – Stork – Hyckman – (Wayne C. ) Graham
---
---
Updated 12-2020
Germany, Braunschweig, june 1945
---
Updated 12-2020
Germany, Jossa (Sinntal) july / august 1945
Current view on the railroadbridge at Jossa, Germany
---