The story of Technician Fifth Class Frank Keith
494th Armored Field Artillery Battalion, 12th Armored Division
&
17th Armored Engineer Battalion, 2nd Armored Division

Army Serial Number 35448578
Born: 15 jan 1915
Deceased: 4 Apr 1982 (aged 69)

Military Awards and Decorations:
– Good Conduct Medal
– Amercian Campaign Medal
– European-African-Middle Eastern Campaign Medal with 2 Bronze Service Stars
– WWII Victory Medal
– Army Of Occupation Medal with "Germany" Clasp
– Honorable Service Lapel Button WWII
"For the meaning of life differs from man to man, from day to day and from hour to hour. What matters, therefore, is not the meaning of life in general but rather the specific meaning of a person's life at a given moment."
-Viktor E. Frankl
– – –
"Delenda Est Mal";
"Evil Must Be Destroyed"
– From a 12th Armoured Division Banner
– – –
"We Pave the Way"
-17th Armored Engineer Battalion Motto
---
Reminiscence of the life and times of
Frank Keith (1915-1982)
By his great-grandson, Mr. Sandy J. Keith
---
Eary life
Frank Keith was born on 15 January 1915, (by mistake his gravestone and obituary state 1913) in the small Kentucky community of Quicksand, just down the road from Jackson, the seat of Breathitt County, where he would grow up. Frank's parents were, "Hugh Daniel Keith", (also known an as: "Huey or Hughy") and "Leona Tharp". His family gave him his pioneering spirit thanks to their Scottish, Irish, and English blood, descendents of the explorers who traveled down the Shenandoah Valley, through the Pond Gap in the Cumberland Mountains of southwest Virginia, and into the Kentucky wilderness. The North Fork Kentucky River flows through Breathitt County toward towering mountains, nestled in the heart of the Cumberland Plateau of the Appalachian Mountains.
Parents of Frank Keith
---
The city of Jackson, Kentucky was once so isolated that for many generations the community retained the customs, superstitions, and accents of their pioneer ancestors. Included with this legacy is a history of some of the most violent family feuds and political disagreements stemming from the American Civil War era, giving it the nickname "Bloody Breathitt." In fact, Frank's grandfather and great-grandfather (William Keith, 13th Kentucky Cavalry, CSA and Oliver Tharp, 1st Regiment Tennessee Mounted Infantry USA) fought on opposite sides of the Civil War.
During the feuding era (circa 1870-1920), an unknown number of slayings, ambushes and assassinations occurred between feuding families, factions, and the local government. Resulting in an estimated 100 Breathitt County officials killed. Some of the murders were committed right inside the county courthouse. During an eleven-month stretch between 1901-1902, approximately forty men were killed and countless wounded which, gained national attention from the press and required the dispatch of State troops to restore civil order. These events left a historical scar on the community, but it also tells of the honor-based culture, prone to settling matters by violent means that was prevalent not long before Frank's birth. This means he had neighbors, friends, and relatives who were affected by those times and events, including some relatives who were killed.
Only a couple of decades before Frank's birth, the rural secluded agricultural area received the Union Railroad, and Jackson became an important shipping point for the upper North Fork Kentucky River for dry goods, lumber, bricks, and later, coal from Breathitt and the surrounding counties. Around the time of Frank's birth, Jackson was said to resemble a "Wild West, boom town".
Frank's father, Hugh, left the family within the first five years of Frank's life. Family lore holds that Hugh died when Frank was still a young boy. Evidence suggests, however, that his father left Breathitt county and went south to neighboring Clay County and had a second family and three other children. Not having a father is tough, and it was even tougher at the turn of the 20th century. Frank had two older siblings, a brother named "Beech" born 1906, and a sister named "Joanna", born 1908. Joanna was said to have died from tuberculosis when she was just seventeen years old, in the year 1925. Frank and his siblings grew up with and around his mother's extended family, the Tharps, and his maternal grandmother's family, the Lynches. Frank and his brother Beech, like many children of Breathitt county, went to the railroad tracks and collected coal which had fallen off the coal trains in order to help their mother heat their house and cook. Both Keith brothers continued to support their mother until she died in 1963.
Frank was very close to his older brother Beech. Without a father and as the oldest child, Beech went to work in the coal mines when he was only ten or eleven years old. At that time earning one dollar a day. Beech stated as a boy he worked in terrible conditions, at times forced to stand all day in knee-high, ice-cold water. As a family, the Keiths had very little to eat and Beech felt "that if he didn't go to work in the coal mines the family would have starved to death". Beech was very small in stature and it is believed that his growth was stunted due to malnourishment and lack of daylight from working in the mines. Beech died in 1988, at the age of 82, from "black lung disease" caused by continued exposure to coal dust from the mine. It was said that Frank also worked with his brother in the coal mines for an unknown amount of time, which could have caused compounding lung issues later in Frank's life and also gave Frank the motivation to get out of Breathitt county and southeastern Kentucky, altogether.
Not much is known of Frank's education except "grammar school" is listed at the time he enlisted in the Army. It is probable that he received additional grammar and vocational education while serving in the Civilian Conservation Corps (CCC).
---
US Census
US Census 1920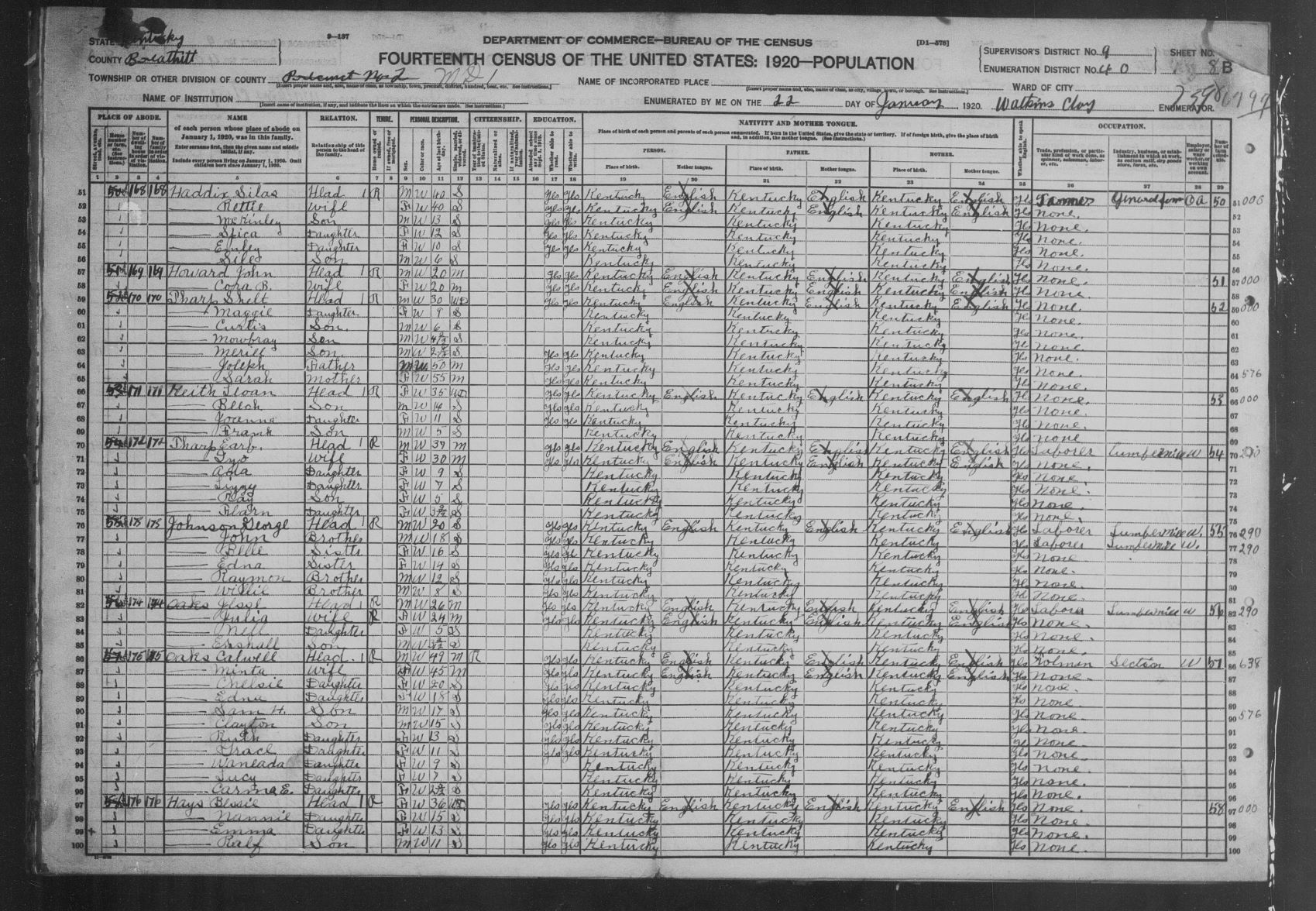 In the first census 1920 we can see Frank's uncle's name, "Earb Tharp" whom most certainly helped raise Frank. Frank had an older sister "Joanna" who died of Tuberculosis when she was only 17years old. Frank was around twelf years old when he lost his sister. He never spoke of his sister and my own grandmother never knew he had a sister when we first found out several years ago.

US Census 1920

Name: Frank Keith
Event Type: Census
Event Date: 1920
Event Place: Precinct 2, Breathitt, Kentucky, United States
Event Place (Original): Precinct 2, Breathitt, Kentucky, United States
Gender: Male
Age: 5
Marital Status: Single
Race: White
Race (Original): White
Birth Year (Estimated): 1915
Birthplace: Kentucky
Father's Birthplace: Kentucky
Mother's Birthplace: Kentucky
Relationship to Head of Household: Son
Relationship to Head of Household (Original): Son
Sheet Letter: B
Sheet Number: 8
---
US Census 1930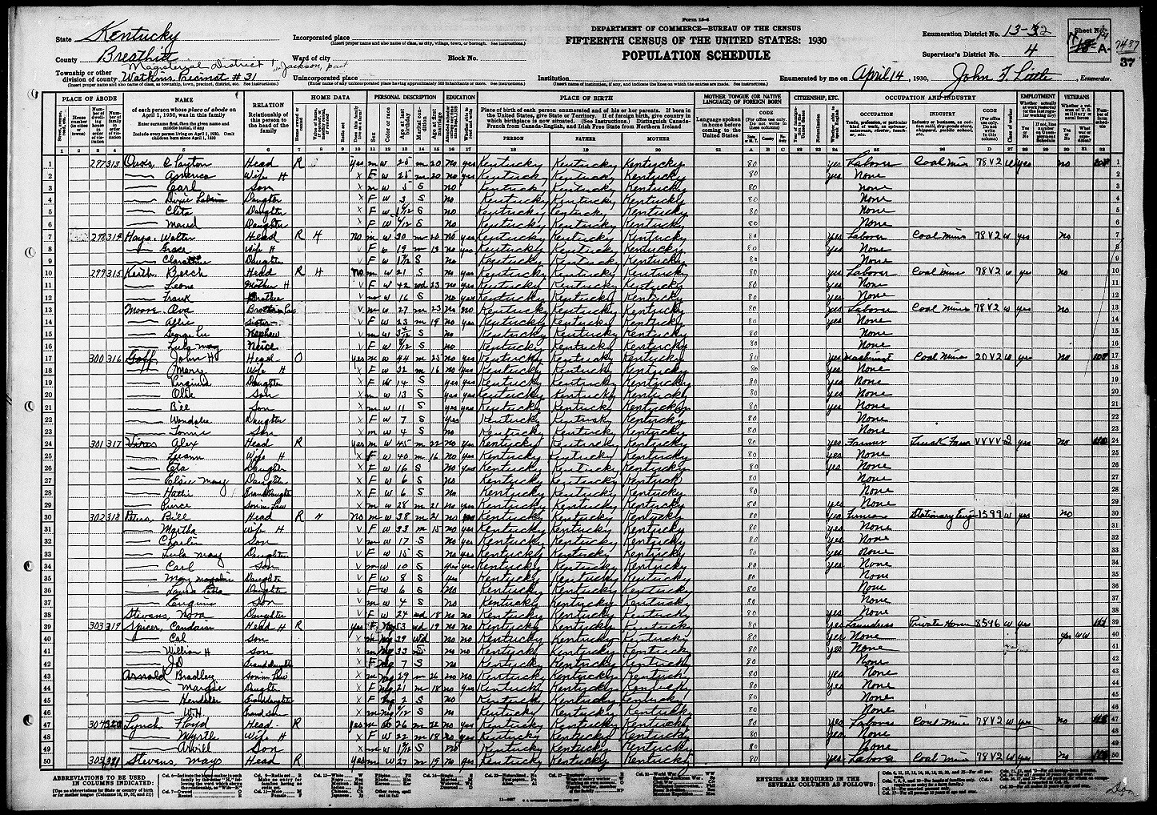 US Census 1930

Name: Frank Keith
Event Type: Census
Event Date: 1930
Event Place: Jackson, Breathitt, Kentucky, United States
Gender: Male
Age: 16
Marital Status: Single
Race: White
Race (Original): White
Birth Year (Estimated): 1914
Birthplace: Kentucky
Father's Birthplace: Kentucky
Mother's Birthplace: Kentucky
Relationship to Head of Household: Brother
Relationship to Head of Household (Original): Brother
Sheet Letter: A
Sheet Number: 14
---
US Census 1940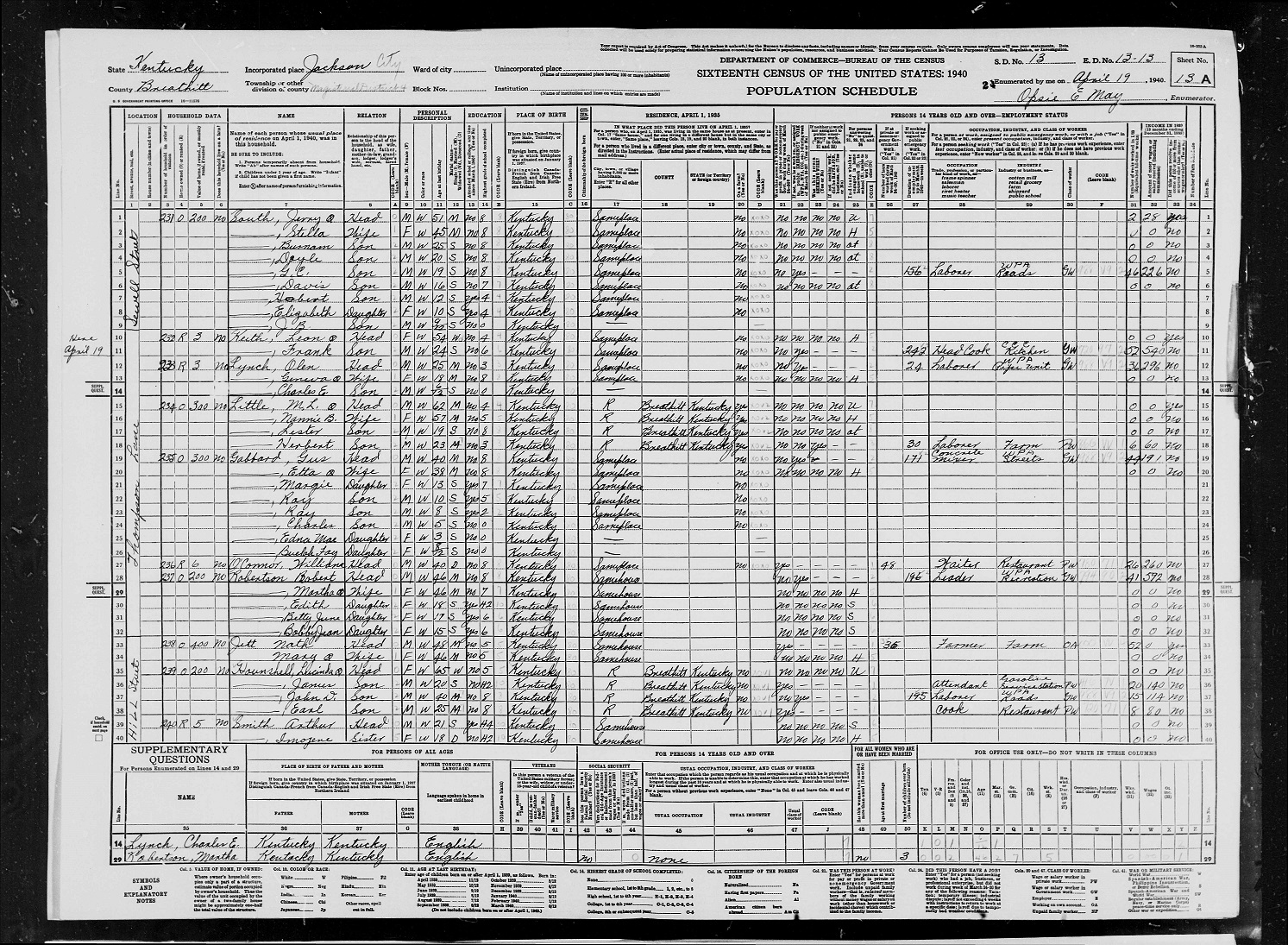 US Sencus 1940

Name: Frank Keith
Event Type: Census
Event Date: 1940
Event Place: Jackson, Magisterial District 4, Breathitt, Kentucky, United States
Last Place of Residence: Same Place
Gender: Male
Age: 24
Marital Status: Single
Race: White
Race (Original): White
Birth Year (Estimated): 1916
Birthplace: Kentucky
Relationship to Head of Household: Son
Relationship to Head of Household (Original): Son
The 1940 census also confirms Frank Keith was a "Head cook" for the CCC.
---
Before the War
During the Great Depression, President Franklin D. Roosevelt's New Deal plan to reinvigorate the U.S. economy and end the Great Depression, put millions of people to work on infrastructure projects across the U.S. President Roosevelt asked federal and local governments to work together to find jobs for unskilled young men. In 1933, the CCC (Civilian Conservation Corps) initiated projects in natural resource conservation, done by hard hands-on labor. The U.S. Army, under the War Department, managed those who enlisted to work. Enrollees' enlisted for six-month terms with the option of extending for a second six-month term. Later, enrollees were allowed to reenlist for additional six-month terms. There were nineteen such terms during the life of the program. Enrollees were paid $30 per month (raised to $50 in the later years), of which $25 ($42-43 in the later years) was sent home to their families. They were also given room, board, clothing, leadership opportunities, education, and training. They were organized into "Companies" and lived in military style "Camps". At the CCC's peak in 1935, there were half a million enrolled in 2,900 camps in 48 states and territories. Led by conservation and construction specialists, the CCC replanted an estimated 3 billion trees in reforestation efforts, restored grazing lands, built bridges, water storage basins, dams, campgrounds, cabins, and national parks which are still in use to this day.
---
It was hard to join the CCC, one had to be almost destitute and come from very humble means to join. That was certainly the case for Frank and his family. Frank joined the CCC, on 24 October 1935 at Fort Knox, Kentucky and served far from home as a laborer at St. George, Utah, which was in Washington County, Utah and designated as part of the CCC 9th Corps Area. The stark contrast of the American southwest must have been a surprise compared to the lush forests of Frank's "Old Kentucky Home". While in Utah Frank's status changed from "laborer" to "cook", and he was transferred to Short Creek, Arizona from 22 August to 16 November 1939 as a cook. After his short stint in Arizona he returned to Utah, this time with the 2558th Company, CCC Camp Hurricane G-160, in Hurricane, Utah. There he continued to refine his skills as a cook, and his performance was noted as "Excellent" from 17 November 1939 to 25 May 1942. In the group photo of the men of the 2558th Company dated December 7 1939, Frank is listed as a Company Leader and can be seen standing in the center of the large group in a chef's hat.
The Utah CCC companies Frank served with helped establish Zion National Park, neighboring grazing lands, and assisted the local populace and ranchers during the blizzard of 1936-1937. The CCC evacuated sick people, dug out trapped buses and vehicles along the highways and assisted the ranchers in finding their stranded livestock herds, and even performed burials in local cemeteries for people who perished. After Camp Hurricane, Frank was assigned another short posting as a cook in Las Vegas, Nevada from 26 May to 28 July 1942. Then he finished his seven plus year CCC service closer to his home of Kentucky as "1st cook" in Yellow Springs, Ohio from 29 July to 03 August 1942. In the Sixteenth Census of the United States: 1940, Frank is listed as "Head Cook CCC Kitchen".
The CCC program had a beneficial effect on military preparedness. It furnished valuable training to many thousands of Reserve officers, and it provided disciplined training to many hundreds of thousands of nonmilitary young men who were to become soldiers and sailors in WWII.
On 11 December 1941, four days after the Japanese attack on Pearl Harbor and three days after the U.S. declaration of war against the Japanese Empire, Nazi Germany declared war against the U.S. as a response to what it claimed as U.S. provocations. In 1942, CCC program funding ended as the U.S. shifted focus from rebuilding the economy to full social and industrial mobilization in preparation for combat in WWII. Frank, like most men of his generation answered the call to arms.
Frank married fellow Jackson, KY resident Marie O'Connor on an unknown date, likely when on leave from CCC duties, or possibly even before he joined the CCC. They had a daughter named "Letha Helen Keith", born 28 March 1941. When Marie was asked why she divorced Frank, she stated "because Frank sent most of his money back to his mother", Leona Tharp Keith. If there were other reasons, we will never know, but Marie soon remarried, moved to Pennsylvania, and started a new life and new family.
Due to Frank living and working far away, Letha was left with and raised by her maternal grandparents, Green and Daisy O'Connor in an area of Jackson, KY called "Kings Branch". Frank continued to send money to Letha and the O'Connors while they raised her. He would bring or send Letha dresses and write letters and cards to her as if she were a little girl her entire life. When Letha gave birth to Karen D. Keith, and Frank found himself a grandfather, what did he do? Just as he'd done with his daughter, regarded and attended to Karen in the same way by sending money, cards and letters from afar.
---
Wartime years 1942 -1945
Frank's exact military record is still a mystery due to the fact that a fire at the National Personnel Records Center (NPRC) in 1973 destroyed 80% of the records for Army personnel for the period 1 November 1912 through 1 January 1960. Frank was also said to have left all of his military documents, uniforms, and awards with his mother after the war, and subsequently his mother's house burned down with all of those items. In the late 1990s, I requested former Arkansas Governor and then United States Senator, The Honorable Dale Bumpers for assistance in obtaining Frank's record and to have Frank's medals reissued to me. The NPRC was able to reconstruct highlights of his service record from alternate records but a complete record and timeline of his service was not available.
---
The record the NPRC provided is as follows:
"Frank Keith was inducted in the Army of the United States on October 08, 1942 (approximately a month after discharge from the CCC) and served on active duty from October 23 1942, to May 05 1946. He was discharged in the rank of Technician Fifth Class and his most significant duty assignment was with Headquarters Battery, 494th Armored Field Artillery Battalion (494th AFA Bn). Mr. Keith was awarded the American Campaign Medal, European-African-Middle-Eastern Campaign Medal with 2 bronze campaign stars, Good Conduct Medal, World War II Medal, and the Army of Occupation Medal (Germany Clasp). His date and place of birth are shown as January 15, 1915, Quicksand, Kentucky."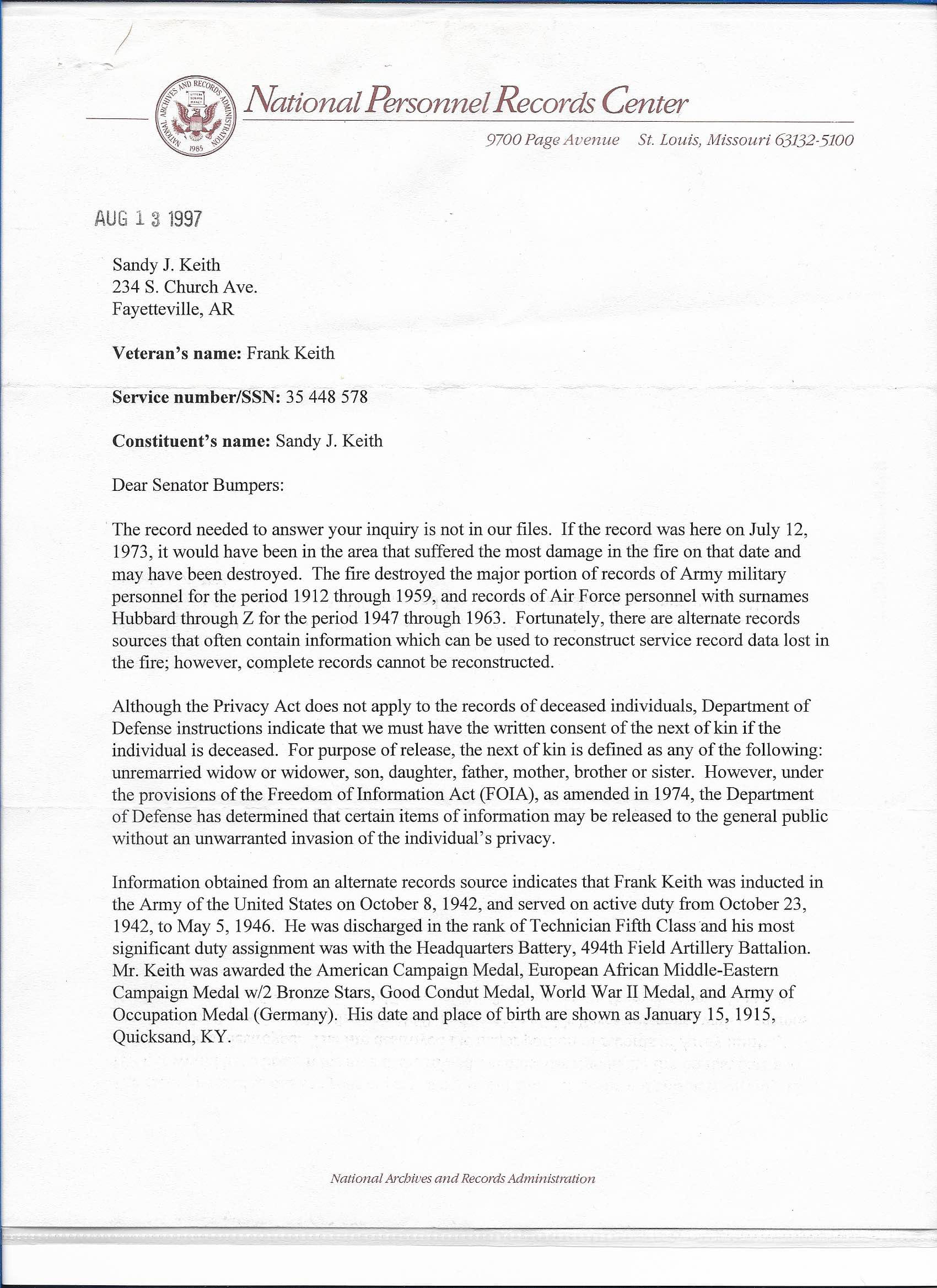 For many years I was satisfied with that answer, but then I closely examined three different photographs of Frank in his WWII uniform and realized some discrepancies: The insignia he wore on his lapel did not match the insignia of the 494th AFA Bn; and that is he wore an "Engineer Disk" and did not wear "Field Artillery Crossed Cannons" on his lapels. I had to seek help to figure out what this meant, and with the help of historians and researchers at the 12th Armored Division Memorial Museum located in Abilene, Texas, members of the 12th Armored Association, and historians from the 17th Armored Engineer Battalion Research and Reenactment Group, located in the Netherlands, the mystery is finally, being solved. The 12th Armored Division Memorial Museum and Association confirmed that Frank is listed in the rolls of the 17,000 men as an original member of the 12th Armored Division (12th AD) (HELLCAT) and served with HQ Battery, 494th AFA Bn as an original member he would have trained with the 12th AD at Camp Campbell, KY, later at Camp Barkeley and Camp Bowie, TX, and would have arrived in Europe and served his combat duty with the 12th AD. Additionally, through the museums website and links, collections to hundreds of photographs titled "Scrapbook", are found.
Within this repository of archives to Texas History, one picture titled "Photograph of HQ. BTRY 494th Armored F.A. Feb 26, 1943" taken at Camp Campbell, KY lists PVT Frank Keith on the back of the group photo. However, it is difficult to discern which one of the soldiers is indeed Frank Keith, but it serves as additional substantiating proof of his time in the 12th AD.
In the 12th AD Association's monthly newsletter, Hellcat News VOL.31, NO. 8, May 1977, Frank is listed as a "Missing Buddy" in a section of the newsletter dedicated to the 494th AFA Bn. The newsletter lists him as "Frank Keith (HQ) from Jackson, KY".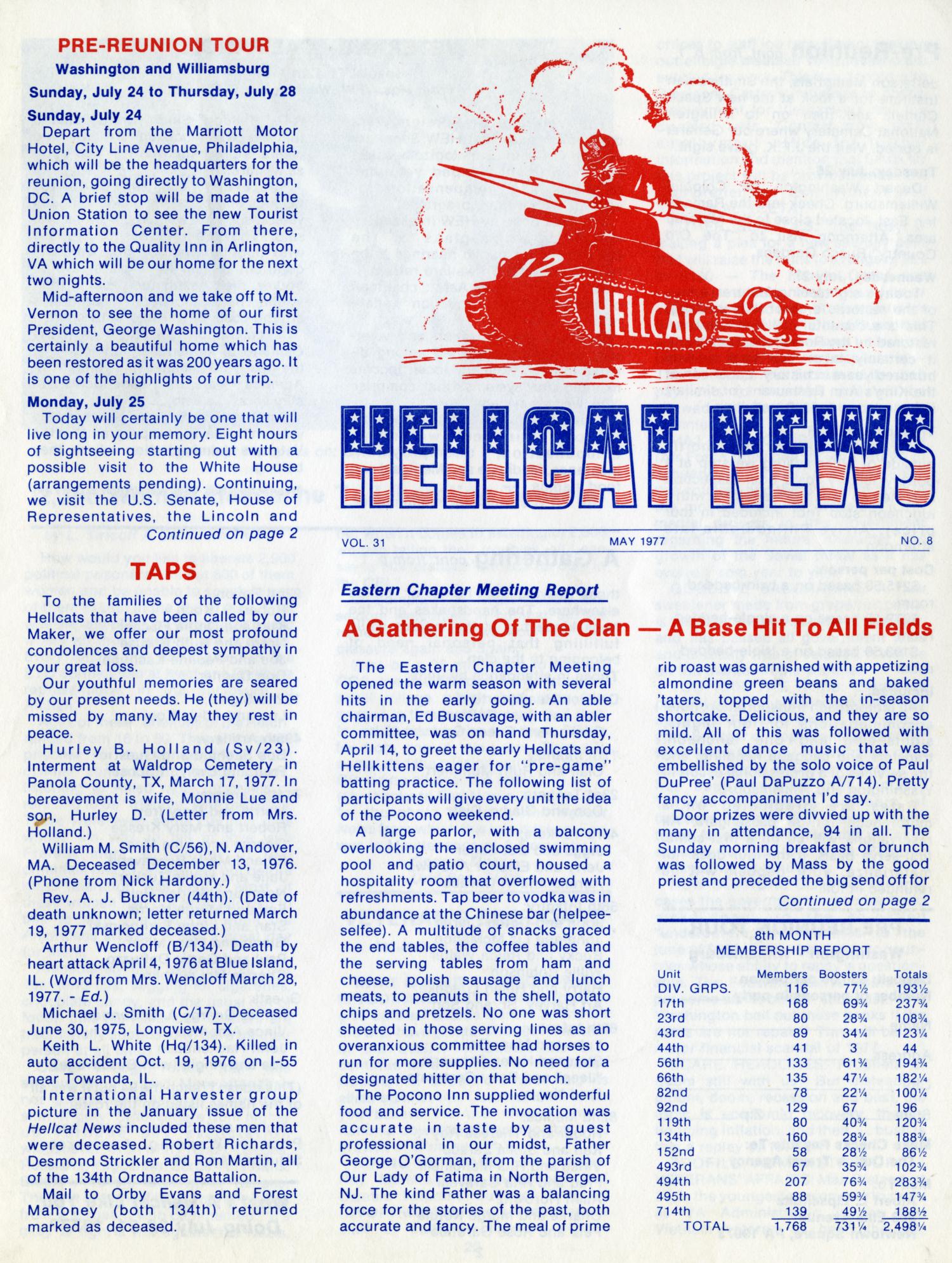 The 12th AD was a unique group: it was one of 89 U.S. Army Divisions formed for WWII combat and one of the 80 divisions deactivated almost as soon as the war ended. The 12th AD was activated at Camp Campbell, KY, 15 September 1942 and was commanded by Major Generals: Carlos E. Brewer, Douglass T. Greene, Roderick R. Allen, and Brig. General Willard A. Holbrook, Jr. The initial organization of the division called for strength of 14,620 men, with 4,848 men in the two armored regiments, 2,389 soldiers in the infantry regiment, and 2,127 men in the artillery battalions. The bulk of the enlisted ranks "filler and replacements", arrived at Camp Campbell on 24 October 1942, a day after the NPRC stated that Frank began his active duty.
The 12th AD departed from Camp Shanks, NY, 20 September 1944, and landed at Liverpool, England on 02 October 1944, then crossed the Channel (via Southampton), landing at Le Harve, France on 11 November 1944.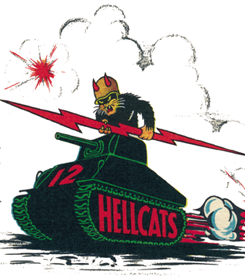 As a unit of the 12th AD, the 494th AFA Bn initially consisted of three batteries of six M-7 self-propelled 105-millimeter howitzers each and was a part of Combat Command B (CCB), along with the 56th Armored Infantry Battalion, 714th Tank Battalion, elements of the 119th Armored Engineer Battalion, and division artillery, at times the 494th AFA Bn was attached to the 79th Infantry Division, the First French Army, and the 63rd Infantry Division. The speed and striking power of the 12th AD is etched in the pages of combat history, displaying its many extraordinary actions. Campaign highlights include:
Ardennes – Alsace 14 December 1944 – 25 January 1945

Herrlisheim: The "Suicide Division" as the Germans called it, outfought two German divisions for 12-days, routing the enemy from Alsace-Lorraine.
Rhineland 15 September 1944 – 25 March 1945

Colmar: Forced the Germans from their last stronghold in French Territory by liberating Colmar.
As General Patton's "Mystery Division" made the dash from the Tier to the Rhine in less than 72 hours; cleared the entire Saar Palatinate of the enemy in less than a week. Crossed the Rhine at Worms and raced to Austria in 37 days, capturing over 70,000 enemy prisoners of war, to include German rocket scientist, Dr. Werner Von Braun.
Central Europe 22 March 1945 – 11 May 1945.

Dillingen: Captured intact the first bridge across the Danube, thus setting up the bridgehead, which led to the final campaign of the European Theater of Operations.
Landsberg: Liberated 5 concentration camps, all satellite camps of Dachau, near Landsberg Prison, where Adolf Hitler wrote "Mein Kampf." The 12th AD colors proudly fly at the Holocaust Museum in Washington, D.C. as a liberating division.
---
On 05 May 1945, the Division established its Command Post at Heidenheim, Germany, and continued occupation duties until November, when convoys moved to Marsilles, France. On 03 December 1945 the Hellcat Division was deactivated and on 17 December 1945, its battle flags were turned in at Camp Kilmer, NJ.
Frank's exact service timeline is still a mystery but hopefully more evidence and clues will come to light in the near future. The following information is what I have been able to piece together thus far.
The three photos of Frank in his service dress uniform, transferred to the "17th Armored Engineer Battalion", one dog tag and one catholic medallion of Saint Mary, are the only physical artifacts my family had of Frank's service before Senator Dale Bumpers had the NPRC provide a synopsis of his records and Frank's medals were reissued to me. The photographs provide several clues and also posed several questions. The photos were taken and two were hand-colored at "Art-Studio Ernst Haupmanni KIRCHHEIM-TECK" (Kirchheim unter Teck, is a town in the southwest German State of Baden-Württemberg, approximately 35 kilometers southwest of Stuttgart) and printed on German Agfa-Brovira wartime photo paper. Due to the facts of the physical materials alone, we can conclude that these photos were taken after VE-Day and during the occupation in Berlin.
Frank's uniform indicates that at the time he was reassigned to the 17th Armored Engineer Battalion (17th AE Bn) of the 2nd Armored Division (HELL ON WHEELS), (2nd AD). The photos were probably taken around April or May 1945. Frank is wearing three 17th AE Bn unit crests. Two are on the lapels of his "Ike Jacket" and one on his modern "Overseas Garrison Cap" also of the late war period. The men of the 17th AE Bn received these items for the event of a Presidential troop inspection by President Harry S. Truman on 16 July 1945. During the ceremony President Truman personally attached the battle streamer "Normandy" to the 17th AB Bn's Guidon. The Belgian Fourragere was awarded to the 17th AE Bn in May 1945 and was first pinned on their uniforms in June 1945 in Wolfenbüttel, Germany.
The awards listed in Frank's record from the NPRC, such as the Army of Occupation Medal (with Germany Clasp), suggest that he was a member of the 17th AE Bn as part of the Allied Occupation Force in the U.S. controlled zone of Berlin, opposite the Russian controlled zone. Additionally Frank's European-African-Middle-Eastern Campaign Medal with two bronze campaign stars (pictured with one campaign star) suggests that his combat service was with the 12th AD, which earned three bronze campaign stars for the above-mentioned campaigns. It has been noted by 12th AD historians that some of the men from the 494th AFA Bn were not awarded their third campaign star, for unknown reasons until well after the war. This fact serves as another substantiating piece of evidence that Frank's wartime service was indeed with the 12th AD. Some men with the 17th AE Bn were awarded five bronze campaign stars on their European-African-Middle-Eastern Campaign Medal, attesting to their long arduous combat service with the battalion and 2nd AD.
The photograph of Frank in uniform answers a couple of questions. The fact that he is wearing the World War II Victory Medal along with the 17th AEB unit crests place this photo as being taken after V-E Day, during Occupation duties.
It is unclear exactly when and why Frank transferred from the 494th AFA Bn into the 17th AE Bn: it could have been due to his being wounded and forced into a replacement troop role with another unit during the war itself, or (more probable) a natural transfer due to the fact the 12th AD was deactivated on 03 December 1945. The NPRC states that Frank's discharge was 05 May 1946, almost six months after the 12th AD deactivated. As the 12th AD began to demobilize and prepare for deactivation, soldiers were reassigned to other Divisions to fulfill their "points" (time in service, time in combat, time overseas, wounds, medals and other factors) before "shipping out" to return to the U.S. As a rule, soldiers were performing occupation duties, safeguarding strategic areas, or processing German prisoners, with reassignments being based on wherever there was an opening in a receiving Division. Thousands of "lower-point" 12th AD soldiers transferred to other units, and higher-point men joined the 12th AD for the trip back to the U.S. this even included a transfer of their commanding General.
Frank's dog tag is also from the late war period, as evidenced by it having less information on the tag compared to earlier tags; it was probably part of the new issue with his late war period uniform. Along with the dog tag is a small devotional medal, known as the Miraculous Medal, Medal of our Lady of Grace from the Chapel of Our Lady of the Miraculous Medal, 140 Rue du Bac Paris, France. The front side of the medal shows Saint Mary standing on a globe, crushing a serpent beneath her feet. Sunrays shoot out from Mary's hands, symbolizing "graces". Words from the vision of Mary form an oval frame around Mary: "O Mary, conceived without sin, pray for us who have recourse to thee." Reverse side: A cross-and-bar surmounts a large, bold "M", 12 stars disperse around the perimeter. Two hearts are depicted underneath the "M", the left lapped with a crown of thorns, the right skewed by a sword. From each, a flame emanates from the top. It is said when Saint Catherine Labouré first had her vision of Mary, she was told by Mary "All who wear the medallions will receive great graces." Patronage for this medallion is for special graces, miners, engineers, architects and prisoners.
Considering Frank was not Catholic, I believe he must have visited this chapel while in Paris during the war and probably wore or carried the medallion with him during his wartime or occupation service. The 12th AD had two opportunities to allow the men to obtain passes. The first was during the last half of February 1945 after the first Battle of Herrlisheim and the fighting for The Colmar Pocket: the 12th AD were billeted in a former French Army camp of Zimming Barracks in order to rest, resupply their depleted supplies, and wait to receive replacement troops. During this respite the men could obtain passes to U.S. Army rest centers in Paris, Strasbourg, Nancy, and Lyon. The second time was in mid May while the 12th was in the vicinity of Heidenheim after their campaigns in Rhineland and Central Germany. The 12th AD was informed on 6 May that the German Army in southern Germany had surrendered, and as occupation duties began, passes became available to Paris, the French Riviera, and England.
Marie O'Connor's brother, William G. O'Connor, once told me that Frank suffered a great deal from "shell shock" (nowadays referred as PTSS) after the war (he did not offer further details). Additionally, William told me he believed Frank served as a cook in the Army, just as he had in the CCC. He praised Frank, as "one of the best chefs he had ever known," and said that Frank "could turn any simple meal into a fine dining experience." Since Frank never spoke of his hardships or war experience, I can only continue to guess about which engagements in the war would have haunted him all his life. Frank seemed to not have shared that information, having never told his daughter or granddaughter about, for example, how the final winter of the war was the coldest ever recorded; how poorly clothed he had been, likely worrying he would freeze to death; surviving near death situations. Nor did he describe the nature of any of the physical and emotional wounds he had to deal with for the rest of his life.
When reading over the battles of the 12th AD, and what the Germans called Operation Nordwind, the last major offensive on the German Western Front, the first battle of Herrlisheim, France comes to mind. That particular battle must have been a haunting experience for those who survived it. At one point in the 12-day battle the Germans launched two counterattacks on 19 and 20 January 1945. The 494th AFA Bn supported the forward 12th AD troops with constant artillery fire support. The situation during the battle became critical and the armored infantry battalions were exhausted and had a great number of men lost, killed, wounded and captured. The tanks of the 43rd Tank Battalion were mostly all lost. The artillery battalions were continually firing, every man in the three artillery battalions was on hand, working to support the fight. If Frank was indeed a cook, it is very likely that he was fighting as an artilleryman during this battle. It was a very close call, as a portion of the 12th AD was almost overrun by elements of the 553rd Volkgrenadier Division and the 10th SS Panzer Division. Eventually P-47 Thunderbolts, of the U.S. Army Air Corps arrived and bombed and strafed the enemy. All three of the 12th AD's artillery battalions had almost run out of ammunition by the end of the battle and it was reported that the paint was burning off the barrels of the 105 cannons. In the middle of the night the 36th Infantry Division arrived from the north where they had been fighting in the Battle of the Bulge. The 36th Infantry Division relieved the 12th AD and the Germans, badly mauled and depleted, withdrew.
It is acknowledged for the five months of unflagging combat that the 12th AD paid a heavy price. One in three men of the 12th AD became a casualty, either injured in accidents, wounded, captured in battle, or incapacitated by pneumonia, trench foot and illness. Fourteen of the men from the 494th AFA Bn died in combat. Several were buried in Europe, and four of those were from Frank's HQ Battery.
In The First Battle of Herrlisheim alone, approximately 1,700 12th AD men were killed, captured, or wounded. Two battalions­­–the 43rd Tank Battalion and the 17th Armored Infantry Battalion had been annihilated: the losses included both of the battalion commanders as well as most of the men. During the entire war the 12th AD suffered 2,647 men wounded or injured in action, 351 captured by the enemy, and 870 killed.
Until more details can be found, the exact timeline of Frank's WWII experience can only be assumed through the histories of the 12th AD and 2nd AD. After serving under General George S, Patton's Third Army during the race for the Rhine, the 12th AD was put back under the Seventh Army. It was announced on a BBC radio broadcast during the campaign in Central Germany, "The U.S. Seventh Army's 12th Armored Division, near Würzburg, is the farthest Allied unit into Germany at this time". In April 1945 the 12th AD liberated series of eleven separate concentration camps in the vicinity of Landsberg, forty to fifty thousand Jewish and political prisoners were incarcerated there suffering in unimaginable ways and the SS guards where killing hundreds of prisoners right before the camps were liberated. The most hardened of combat soldiers must have been shocked and disturbed their entire lives by some of the man made horrors they witnessed at the camps.
---
After the war
After the war, the rhythm of Frank's roving life led him once more away from his home state of Kentucky when he moved to Illinois to work as a chef at various restaurants.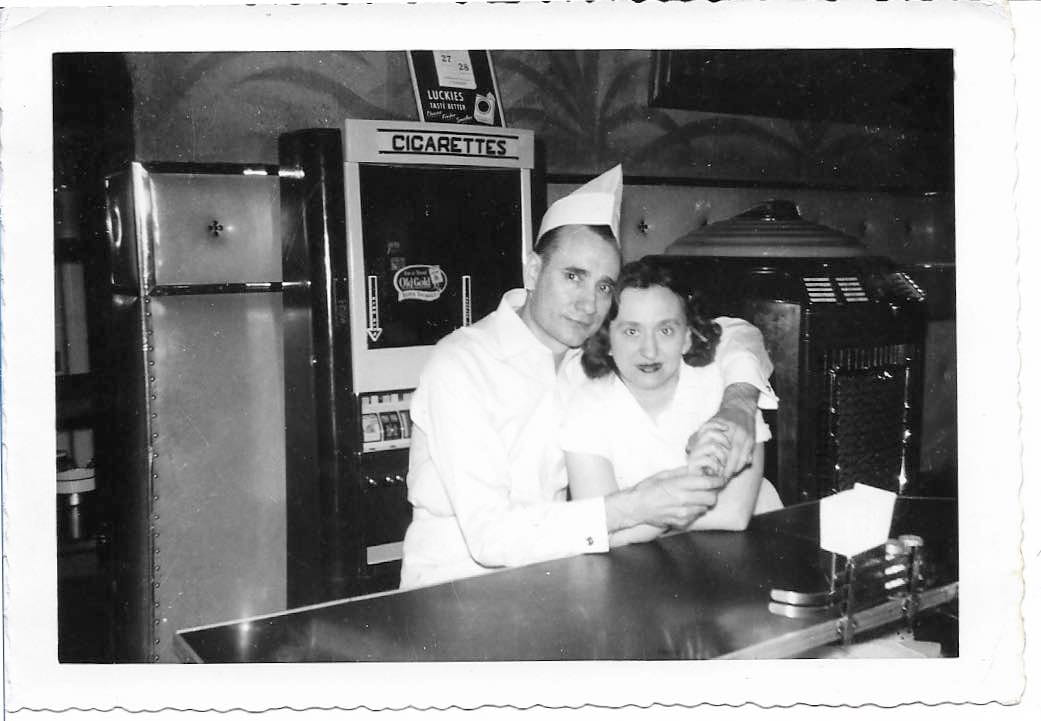 It was unheard of in those days to be a single father. It was also probably unrealistic for Frank to try and raise his daughter alone and work a fulltime job. After seeing much of the United States, serving, fighting and traveling through Europe, it must have been hard for Frank to return to a life in Jackson, Kentucky. From that point on, Frank would travel to Kentucky only to periodically visit his family.
He never remarried, and he continued to send money to his daughter and mother. At some point in the 1960s, Frank moved again, this time to Erie, Pennsylvania to work at General Aniline & Film (GAF) Corporation, formerly the Ruberoid Company. He worked there for eleven years until he retired. GAF's plant produced building shingles and other roofing products, which seemed appropriate, since Frank was a man whose life revolved around stepping up to meet whatever need was present, whether it be defeating evil, or putting a roof over people's heads. While continuing his life of service, Frank was unfortunately exposed to carcinogens that were likely hazardous enough to cause the lung cancer that led to his death in 1982.
Before his painful death and after he had retired from GAF, Frank visited his daughter and granddaughter twice in Arkansas. The first visit was after the death of his daughter's husband, and by that point his granddaughter had a son. Upon his second visit to Arkansas, Frank decided that he would move there to be with his family: since he was retired, he reasoned, he could be of most use by helping to raise his great-grandson.
.
Unfortunately, however, it was also during that second trip that he was diagnosed with the advanced stages of lung cancer that would require him to return to Erie, PA to settle his affairs. Upon his return to Erie, Frank rapidly lost his strength and was unable to make the move to Arkansas happen. He died several months later.
One of my mother's saddest memories was taking Frank to the Greyhound Bus Station for his return to Erie, PA. His bus was running late, and my mother waited as long as she could with him, but she eventually had to leave to go to work. She had to say goodbye and leave him at the station alone. She knew he didn't want to go back to Erie and my mother and grandmother didn't want him to leave Arkansas. She says thinking about that moment still makes her sad to this day. All three of us later made the trek to Erie, PA before he died. Those memories are not as clear to me as his times with us in Arkansas.
I have vivid memories as a child of being carried around by Frank, with my arm around his neck. I remember that I always wanted him to carry me because he seemed so tall. I also remember him playing blocks, green plastic army men, and Hot Wheels toy cars with me. For several months he watched me during the day when my mother and grandmother were at work. My mother said it worked out well because Frank and I were on the same schedule, both requiring afternoon naps. My mother's summation of Frank's life epitomized "hard, hard, austere work, his entire life, always having to travel far away to take care of those he loved".
As far as my mother knew, Frank didn't have any obvious observable vices. She also stated that he was always extremely quiet, reserved, with a stoic pensiveness. I remember him always reading the newspaper and he would read stories to me. His nephews and niece admired Frank and always spoke highly of him. He was described by the wife of one of his nephews, as "having impeccable gentlemanly manners and was a very dignified man". Frank was also known for always dressing very well and would not leave the house without at least a collared shirt, preferably in a suit, tie, French-cuffed shirt, and his signature white leather shoes.
When he was staying with us in Arkansas, he would watch 1980s nighttime dramas called "Dynasty" and "Dallas". Apparently, Frank would get so involved in the story line that he would yell at the TV, which was at first very shocking to the family considering the contrast to his quiet natural demeanor. Who knows if it was due to some sort of pent up Post Traumatic Stress or just his way to get so enthralled by the drama, but it was all a part of what we remember about Frank. Whatever the case, I know that my grandmother stopped watching dramas with him because he would get so worked up when watching them.
Before Frank returned to Erie PA, from Arkansas, he left a suitcase with his daughter which contained the three WWII photos of him in uniform, the dog tag, and medallion. The suitcase also contained: an Austrian decorated leather cufflink case, a collection of silk ties, GAF 5 year lapel pin, jade stone and tiger's eye cufflinks, two pocket watches, certificates of honorable discharge from the CCC, retirement from GAF, a photo of his mother, photos of his daughter and various family photos with his brother Beech, and a collection of U.S. silver dollars, silver half dollars, and dimes that he left specifically for me. I still remember when my mother and grandmother first opened the suitcase after his death, it seemed like a real treasure trove of the things that mattered most to Frank. When I hear the Tom Waits song "Soldier's Things" I think of Frank and the suitcase he left behind,
---
Music: "Soldiers things" performerd by Tom Waits, written by Tom Waits.
Rights: UMG; UNIAO BRASILEIRA DE EDITORAS DE MUSICA – UBEM, LatinAutor, UMPI, LatinAutor – PeerMusic, CMRRA)
---
---
A
After Frank died, my mother placed his pictures in uniform in different places around the house, including my nightstand.  I was very close to Frank when I was a little boy, and I remember his death being a very tragic event for my family. 
---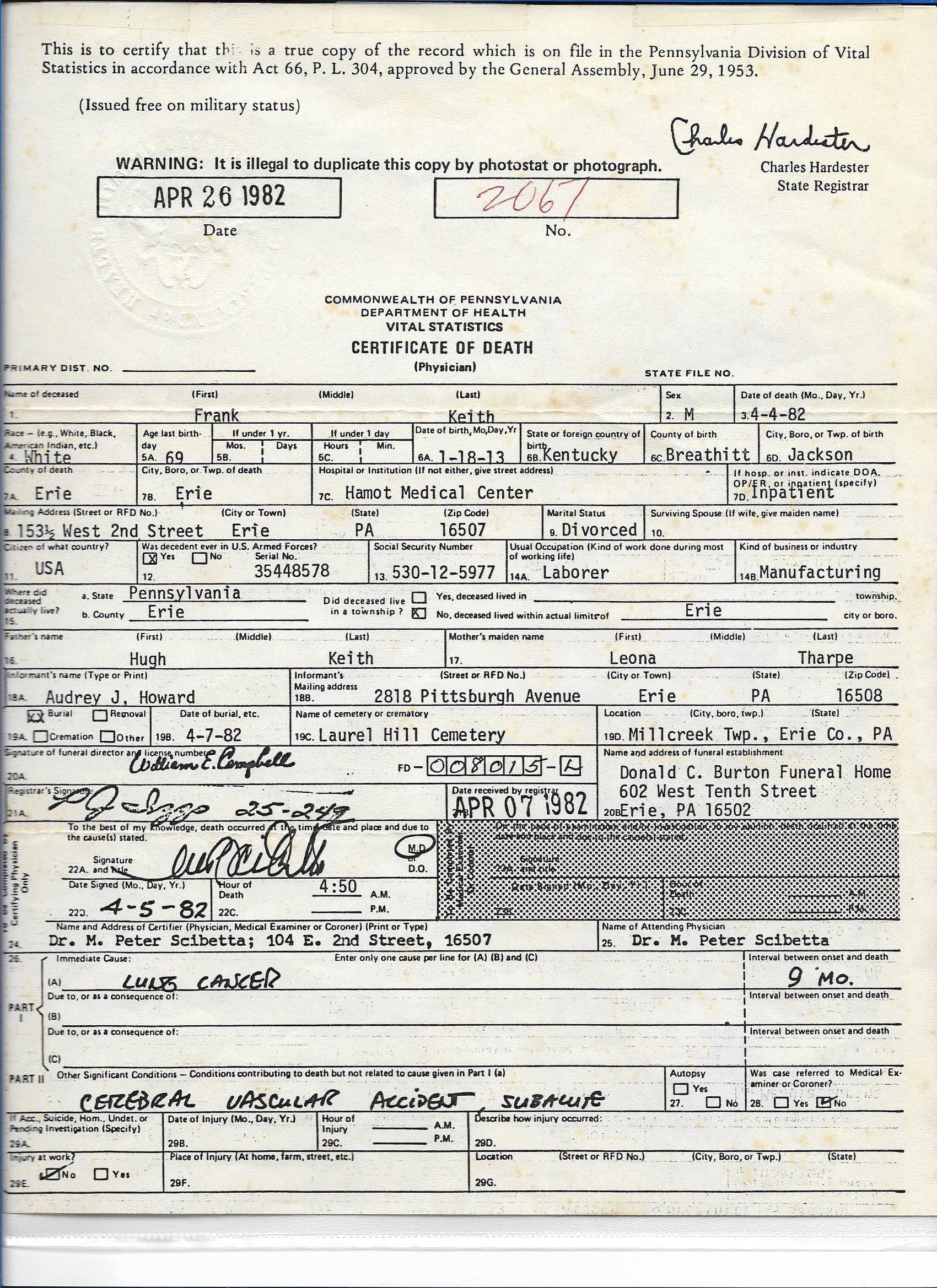 ---
As the patriarch of our small branch of the family it was always comforting to have his pictures always looking over us.  His portraits in uniform inspired many key interests in my life, which expanded into other activities and pursuits.  The most significant influence was an interest in my ancestors and my genealogy.  As a result, there was absolutely no question in my mind, even at a very young age, that I, too, would serve my country and join the U.S. Army.  When I came of age I did, and served honorably in combat like Frank.  
---
---
Sources:
Ferguson, John. HELLCATS The 12th Armored Division in World War II, September 15, 1942 to December 17, 1945, Abilene, TX, State House Press McMurry University 2004
Forty, George. Tank Commanders Knights of the modern age, Poole, Dorset, UK, Firebird Books 1993
Foster, Stephen Collins. My Old Kentucky Home, Goodnight, 1853
Hinton, Wayne K. with Green, Elizabeth A. With Picks, Shovels & Hope the CCC and its legacy on the Colorado Plateau, Missoula, MT, Mountain Press Publishing Company 2008
Keith, Laurence A. "Larry", Keith Collected Genealogies of Keith, Keath & Keeth Families in North America, Baltimore, MD, Gateway Press, INC. 1997
Matloff, Maurice. Army Historical Series American Military History, Washington D.C., Office of the Chief of Military History United States Army 1973
Pearce, John Ed. Days of Darkness, The Feuds of Eastern Kentucky, Lexington, KY, The University Press of Kentucky 2010
Simon, F. Kevin. The WPA Guide to Kentucky, Lexington, KY, The University Press of Kentucky 1996
Waits, Tom. Soldier's Things, Swordfishtrombones, Sunset Sound Studio, Hollywood, CA Island Records, September 1, 1983
---
Interviews:
Keith, Karen. Interview by author. 21 May, 2020 Telephonic
---
Correspondence:
Letters and forms between the author, Arkansas Senator, The Honorable Dale Bumpers, and the National Personnel Records Center between February 1997 to May 1998.
Various emails and inquires between listed individuals and the author from April to July 2020:
Mr. Martijn Brandjes, Historian, Web developer, Webmaster and Content Editor, 17th Armored Engineer Battalion in World War II, Research and Re-enactment group, The Netherlands
Mrs. Barbara Brown, former wife of Lowell Dean Keith (nephew of Frank Keith)
Mrs. Shelley Doremus, Curator and Researcher, 12th Armored Division Memorial Museum
Mr. Ted Glogovac, 494th Armored Field Artillery Unit Representative, 12th Armored Division Association
Mr. William Lenches, Executive and Education Director, 12th Armored Division Memorial Museum
Colonel Robert Scherer, (Retired) U.S. Army
Historian and Executive Council Member 12th Armored Division Association & board member 12th Armored Division Memorial Museum
Mr. Michael Woldenberg, Volunteer Research Historian, 12th Armored Division Association and 12th Armored Division Memorial Museum
---
Websites: 
www.12tharmoreddivisionassociation.us
https://texashistory.unt.edu/explore/partners/TADM/
https://wchsutah.org/ccc/ccc/.php (Civilian Conservation Corps (CCC) in Washington County. Washington County Historical Society 
The Chapel of Our Lady of the Miraculous Medal
---
Written: Sandy J Keith 2020
Research: Sandy J Keith and Martijn Brandjes 2020
Pictures: Sandy J Keith
Last edited: 12/24/2020