The story of Technical Sergeant Gordon "Gordy" James Ketchpaw
Company E, 17th Armored Engineer Battalion
Army Serial Number 36244023
Born: 7 november 1910
Deceased: 11 April 1986
Updated, photos 12-2020:
---
The United States
US Sensus 1920
---
US Census 1930
---
US Sensus 1940
---
Before the war Gordon Ketchpaw was delivering trucks for Kenosha Auto Transport. He traveled 46 of the 48 states delivering trucks 'piggy back.'
Gordon J Ketchpaw
---
Military service with the 17th Armored Engineer Battalion during the 2nd World War
Enlistment Record 08 June 1942
---
North Africa Campaign
Photos taken taken by T/SGT Ketchpaw of E Company
Note: 17th Engineer Gordon J Ketchpaw doing his laundry during the Nort African Campaign. Using his helmet as a water bucket and standing in his "Long Johns" underwear.
Updated 12-2020
Photos taken by Technical Sergeant Gordon J Ketchpaw in North Africa
---
Normandy Campaign
Article by the 2nd Armored Division, Headquarters 12 october 1944
(Fold and send with one of the many letters by Gordon Ketchpaw)
Transcribed by Stefan Mandos:
Headquarters 2nd armored division

public relations sections

12th October 1944

EXPLANATORY NOTE:

The following articles were sent for publication to the United States by the United press and associated Press following the release of The Division from the breakthrough at St. Lo to September 2. Between them the two press associations cover every daily newspapers in the United States.

By Henry Gerrell
United cross war correspondent

FIRST UNITED STATES ARMY, October 4, 1944 – "the galloping ghost" of the allied forces – The second armored division — is now operating in the first army area "somewhere in Germany."

It was this outfit that made headlines under the ambiguous term "American Armor" in the dash through France intro Belgium. Covering 60 miles in three days, the Division took Reavais and Montdidier in Northern France, smashing enemy armor and motor transport which ran unexpectedly into steel fist.

The division hit the Belgian frontier September 2, 1944, at 9:30 a.m. and streaked toward Tournai. Reconnaissance units of the Division were in Tournai some hours before it was officially announced that American units were in Belgium.

On enemy column destroyed just outside Orchies, France, by tank and small arms fire alone numbered 165 vehicles. It has tried to slip through between combat command but was caught on a smooth straight highway and hacked to pieces on all sides.

It was also revealed today that the Second Armored Division, which is known to the Germans as "Roosevelt's Butchers", snapped shut the outer ring of the Falaise-Argenten pocket when it swung northward to capture the Ferry Crossing at Elboeuf, just below Rouen, on august 26. At the time, the capture of Elboeuf was hailed as a tremendous Canadian victory but the Second Armored then under wraps as a ghost force, demanded and received a memorandum receipt for Elboeuf before turning the town over to the Seventh Canadian brigade, which subsequently entered the town from north.

The memorandum receipt was conceived as a means of preventing later historical arguments as to who took what, and is a prized possession of the Division Historian.

In the Elboeuf offensive, the second Armored, during the period from August 20 to 26, destroyed 93 tanks.

The division disappeared August 1 after the famous St. Lo breakthrough. Through a narrow corridor between Mortain and the sea, the Division slipped southward and then swung east to Domfront, thereby flanking six German panzer divisions, which at that time were attempting to cut through to Avranches and sever the American First and Third armies. Constant pressure and continual flank attacks by the second Armored Division prevented the most powerful German counter-attacking force since D-Day from knifing through Mortain to the sea.

When the counter-offensive failed the remnants of the German Panzer Divisions fled toward the Falaise-Argentan gap, the Division again outsmarted the German High Command by racing, not for Falaise, but for Elboeuf ont the Seine. In the offensive from Domfront to Elboeuf, the Division traveled 150 miles in 12 days. In its wake it left a trail of death and carnage wherein elements of the German Second SS Panzer Division, 116th Panzer Division, 17th Ground Air Forces Division, 344th infantry Division, as well as many smaller units were destroyed. It crossed the Seine in the vicinity of Mantes-Gassicourt on August 20 and has been dark horse ever since.

By Don Whitehead

Associated Press War Correspondent

SECOND ARMORED DIVISION HEADQUARTERS, OCOTOBER 4 (AP) – When this battle stained division rolled in a Dutch town, the foreman of a coalmine called at headquarters to express his appreciation for liberation.

"The Germans didn't leave us much to give you, but we wondered of your soldiers would like to use the showers of the mine?", he asked. "They sure would," replied the Commanding General, and since then thousands of boys have had hot baths.

Sergeant Waldo B. Tinloy, 1206 Peach Tree Street, Atlanta, Georgia, wiped the soap from his eyes and said, "It's been a hell of a long time since I've seen anything like this. My last real bath was in England before the invasion. We've been moving too far too fast to even wash our faces most of the time".

That's literally true, as this Armored Outfit, which has been rolling hard since the breakthrough at St. Lo, has been helping in the mighty drive of the First Army through France, Belgium and Holland.

The second Armored Division is the most experienced Armored Division in the United States Army with three campaigns behind it – North Africa, Sicily and France. It was the Second Armored Division which swept across Sicily with the Third Infantry Division to capture Palermo.
---
Updated 12-2020
France, Meulan, August 29, 1944
705 foot bridge across the Seine near Meulan, France 29 August, with Co. "C", 82nd Engrs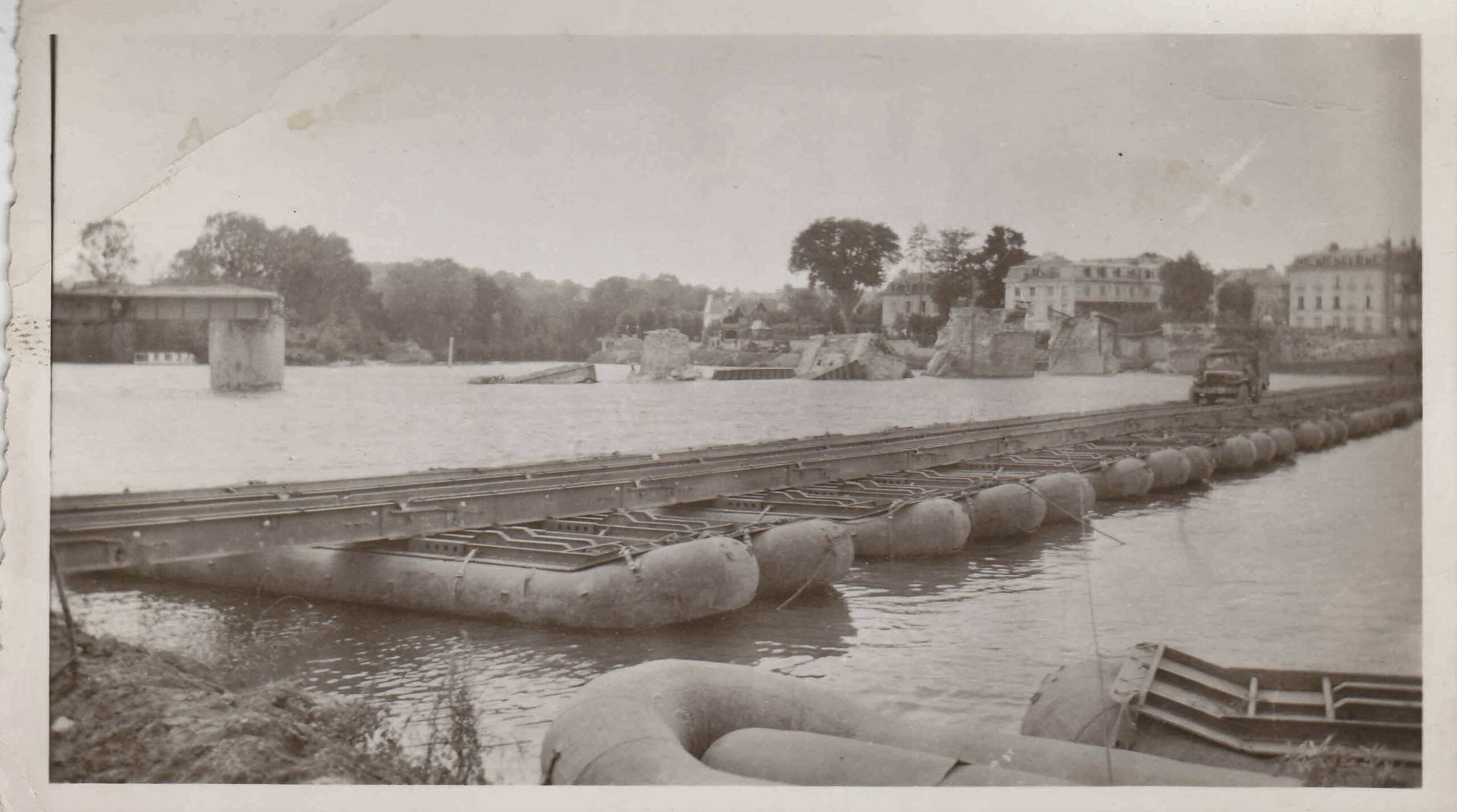 ---
Updated 12-2020
Holland, September 1944
The 600 foot bridge over the Meuse at Maastricht, Holland 14 Sept.
---
Holland, december 1944
Letter from Private First Class* Gordon J Ketchpaw December 17th, 1944
(*The article says that Gordon has the rank of Private First Class at that time)
Elkhorn Soldier Writes of Belgium And Wooden Shoes

Elkhorn — The following excerpts were taken from a letter written on Dec. 17 to Mrs. Martha Ketchpaw, by her nephew, Pfc. Gordon Ketchpaw:

"This one is from the land of the wooden shoe. Which it certainly is. Everyone 'here has their pair of Klompas, as they call them. They wear them whenever they have a job to do where it will make their leather shoes nasty. They really take good care of their leather shoes—stands them in hand to though, as they could only get one pair of shoes in four years. Klompas is the right name for these wooden shoes, though, as that is the sort of noise they make when they walk in them. That is the only piece of wearing material they have that holds true to what we used to read about in our geography books. The rest of their clothing is conventional and like ours back there except for a lot of the men who wear derby hats for Sunday wear.

"The people throughout this whole sector are very religious. Most all of them are Roman Catholic in faith. Very faithful too, as everyone may be seen going to church every Sunday morning. These people where we are staying are very religious; every morning it's church for the two girls and their father and mother. They really are a very nice family, three little girls and a boy. They have treated us very nice since we have been here. I am in their house now writing this letter, sitting at their kitchen table just like back home. Here they speak a mixture of German and Hollandsch; can get along pretty fair in this lingo as what little German I know came in handy again.

"The man that owns this place here is a carpenter and building contractor. Seven of us sleep in his shop, four in the house here, and the rest in a house across the street that takes care of our maintenance crew. He really seems to have a pretty good little business here, probably much better before and after this is all over. "They really were pretty well oppressed up in here in 1941, the Germans took away their automobile, radio and telephone, so you can about see where they stood. Took car and radio away to Germany. They were supposed to turn in all brass and metal ornaments that they had that could be used by the jerries for manufacture of war equipment.

"In regard to food—there is no milk except in t h e case where they have a small child as they do here. Their bread—we hardly call it such—as it's a very dark brown and hard as a board. No butter and only a small amount of margarine. Practically no meat; some potatoes but not good ones as they all went to Germany. "They certainly have nice houses over here, almost all of them are made from brick on the same design. Most all kitchens and hallways are made with tile floors. Quite a few have tile on all of the ground floors from kitchen through the parlor. Most all of them are kept spic and span. They usually wash windows twice a week around here on the outside. I would like to see more of Holland now that I am here. France and Belgium both went by in a hurry after we got started. "Here it is almost another Christmas and it is my second one on this side of the pond. I surely hope that by this time next year I am back there with you."

---
Wooden shoes from the village of Terwinselen, Holland, taken as a souvenir by T/SGT Gordon J Ketchpaw
Note: These wooden shoes (called "klompen") in Dutch are taken back home as souvenirs. The 17th Engineers of Company E were billeted as guests in civillian homes during last two weeks of september 1944 around Maastricht in Holland. The village of Terwinselen was on the way to Maastricht and Valkenburg. These wooden shoes are typical Dutch souvenirs what the soldiers like to send home.
Son of Gordon J Ketchpaw, Dave Ketchpaw donated one of the pair wooden shoes to the MARS re-eactment association, of wich we are very thankfull.
---
Updated 12-2020
The Ardennes december / january 1945
Photos taken by T/SGT Ketchpaw of E Company
---
Updated 12-2020
---
Updated 12-2020
---
Updated 12-2020
Germany, Baddeckenstedt, 1945
Photos taken by T/SGT Ketchpaw of E Company
Note: Engineers of Company E in Germany, probably near a railroad crossing (the signs on the roadside). The man are wearing a mixture of HBT uniforms, M1943 Jackets, and double buckle combat boots.
Note: Phote taken by T/SGT Gordon Kethpaw, on a newly looking bridge over a stream. Baddeckenstedt, Germany, April – June 1945. In the back seems the be a railroadstation and on the left a village church. Taken more to the left of the first photo and without the soldier.
---
Article about the Belgian Fourragere from the Hell on Wheels May 22, 1945
---
Germany June 1945
Article about Co E from Hell on Wheels June 13 1945
Technical Sergeant Gordon "Gordy" James Ketchpaw served in Company E and worked on this crossing. The newspaper was provided by his son Dave Ketchpaw.
Transcribed article:
17th Engineers Pave Way for 2nd Armored

Bridging every important river between Normandy and Magdeburg in the past 12 months, the 17th Armored Engineer Bn at times with assistance from other engineers–has constructed a total of 5495 feet of treadway bridge in Europe.
Although the big bridges, the ones across the Seine, the Meuse, the Rhine, and the Friday the 13 th venture on the Elbe, were the ones which stand out on the figures, it was the little bridges put in while combat teams awaited their completion before pushing on to the next objective, that played as important a part in divisional tactics.
The largest one built by Co. "E", was the 1,152 foot span across the Rhine, finished in the record time of seven hours near Wesel, Germany on 24 March. With Co. "C", 202nd Combat Engr Bn assisting, and under the supervision of Capt. James E. McAdams, this project was the product of three weeks of special training, and was one of the few bridges that carried XIX Corps men and vehicles across to start their final campaign.
During 1944, a total of 2449 feet of treadway was laid in tactical operations. This includes the 705 foot bridge across the Seine near Meulan, France 29 August, with Co. "C", 82nd Engrs, the 180 foot span over the Albert Canal near Hasselt, Belgium on 12 Sept, with Co. "C", 17th Engrs, the 600 foot bridge over the Meuse at Maastricht, Holland 14 Sept. and 160 foot span over the Albert Canal at Canne, both built with the help of the 246th Engr Bn.
Second Armored equipment was used by the 992nd Engrs at Julich to build a 144 foot bridge across the Roer River 23 February.
After the Rhine, the next "just one more river to across" was the Dortmond-Ems Canal, where Corn. panies "A" and "B", 17th Engrs built a 144 foot treadway to send traffic across on 30 March, near Hiddingsel. Following this was the Weser River, and on 5 April in the vicinity of Ohr the same companies laid 384 feet of bridge across that gap. The next job was the Elbe, and south of Magdeburg Companies "D" and "E" worked under intense artillery fire, well zeroed in, to build 560 feet of bridge and almost reach the far shore before work was stopped.
As one of the few armored engineer battalions still authorized a bridge company, training in the construction of the treadway bridge in particular and all other types of military bridges has been emphasized in the 1 7 th Engrs since its conception.
"Addressing the entire Division in the Open Air Bowl at Ft. Benning, Ga., in June of 1942, Gen, George S. Patton, then Division Commander, began his talk by saying "When the 17th Engineers bridge the Rhine . . ." Everybody cheered".
Prior to the invasion of France, problems lasting for several days were held in which companies practiced—usually at night–building bridges across the Thames River in England and at a special site on the southern sea coast to prepare for any job that might arise after "D" Day.
---
During his service he worked up in Ranks from Private to Technical Sergeant.
---
Updated 12-2020
Berlin, Germany 1945
Local newspaper clipping 2nd Armored- Berlin Assigned. Taken home by T/SGT Gordon J Ketchpaw, Courtesy of Dave Ketchpaw
---
Photos taken by T/SGT Ketchpaw, in Berlin Germany, spring / summer 1945
Just before the liberation of Berlin Gordon Ketchpaw was injured with a hernia putting a transmission back into a big truck. He was sent back to England for surgery. After his recovery he rejoined Co. E in Berlin. The men of Co. E had already exchanged names for a list to have reunions after their return to the States. His name didn't get on it and it was about 30 years before he knew that there were reunions every year since the end of the War. (Source Dave Ketchpaw)
Note: Location; Tiergarten park at the Charlottenberger Chaussee or Bismarkstrasse or Unter den Linden, Mitte, Berlin, Germany.
Stands erected by the Russians at , for the Big Three Meeting. Three paintings of Allied leaders are shown, from left to right: President Harry S. Truman of the United States, Josef Stalin of the Soviet Union, and Winston Churchill of Great Britain.
Text by the truck: Да здравствует победа англо-советско-американского боевого союза над немецко-фашистскими захватчиками" = 'Long live the victory of the Anglo-Soviet-American Alliance on the German-Fascist usurps / attackers".
(Information by Laurens Huizer, may 2018)
Location monument:

Berlin photos by TSGT Gordon J Ketchpaw-Courtesy Dave KetchpawNote: The heavily bombed Alexanderplatz in Berlin with concrete stands with posters of Stalin and senior Russian Generals.
---
Update 12-2020
Germany, Berlin 1945
The men of the E Company, 17th Armored Engineer Battalion
Names of the Engineers on the back of the photo:
(Leo) Rinkle – Markey – (F.) Liss
Feyedelen – Taylor – (Edmund A) Fongemie – Niegman – Masch
(Vernon F.) Sykes – (Allen) Elks – Stork – (Dell) Dyckman – (Wayne C. ) Graham
---
---
Updated 12-2020
Germany, Braunschweig, june 1945
---
Updated 12-2020
Germany, Jossa (Sinntal) july / august 1945
Current view on the railroadbridge at Jossa, Germany
---
End of the war 1945 ; discharged
The document tells us he was a Heavy Truck Driver as a civilian occupation,and his speciality was Automobile Foreman in the Military. On 8 June 1942 Gordon Enlisted in Fort Sheridan, Illinouis.
He fought in the campaigns: Sicily, Normandy, Northern France, Ardennes, Rhineland, Central Europe Campaigns. His decorations and citations are "European African Middle Eastern Theater Ribbon with Six Bronze Campaign Stars, Good Conduct Medal. He did the Automechanics school in Kentucky at Fort Knox.
At the end of the war, probably after his surgery he was transfered to the 5th Armored Division, "22nd armored engineer battalion". That must have been only for a short period.
That is why T/Sgt Gordon J Ketchpaw had a taken a clipping about a newsarticle of the Fith Armored Division.
---
Souvenirs brought back from Holland, Europe
---
After the war
Updated 12-2020
Marriage 1946
Photos after the war
Dave Kecthpaw wrote in 2018:
Just before the liberation of Berlin Gordon Ketchpaw was injured with a hernia putting a transmission back into a big truck. He was sent back to England for surgery. After his recovery he rejoined Co. E in Berlin. The men of Co. E had already exchanged names for a list to have reunions after their return to the States. His name didn't get on it and it was about 30 years before he knew that there were reunions every year since the end of the War.
I also had a Brother James but he passed away at the young age of 47, 21 years ago. My mother Jean passed away three days before my brother.
---
Year 1973
---
April 1986
Gordon Ketchpaw died on April 11, 1986.
United States Social Security Death Index, April 11, 1986
Gordon Ketchpaw
---
Research and written by Martijn Brandjes 2018
Edited: December 2020