---
Newspaper articles about 17th Armored Engineer Battalion veterans, afhabetical order:
Names
F

up to and including

Z

(Source: Newspapers.com)
---
---
---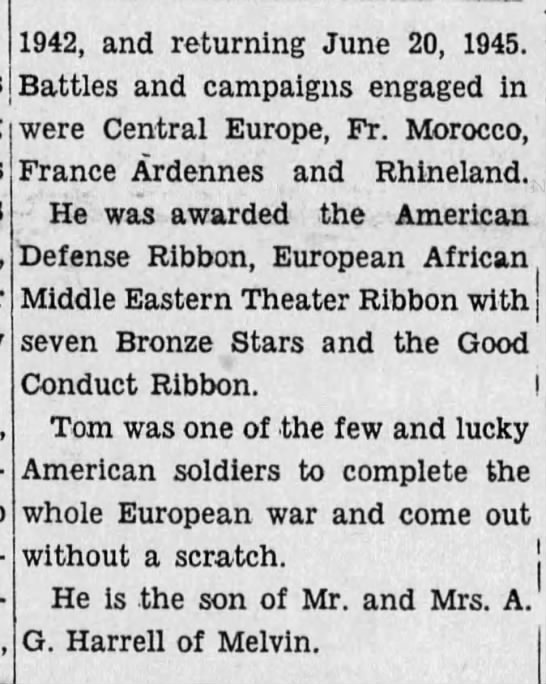 TOM HARRELL ARRIVED HOME LAST FRIDAY Tom Harrell arrived home last Frl day after receiving an honorable discharge from the United States Army at the Separation Center Forst McPhearson, Georgia June 27, 1945. Tom was a Pfc with Hq. Co. 17th Armd Engr. Bn. and was inducted TTflhrnn vu OR 1fil tt . 3 seas 2 years 8 months and 1 day MO aim 1 Qd.y, leaving the States on October 19,1942, and returning June 20, 1945. Battles and campaigns engaged in were Central Europe, Fr. Morocco, France Ardennes and Rhineland. He was awarded the American Defense Ribbon, European African , Middle Eastern Theater Ribbon with seven Bronze Stars and the Good Conduct Ribbon. without a scratch. He is the son of Mr. G. Harrell of Melvin. and Mrs. A. Tom was one of the few and lucky American soldiers to complete the whole European war and come out without a scratch. He is the son fo Mr and Mrs A. .G. Harrell of Melvin.
---
---
---
---
---
Veteran Mel LaScola; owned Wayne Sign Co.
By Rose Meals
Statt Writer WAYNE — Mel LaScola, 70. of Wayne. who died Tuesday, "was with Patton's Army and one or the first troops in Berlin. Then they had to pull out to let the Russians go in first, which General Patton was very angry about," said Hen-ry Marrocco, owner of Marrocco Memorial Chapel in Clifton. Marrocco met LaScola 35 years ago in the Optimist Club of Clif-ton, as did Judge Joseph J. Saler-no of the Superior Court in Paterson. Judge Salerno recalled that Mr. LaScola was a reconnai-sance motorcyclist with Gen. George S. Patton's Third Army during World War II. "He was an affirmative, for-ward-looking man, who had an excellent outlook on life, fudge Salerno said,"He was good to his children and had a real lovE. match with his wite. "He was a good friend. When you had trouble, he was sure to come and tried to help you over the rough spots," he said. Mr. LaScola. who was a mem-ber of the Hollow Rod and Gun Club in Garfield, was a great —sportsman, Judge Salerno said. "He loved the outdoors," the judge said. "We always had veni-son dinners at his house. He was a great host and enjoyed a good, funny story."
He was also a good golfer, his wife, the former Helen Kaseta, said. "He was always busy," she added. "He was the best," Mr. Marroc-co said. "He was very tough, but had a heart of gold. He loved peo-ple, and he loved to do things for people. If anyone needed him, he was there." Mr. LaScola was also a member of the Clifton Good Fellowship Club, he added. Born in Lyndhurst, he lived in Clifton before moving to Wayne 28 years ago. He was the owner of the Wayne Sign Co. the last 28 years. Prior to that, he was owner of Center Sign Co. in Garfield. He was a parishioner of Our Lady of Consolation Church in Wayne. Mr. LaScola was also a member of the Clifton Memorial Post NO 347,—Aiiiefican the Wayne Township Board of Adjustment and the Wayne Re-publican Club. In addition to his wife, survi-vors include two sons, Mel Jr. of Green Pond and Steven of Cleve-land, Ohio; a daughter, Mrs. San-dra Ormsby of Wayne; a brother, Donald of Nutley: a sister, Mrs. Marie VonderHeyden of Wayne, and seven grandchildren. Services will be 9:30 am Friday at Marrocco Memorial Chapel, 326 Parker Ave., Clifton, followed by a Mass at 10 a.m. at Sacred Heart R.C. Church in Clifton.
---
---
---
Pfc. McConnell, Hurt In Action Pfc. Richard F. McConnell, son of Mrs. Nellie McConnell, 87 Grand this city, has been wounded in action in Luxumburg. ' He was attached to the 17th Engineer's Combat Battalion serving in Gen. Patton's Third Army. Pfc, Mc Connell has been overseas since July 1944. A graduate of Long Branch high school in June 1943, he has been in the Army since Aug. of the same year. '
---
On Wednesday, July 7, 2010, our beloved husband, father, grandfather and friend, Paul Wesley McGrew, passed away peacefully and with loving family in St. George, UT. Paul was born Oct. 9, 1924 to William & Jesse McGrew in Pittsburgh. Paul is survived by his wife of 63 years, Dorothy, and his four sons Paul, Michael, Edward and David. Paul was also blessed to have 11 grandchildren, Kim, Phillip, Carole, Christopher, Jonathan, Erik, Evan, Ian, Samantha, Taylor and Logan. He also has countless friends and family that are blessed to have known him during his life. We would like to honor Paul for his service to our country as a veteran of WWII. As Americans we are truly in debt to Paul and other veterans for their service and sacrifice. Thank you. Paul loved the outdoors, bowling and golf. We would all be so fortunate to have 2 holes in one in our lifetime. The competitiveness and humor provided by the McGrew Family Card Games will be cherished memories for life. Friends received Friday 5-9 PM at the Griffith Mortuary, Inc., 5636 Brownsville Rd., Broughton-Curry South Park Twp. Additional visitation Saturday from 11 AM until time of services at 1 PM at the funeral home under the direction of the McGrew family. Even though this is a time of great sadness, we all must be reminded that we will see him again. We will greatly miss you, but your memory lives on within each of us. www.griffithmortuary.net
---
---
---
---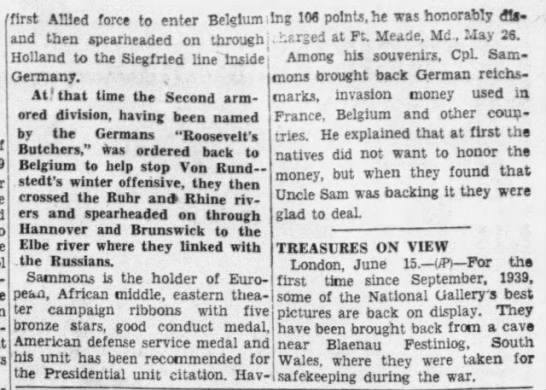 Corporal Edward J Sammons 17th Engineer, Daily Press (Newport News, Virginia)17 Jun 1945, SunPage 18 (Source Newspapers.com)
---
---

---
---
---
Mrs. Maggie Williams, who is visiting her children, Carl Williams and Mrs. Williams, Seymour Rl and Mrs. Edna Fitch, Seymour R2, has received some interesting photographs from her son, Cpl. William Williams, who is a mem ber of the 17th Engineers, 2nd Armored "Hell On Wheels" Divi sion, now in Berlin. i The photographs show bridges over the Elbe, Rhine and Roer rivers which Cpl. Williams' divi sion built. An enclosed clipping also tells of the accomplishments of the division and reports that 5,485 feet of treadway bridge were constructed in Europe by the en gineering group. Landing in Africa, the division was sent to England, where, prior to the invasion of France, they practiced building bridges late at night over the Thames. Bridges of all sizes were constructed in all parts of Europe by these engi neers, and the little one placed just as important parts as the large ones, the article concludes. Cpl. Williams, who formerly lived in Oakland City, was inducted into the army from Seymour in one of the first groups of county men to enter the armed forces. In the army over four years, he has been overseas thirty-three months and has over 100 points under the army service plan. At the time of his induction he was employed by the Riverview Cemetery Association. He has been in Africa, England, France, Belgium, Holland and Germany. His division, the 2nd Armored, was due to arrive in Berlin this week.

---
---
---
---
---
ARRIVES IN NORTH AFRICA Mr. and Mrs. Charles Zimmerman, of Wiconisco, have received word that their son, Cpl. Charles F. Zimmerman, has arrived safely in North Africa. He is serving with the 17th Engineer's Batalion, of the 2nd Armored Division. Cpl. Zimmerman received his training at Ft. Benning, Georgia.
---
Mr. and Mrs. Charles Zimmerman, of Wiconisco, received word from their son, Charles, that he is now in Sicily and seeing a lot of action. He stated that it is almost over in that section and that he is enjoying good health. He took part in the African campaign and has been in service two and a half years with the crack 2nd Armored Division known as "Hell on Wheels." He trained at Ft. Benning, Georgia. His present address is: Cpl. Charles F. Zimmerman, 33010883 Co. A, 17th Engr's Bn., A. P. O. 252 co Postmaster New York City, N. Y.
---
Discharged With 32 Months Overseas Service Charles F. Zimmerman, Technician Fifth Grade, son of Mr. and Mrs. Charles Zimmerman, Center street, Wiconisco, was given an honorable discharge from the military service of the United States, at the Separation Center, Fort Dix, N. J ., June 29, 1945. He was inducted February 12, 1941 at Harrisburg and spent 32 months overseas. He was a member of the 17th Arm'd Engr. Bn. of the 2nd Arm'd Division which has won fame as the "Hell On Wheels Division." Zimmerman saw service in the battles and campaigns of Algeria, French Morocca, Central Europe, Normandy, Northern France, Rhineland, Sicily and Tunisia. He holds the American Defense Service Medal, European, African Middle Eastern Service Medal, WArrowhead and the Good Conduct Medal.
---
END