Letters written by James Patrick O'Dwyer in 1945 when he was in active service with
Company E, 17th Armored Engineer Battalion,
2nd Armored Division
---
Letters James Patrick O'Dwyer from the year 1945
---
Letter 01-08-1945
January 8, 1945

My Dearest Maxine;
How are you my darling, please tell me that you are well and very happy. Tell me that you miss me so
much, I like to hear you say you do. Keep telling me things like that, for I like to hear them. I will do the
same for you.
Well Maxine there isin't much to say. I am trying my best to write you a fairly good letter, but I don't
know just how I will make out.
There is 9 of the fellows around me and three of them are writting to there wives and sweetharts. Yes
including myself. Oh what a time it is trying to write. With one of the L.T. trying to cut some wood for
the fire, and don't ask me why, for it is plenty cold with about three inches of snow.
Maxine one of the fellows received a box of soap from home by the name MAXINE did you ever hear
of it. just thought I would ask.

2.
I am sending you the label so that you can see for your self.
It is a funny though but I have seen your name in front of me it seems all day. I also
saw your name on a tank that went by. I have to some time ago seen some time ago your name on a
Jeep. So you see your name is popler even in the armey well shoulden't it be. Ha ha, some L.T. just
gave a wisecrack one L.T. to the other,–See I feel a draft in here, -the other in reply –close your mouth.
You would be surprise what a time we have over here. after all we do manage to keep up our moral
most of the time, although we have it pretty rough!
Pardon me darling one of the fellows asked me to give him a shave, it will only be a minute, I might be
able to think of somthing in the meantime. Oh will I have changed my as he has for me.
Maxine how about some more of those famous cookies and candy. I don't like to ask you, for I know
how hard it must be to get things that go in the making of it.

3.
Maxine I have sent you a set of silverwear some time ago, I do hope you get it in good condition. Of
course they are not new. but it is a fairly good set, anyway they come from over here, I can't say just
now what country they come from, but I probly won't hafto tell you. You no doupt know by now if you
have the set.
Well not much more left for me to talk about, I did won't to write you and let you know that I am O.K.
and still in hopes of seening you mabey this year, lets hope so. See it will be good to see you again.
How is [….] [it is a so far unreadable name, might be Mom?] I do hope that all is well.
Not a lot to talk about tonight. I must close but will write again mabey tomorrow.

Say hellow to all.
I am as ever
Pat.
P.S. How about some more snapshots.
Envelope: 01-08-1945
PFC. James PO Dwyer. (35257297)
Co .E – 17th ARMD. ENGR. BN. APO 250
2ND.DIV. % P.M. NEW YORK N.Y.

Miss Maxine Steed
323 So. Bedforfd Ave.
Evensville Ind.
U.S.A.
(Stamp Airmail) 01 FEB 1945.
(Transcribed by Martijn Brandjes, corrected by Erny van Wijk)
---
---
Letter 02-05-1945
February 5, 1945

My Dearest Maxine, How are you my darling.

See I wish I were with you today. Oh what coulden't I do or might I say we do. Yes I think I might. Maxine I would like to tell you where I am, but I can only say that I am somewhere in Holland. You will probaly know where I am before you find out from me. Right!

My dear I have been receiving your letters reguliar now, and they are very sweet. I also received another box. thanks a million and please thank Pop for me, for his kind remerance but ask him for me, coulden't he maybe slip in a bottel or not.

2.

Maxine it is pretty bad out today with the snow just about all melted away. It looks so different because after for so long seening the ground with with snow I suppose that by the time you receive this letter the snow will have also cleared away.
Maxine I suppose you have hurd the good news the red army is ma-king. From the news today they are about 24 miles of Berline isin't that good news.
I only wish that by reaching Berline this war will be over, but I don't know.
I received a letter from Catherine today (honey this is the only ink I have left hope you don't mind). Catherine always talks very highly of you.

3.

in all of her letters. She keeps telling me that you are tops as if I didn't know it.
Maxine Catherine is sending me a ring. A ring over here is pretty hard to keep I needen't bother telling you why, but I just coulden't refuse it. Catherine wonts so much to send me something that I could not refuse it. I will take care of it and gard it with my life.
Maxine there isin't much I can tell you, I mean anything worthwhile.
Well you finally convinced me that there is but one of you and not three. Although you had me guessing somewhat ha ha.

4.

Maxine I don't feel any too good tonight, so if you will please excuse me this time I will say goodnight. Maxine I will never be able to answer all the letters you sent, but please try and understand.
Tell mom I said hellow and that I will write her soon please forgive me mom I do try and I do my best. You see Maxine it is very dificult for me to consentrate on a letter during these conditions over here. So Maxine let this be goodnight for now and please write often.

I am as ever yours alone, Pat
Envelope: 02-09-1945
PFC JAMES P.O.DWYER 35257292

Co. E – 17th ARMORD. ENGR. BN. APO

To P.M. New York. N.Y.

Miss Maxine M. Steed 323 So Bedford Ave. Evansville 9 Indiana U.S.A.
(Transcribed 28-07-2018 by Erny van Wijk)
---
---
Letter 03-09-1945
March 9, 1945 Hello Maxine:

How are you tonight my Darling.

I am well and to know that you are the same makes me very happy. My dear I can well understand the kind of weather you are having back home. I have just finished reading in the "Stars and Strip." (Edit: Magazine "Strars and Stripes") where the Ohio river is flooded. has it reached Evansville. I am sure the Wabash river must be flooded also. Ha ha, that was a very strong story about Jack and the ice I just bet it was funny to everyone but Jack. ha ha.

See Maxine I diden't know it was so hard to get wash-cloth back home. But I ges it is so, after all I have been

2.

away from the states for over 2 years now, and there has been probely been a lot of changes since then. Yes even in wash cloth.
Yes Maxine I have had but one pass while I have been over here in Europe, and that was to St. Trond. (Edit: Sint Trond, Belgium) It was the only one so far, but I am in hopes of seening Paris before I leave.
I guess I am very unlucky in passes the same as everything else. I though I told you about the pass to St. Trond. And how I would like to get the pass to Paris. They say it is heaven for S.L. (edit: Soldiers on Leave) if you know what I mean. It is suppose be the place for a rest Ha ha, I had better stop there I might get a bit wild and realy show my colors. Right. I expect a quick answer to that.

3.

Maxine when and if I go to Paris I will tell you all about it. Or do you won't me to.
What do you mean when you say you hope that I will be home to live my owen life again. You mean our life togeather you and I.
Well Maxine, that winds up to day, nothing much lef for me to say. So I will say it now. I am yours alone and for ever.

Please write often.

I am yours for ever.

Love. Pat.
Envelope: 03-09-1945
PFC JAMES P.O.DWYER 35257292 Co. E –
17th ARMORED ENGR. BN. APO 250 2 ND.
ARMD. DIV. To P.M. New York. N.Y.

Miss Maxine M. Steed 323
So Bedford Ave.

Evansville 9 Ind. U.S.A.
(Transcribed 28-07-2018 by Erny van Wijk)
---
Letter 03-12-1945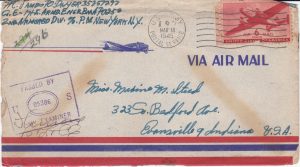 Dwyer120345
March 12, 1945 My Dearest Maxine:

How are you this evening? That is great for I am as well.
Just another day. It isin't an important day. Just any day in the army. I don't know, why but it seams that I have forgotten all the days of the week and all hours of the day.

You know that anymore I can't write you a letter without telling you of all my troubles, never one letter. So if you still won't to hear from me and still won't to hear of all my troubles, well I guess you have a right to.

I can start of by telling you that I don't like it over here. Now that I am over here and can't do any thing about it. I am going to do the next best thing and that it like it while

2.
I am here. I do intend to have a good time, and I am sure that there is no better place that I can think of at the moment, then Paris to have that good time. Right.
See that place must be heaven. All of the fellows that come pack from Paris says there is no place quite like it. The wemon are plentiful and the time is all yours. With three meals a day and never a worry about a place to sleep.

I am in hopes to see Paris some day, and I hope soon. I hope to see thoes places and to try out there beds, but Maxine my dear I will never forget you never. Even though you can't be with me bodely you will and always will be with me in though, for I will be dreaming of you always. Thinking of the times we will have together after this all blowes over. Right. You had better say yes.

Maxine let me take a moment of your time to explain something you should know.

3.
Remember the N.N. you have been sending me for some time. Well I have been receiving them reguliar and up to the minute. There has also been a Mrs. C. Cabber sending them also, which I received 4 copies each month. 2 from you and 2 from her. I wrote her several times telling her that I receive the N.N. from you each month and I would rather hur to discontinue sending them. She still sends them. So what am I to do.
I though that not being able to stop hur from sending them. I might not you, for I feal there is no use of boath of you sending them.
It would save postage for you, and at the sometime I will get the N.N. reguliar for she has been doing that for some time.
Just a few days ago I received 2 issues of N.N. from a Miss. Baker. It is the first of the N.N. I received from hur. So you see I don't quite understand the whole business. What do you think I should do. Please answer in your next letter).

4.

Maxine another fellow from the Co. left today for the states. That makes two now. You see I understand that the name was givven from the ones that maid the invasion of Africa and landed at Hafia I don't know how for down the list my name is, but if it be where I think it is, it will take me from 15 to 20 years to get home. Sounds good, no. And then it is possible that after the war is over here. I will go to the ______ (Edit: O'Dweyer is not allowed to write locations, but he probibly means "the States") where do you think. At least by the time the world is free, I can say I have been over most part of the world. ha ha. Do you think you could wait that long? I could.

Well Maxine there is not really much that I have left to say only that I miss you so much. Above all I

love you most. And just to know you still love me is all I ask.

You are always in my dreams

I love you so

Love Pat

P.S. Sending Mom my love
Envelope: 03-09-1945
PFC JAMES PO'DWYER 35257292
Co. E – 17th ARMD. ENGR. BN. APO 250 2 ND.
ARMORED. DIV. To P.M. New York. N.Y.

Miss Maxine M. Steed
323 So Bedford Ave.
Evansville 9 Indiana U.S.A.
(Transcribed 28-07-2018 by Erny van Wijk)
---
Letter 06-06-1945
"HELL ON WHEELS

Baddeckenstedt ,Germany June 6,1945

My Dearest Maxine;
How are you this eveningr and how is Mom. I do hope that everyone is -well, for that is just the way I am. I bet you dont know what harponed to-day. Well I rec-eived a letter from you. (correction there were two letters instead of one.) Anehow they were verry sweet. Maxine I suppose that you know all about the dereobil-ization plan by now, and how it effects me, when I will get home and what chance I have in receiving a discharge soon. There hasent been aneything new that has happoned since I last wrote you. Every thing seams to be about the same. It dosent seam that I am aney near getting home then I was a few weeks ago. Every thing seams to be goning just about the slowest as it can possable go. I dont think that they are verry ancious to get us hone emey too soon. Somthing is holding us up, and I would like to find out just what it is. I am begining to belive that we might be over here a year before we get there just as they planed it. Maxine you were write when you guessed what I have for you when we will meet again. Only it wont be but one kiss, but maney. I have been saving up all mine for you. They are bening saved for a long time now, so you see you have about three years savings to come to you all at once. ha,ha, Maxine in almost every letter you tell me of Mesker Park, you are eather goning or coming from there. Just tell me what is out there that seams to draw your intire life, to. Could it be somthing that I might be intrested in. Maxine I think that your new stationary is lovely, I like it verry much. Ha,has as if it mattered what sind of stationary you use. Just so that you write me is all that I care. Gee I only wish that that was true, that I was on my way home. I would give everything just to be with you for a moment. I think that I could tell you all that I wonted to in that lenth of time. It would only take a moment of your time, and I am sure that there woulden't be a better moment in your whole life, for that moment will explain everything that I wont to tell you and that is how much I love you, and how much you mean to me. Maxime do you remember what happoined a year ago today? Well I will let you in on a little secret providing that you dont tell anyone, but today a year ago we made the invasion on the cost of France. I was on the Normidy cost on D + 2. I will always remember that day the sane as maney others. Today is a Holladay for us over here. That is saying a lot for we have hade none since we hit the shore.

*Well I am glad that it is all over for us, and I do hope that we dont hafto do it again for a long Time. We did a prettey good job this time I do beleive. I hope that it last. I hope that these people have learned there lession, and will not start it again for a long while. Maxine there isent realley much more that I can say for now only that I miss you so verry much, and wish that it could be possible. for you to be here with me this moment. We had a little movie this evening, and as all the G.I. shows they are all alike. I do get some intrest out of them, but they are usally so old that the filim usally fals apart. I will be looking forword to seening a good movie some time when you are beside me. That is the only way that I would injoy a picture now. As for intermant they have practically nothing at all. We do get a little of fun out of playing base-ball among ourselvs once in a while. I guess that thing havent as yet been set up. That is about all the dope that I have for now, but please write often. I look forword to hearing from you each day, but know whin I dont hear from you I know that it isent you fault but the mail hasent reached me yet. I must say good night, and sleep tight I hope that you dont have any bad dreams, like having me coming home soon. Tell Mom. that I said hello and that I send all my love.
Here is a big kiss for you

PAT.
Envelope: 06-06-1945
Pfc. James P. O'Dweyer 35257292
Co. E. 17th. Armored Engr. Bn. APO 252
2nd Armored Division % P.M. New York

Miss Maxine M. Steed
323 South Bedford Ave.
Evansville (9) Idiana
U.S.A
Postal stamp: June 9 1945
(Transcribed 28-03-2020 by Martijn Brandjes)
---
---
Letter 07-04-1945
Berlin Germany July 4,1945

My Dearest Maxine,

Well good evening my darling and how are you this evening? I havent hurd from you for about three days now, but I know the reason why, so I am dot blaming you this time. I ges that you have noticed at the tope of this page where I am now. Yes it is true, we arived last night about 11:00 o'clock in the evening. It was a hard trip and I am glad that it is over now. We left yesterday morning about 6:15P.M. and arived at 11:00 o'clock that evening. Let me first tell you about the trip, and a little of the sights along the way first. Well first the Co. (Company) lined up along the road for miles and miles, for our Co. is the largest Co. in the whole Bat. (Battalion) I mea mean it has the largest amount of trucks. I beleive that when the whole Co. is travling togeather the colm is about three to five miles long. If you dont think that that isent long, you just go and look at a colum of trucks that Iong.

2

Well getting back to the storey, that is what we were talking about wasent it. Well we started out for Berlin at last. The Co. told us a few days ago that we were to be the ones to porade to Berlin and we expected it all the time. As we got closer and closer and closer to the German Captial, we were begening to see more and more Russins, we finially approached the bridge build by the Russins, and more Russins, we finially aproached the bridge build by the Russins, and was named the Victory Bridge. This bridge was build accross the Elbe River. We crossed the bridge about five A.M. After that it was a nun stop trip to the German Capital. As we marched along in our trucks we meet severial wemon and children waving and throning flowers at us like they did when we were marching through France – couldent hardely beleive my eyes

I sad to my buddy that was riding with me, are we in France. I know that these are German men and wemon, but why are they waving at us. Getting baclk to the letter again. From the time we started we traveled on good highways all the way. Then I knew we were goning streight to Berlin. I have hurd about the Supper Highways that have read about, but I honestaly dident beleive it. It is

3

true, Germany does have the Supper highways. They are two lane all the way to Berlin. I dont know just haw long they are, but we travled every bit of One-hundred miles on them. Now for the intre in-to Berlin, I know you are ancious t to know just what berlin looks like now that the war is over. Well that will be no problem for me to explain to you. I can tell you every thing that you would like to know about Berlin in almost one word, the one that is used over here tore then aney one word I know of. That is ALL IS KAPUT and I would say that that isent a bad word to explain everything about Berlin. Maxine honestaly I cant hardely beleive my eyes. Berline must have been a big place before the war, but it is nothing but ashes now. It is terable nover say aneything to compare with it. We havent gone verry far into the City, but the only reason that we dident is because we wouldent be able to find a house that is still standing to live in. The only place that we were able to find was just at the edge of the City. Maxine I could send you a picture of the whole of Berlin in a match-box. That is about all that you will find here. I wish that they would get me out of here as soon as they can, for I have had enough of it all ready.

4

The place smills like they put all the bodies of the dead of all armeys and dumped them all into the city. In other words it is horrable.

Maxime rather not gao any further with tis letter in describing this place. so if you will say that that is enough for now will call it quits for now, and say we will call this a day and say good night!
Maxine my dear I will write you again to-merrow, for I am rather tired, and I do mean it this time. I never felt so bad in all my life as I do now. I guess it must be what I have seen of this place that made me feell so. I wrote you tonight because I wonted to give you a fair size picture of the City while it was still hot. I hope that you will get a fair idea of what Berlin is like. I dont think that I have exagurated much when t explained to you just how this place looked, and what i have seen with my own eyes. It'was hit worse then France ever was, and I thought at the time that it was bad.

So closing for now, but will write again soon. I havent aney further news as to how soon it will be before I am on my way. But the first bit of news I get I will let you know.
OVER

Maxine inclose, you will find what is left of BerIin.

P.S.Maxine I was goning to send you a little of the ashes that is left of Berlin, but the Old Man wouldnt alow it. I am sorrey.
Envelope: 07-04-1945
PFC JAMES PO'DWYER 35257292
Co. E – 17th Armored ENGR. BN. APO 250
2nd ARMORED. DIV. To P.M. New York

Miss Maxine M. Steed
323 So Bedford Ave.
Evansville 9 Indiana
---
---
Researh by: Martijn Brandjes
Transcribed: Bart Tigges , Martijn Brandjes, Erny van Wijk
Sources: Letters ownership by Sidney Hesselberth.