The story of
Sergeant Harry Oliver
Thompson Sr
17th Armored Engineer Battalion, B-Company
Army Serial Number: 14033115
Born: 4 May 1919Baxterville, Lamar County, Mississippi, USA
Deceased: 31 Mar 1997 (aged 77)
---
Enlistment record
(second time for the Airforce in 1946)
| | |
| --- | --- |
| Name | Harry O Thompson |
| Name | THOMPSON HARRY O |
| Event Type | Military Service |
| Event Date | 16 Oct 1946 |
| Term of Enlistment | Enlistment for Hawaiian Department |
| Event Place | Keesler Field, Biloxi, Mississippi, United States |
| Race | White |
| Citizenship Status | citizen |
| Birth Year | 1919 |
| Birthplace | MISSISSIPPI |
| Education Level | Grammar school |
| Civilian Occupation | Skilled occupations in manufacture of electrical machinery and accessories, n.e.c. |
| Marital Status | Married |
| Military Rank | Corporal |
| Army Branch | Air Corps |
| Army Component | Regular Army (including Officers, Nurses, Warrant Officers, and Enlisted Men) |
| Serial Number | 14033115 |
| Affiliate ARC Identifier | 1263923 |
| Box Film Number | 01482.5 |
---
US Sensus 1930
| | |
| --- | --- |
| Name | Harry Thompson |
| Event Type | Census |
| Event Date | 1930 |
| Event Place | Beat 3, Lamar, Mississippi, United States |
| Gender | Male |
| Age | 11 |
| Marital Status | Single |
| Race | White |
| Race | White |
| Relationship to Head of Household | Son |
| Relationship to Head of Household | Son |
| Birth Year (Estimated) | 1919 |
| Birthplace | Mississippi |
| Father's Birthplace | Mississippi |
| Mother's Birthplace | Mississippi |
| Sheet Letter | B |
| Sheet Number | 3 |
Household

Role

Sex

Age

Birthplace

Robert T Thompson
Head
M
48
Mississippi
Ella Thompson
Wife
F
45
Mississippi
Magdelene Thompson
Daughter
F
22
Mississippi
Mickee L Thompson
Son
M
20
Mississippi
Carsey M Thompson
Son
M
16
Mississippi
Clarcy Thompson
Daughter
F
16
Mississippi
Rhudolph Thompson
Son
M
15
Mississippi
Hyram Thompson
Son
M
13
Mississippi

Harry Thompson

Son
M
11
Mississippi
Hallie Thompson
Daughter
F
9
Mississippi
Arendia Thompson
Daughter
F
7
Mississippi
Aaron Thompson
Son
M
5
Mississippi
---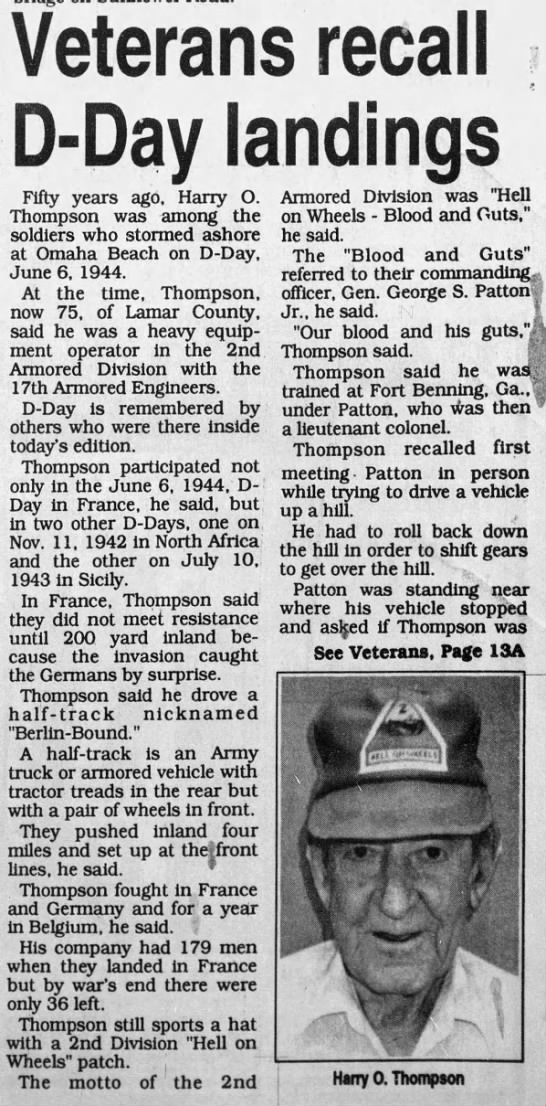 Harry Oliver Thompson Sr 1919 – 1997 Columbian-Progress (Columbia, Marion, Mississippi, United States of America) · 2 Jun 1994 (source: newspapers.com)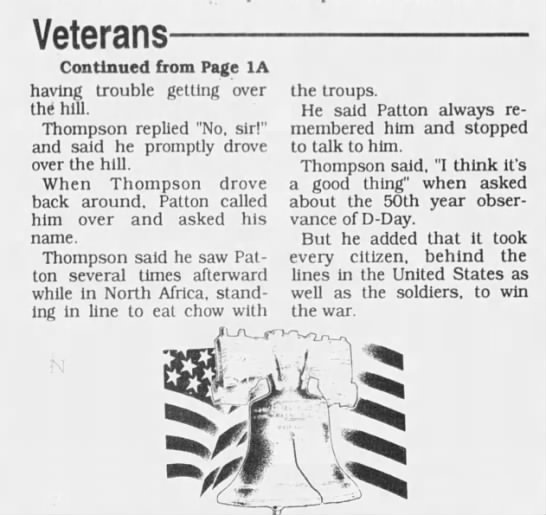 Veterans recall D-Day landings

Fifty years ago. Harry 0. Thompson was among the soldiers who stormed ashore at Omaha Beach on D-Day, June 6 1944. At the time, Thompson, now 75, of Lamar County, said he was a heavy equipment operator in the 2nd Armored Division with the 17th Armored Engineers. D-Day is remembered by others who were there inside today's edition. Thompson participated not only in the June 6, 1944, D-Day in France, he said, but in two other D-Days, one on Nov. 11. 1942 In North Africa and the other on July 10. 1943 in Sicily. In France Thompson said they did not meet resistance until 200 yard inland because the invasion caught the Germans by surprise. Thompson said he drove a half-track nicknamed "Berlin-Bound" A half-track is an Army truck or armored vehicle with tractor treads in the rear but with a pair of wheels in front. They pushed inland four miles and set up at the front lines, he said. Thompson fought in France and Germany and for a year in Belgium. He said is company had 179 men when they landed in France but by war's end there were only 36 left. Thompson still sports a hat with a 2nd Division "Hell on Wheels" patch. The motto of the 2nd
Armored Division was "Hell on Wheels – Blood and Outs." he said. The "Blood and Guts" referred to their commanding officer, Gen. George S. Patton Jr.. he said. "Our blood and his guts," Thompson said. Thompson said he was trained at Fort Bening, Ga., under Patton, who was then a lieutenant colonel. Thompson recalled first meeting Patton in person while trying to drive a vehicle up a hill. He had to roll back down the hill In order to shift gears to get over the hill. Patton was standing near where his vehicle stopped and asked if Thompson was
having trouble getting over the hill. Thompson replied "No, sir!" and said he promptly drove over the hill. When Thompson drove back around. Patton called him over and asked his name. Thompson said he saw Pat-ton several times afterward while in North Africa. standing in line to eat chow with the troups. He said Patton always remembered him and stopped to talk to him. Thompson said. "I think it's a good thing" when asked about the 50th year observance of D-Day. But he added that it took every citizen, behind the lines in the United States as well as the soldiers, to win the war.
---
"2021"
Halftrack from B-Company 17th Armored Engineer Battalion, that Harry O. Thompson drove on as a heavy equipment operator.
(Enhanced photo)
Original photo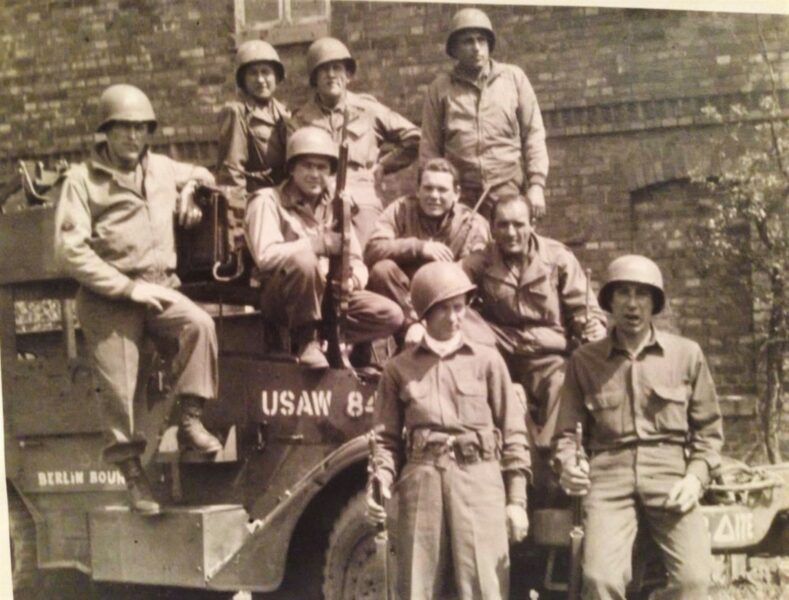 Detail with the name "BERLIN BOUND"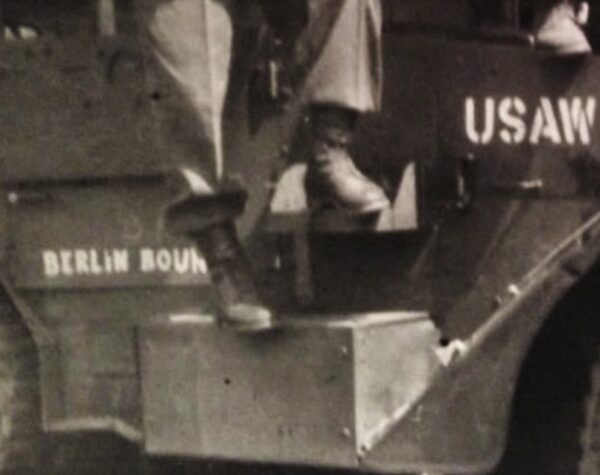 ---
Family
Parents: Robert Thomas Thompson and Ella Rayborn
Spouse: Gertrude Alma Wright Thompson
Children of Harry and Gertrude:
1. Patricia Ann Thompson
2. Harry Oliver Thompson Jr
3. Walter Cecil Thompson
---
Burial
Caney Church Cemetery, Lamar County, Mississippi, USA