Click on the name of the Soldiers for more details.
Gene (Eugene)

P

Skurky
Unit: 17 Engr Bn 2nd Armd Div, Company A
Rank: Technician 5th Grade
Born: 03/28/1920
Awards and Citations: Purple Heart (unconfirmed)
Enlisted: 12/10/1941
Deceased: 01/13/1945 KIA (Killed in Action)
Location: Belgium
Hometown: Cambria, Pennsylvania
Army Serial Number: 33108238
Burial: Calvary Cemetery
Altoona, Blair County, Pennsylvania, USA
Plot: Sec J
GPS (lat/lon): –
Biographical Info
---
Location grave Technician 5th Grade Gene P Skurky at the Calvary Cemetery, Altoona, Blair County, Pennsylvania:
---
Temporary Grave Technician 5th Grade Gene P Skurky:
Henri-Chapelle American Cemetery ay Belgium, burried from his date of death till January 1949, his body was sent back to his family for his final burial.
---
Where was Technician 5th Grade Gene P Skurky Killed in Action:
4 january:
No change in company positions.
Company's A & B actively engaged in clearing roads of mines and de-icing to support advance of Company commands.
The period 12-17 January required the construction of several tread way bridges because of the enemy's excellent demolition work. Several of these bridges were built under observed fire, but Engr casualties were light. Mines caused other casualties, as did enemy fire to mine clearing parties working forward.
(Source: Unit History)
11 january:
Battalion Headquarters, headquarters company & C company moved to Erezee P450905 Command post set up in hotel.
Company A moved to Lamormenil P 505862
Company B moved to Manhay P 533901
Company D still in Odeigne
Company E still in Borsu
Not much action at fronts.
(Source: After action reports from December 16th, 1944 to January 24th 19450)
Summary
Technician 5th Grade Gene P Skurky was with A Company and by the coordinates stated in the After Action report we know where A Company was stationed, at Lamormenil, Belgium.
Around this area, on one of the many Engineer tasks during this phase, he was Killed in Action. We know there was enemy artillery fire that caused casualties and the Engineers laid bridges under fire, and mine sweep parties were being fired upon.
---
Location where Technician 5th Grade Gene P Skurky was killed in action:

The location of Company A on January 13, 1945 from the coördinates stated by the After action reports from December 16th, 1944 to January 24th 1945; Lamormenil P 505862 = geographical coordinates: Latitude : 50° 15′ 24" N – Longitude : 5° 38′ 21"

(Source: http://www.echodelta.net)
---
Newpaper articles of Technician 5th Grade Gene P Skurky:
April 2nd, 1945
November 17th, 1948
November 18th, 1948
January 6th, 1949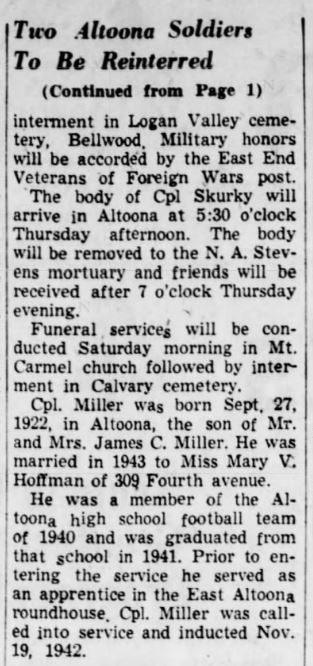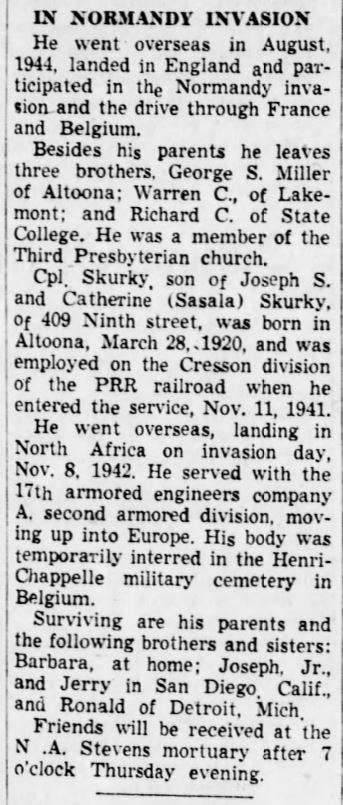 ---
Official casualty list Technician 5th Grade Gene P Skurky:
---
The location of the house in the year 1940 where Technician 5th Grade Gene P Skurky lived with the family, as an 20 year old man, he was a "new worker" at the "Mobile Gas Company:
Adress: 318 mellon avenue Patton, Pennsylvania, United States
---
US Sensus 1940
Name: Eugene Skurky
Event Type: Census
Event Date: 1940
Event Place: Patton Borough, Cambria, Pennsylvania, United States
Gender: Male
Age: 20
Marital Status: Single
Race: White
Race (Original): White
Relationship to Head of Household: Son
Birthplace: Pennsylvania
Birth Year (Estimated): 1920
Last Place of Residence: Same House
| Household | Role | Sex | Age | Birthplace |
| --- | --- | --- | --- | --- |
| Joseph Skurky | Head | M | 43 | Austria |
| Catherine (Sasala) Skurky | Wife | F | 42 | Pennsylvania |
| Joseph Skurky | Son | M | 22 | Pennsylvania |
| Eugene Skurky | Son | M | 20 | Pennsylvania |
| Gerald Skurky | Son | M | 17 | Pennsylvania |
| Ronald Skurky | Son | M | 15 | Pennsylvania |
| Barbara Skurky | Daughter | F | 6 | Pennsylvania |
---
Enlistment details Technician 5th Grade Gene P Skurky:
Record Collection: United States World War II Army Enlistment Records, 1938-1946
| | |
| --- | --- |
| Name: | Gene P Skurky |
| Name (Original): | SKURKY GENE P |
| Event Type: | Military Service |
| Event Date: | 11 Dec 1941 |
| Term of Enlistment: | Enlistment for the duration of the War or other emergency, plus six months, subject to the discretion of the President or otherwise according to law |
| Event Place: | Ft George G Meade, Maryland, United States |
| Race: | White |
| Citizenship Status: | citizen |
| Birth Year: | 1920 |
| Birthplace: | PENNSYLVANIA |
| Education Level: | 4 years of high school |
| Civilian Occupation: | 999 |
| Marital Status: | Single, without dependents |
| Military Rank: | Private |
| Army Branch: | Branch Immaterial – Warrant Officers, USA |
| Army Component: | Selectees (Enlisted Men) |
| Source Reference: | Civil Life |
| Serial Number: | 33108238 |
---
Pictures
---
Research © by: Martijn Brandjes
Text © by: Martijn Brandjes
Photos © by: Findagrave.com, familysearch.org
Categories:
17 Engr Bn 2nd Armd Div - A Company