January 1945
Jan.1, 1945

Belgium

Dearest Darling,

How's my chick today? The sun is shining pretty today. Some of the snow and ice is melting but it's still cold. I guess you had a nice time over the holidays. We had plenty of fireworks but that's about all. The planes have really been giving the krauts hell lately. Maybe we'll soon knock them out now.

Say we haven't settled the jewelry problem either. I simply can't get any. The krauts didn't leave much stuff like that here. I didn't get a single box in about two months. They get smashed awful bad so ease up on the candy and send rich foods like fish, olives, lunch meat and coffee. Cigarettes are pretty scarce here too. I have to smoke awful sparingly to make ends meet.

I don't know any French girls at all. In fact I came through France so fast I didn't have a chance. I was talking about the month of June. See you get all excited over nothing. The fountain pen was in the half track where I ride, only I wasn't there at that moment. I think an Easter wedding would be nice too. I got to run now. Be sweet honey.

Love

Edd
Told by Mark Hiett, son of David E Hiett:
In this letter he mentions the month of June because he had said something in a previous letter about getting wounded and she might mistakenly thought he got wounded again a second time. He also mentions the fountain pen which was broken by shrapnel. I remember him telling me they took an armor piecing round through the front windshield and out the back of the cab right where he rode and manned his machine gun.

---
Jan. 5, 1945

Belgium

Dearest Lucille,

The sun is trying to shine on this snow covered earth today. There is more snow here than I have ever seen. I could sure have some fun rolling you in it. We never did get to have a snow fight did we? I just wrote Robert a letter, the first. Guess I don't write much anymore. I got some very sweet letters from you the other night, but you still don't ask me any questions. I don't know much to talk about today. The same old thing here. Sometimes I get so damn disgusted I don't think this war will ever be over. I guess time will settle that though. Every time I see a dead jerry or a prisoner I think well that's one less. But they keep coming. I don't understand where they all come from. Guess they have a factory. The boys all think you are wonderful honey. No one could ever feel the way I do towards you sweetheart. It will be a wonderful day when I can return to you my darling. Say did you ever get that last forty bucks? The gals all wrote about you and say you are a wonderful girl. I love you with all my heart. I must get back on the job now. So long honey. Send me some canned food, rich stuff.

Loving you always

Edd

---

Dearest Lucille,

I was more than pleased to get the package from you last night. Sorry I haven't had time to write more. You kind of surprised me with the contents. There was a pair of leather gloves. They are very nice, in fact too nice except for passes. It take awful heavy clothes to stay warm in this weather. I have an awful cough today. I slept in a hay barn last night which may have had something to do with it. Say I haven't got a letter from you in quite some time now. You haven't disowned me I hope. The boys here are about as anxious to hear as I am. They say they wrote you.

The fighting is still going strong here, although we are pushing the krauts back. This is a tough war. This is a beautiful country to look at. the mountains are covered with snow. In fact everything is blanketed. Maybe I could enjoy a trip through here in peace time, but this is rough country for fighting. In the open fields the snow is around knee deep.

We were just discussing our future. The questions about babies arose. Some of the guys don't think we'll be any good. I have had lots of medicine and dope shot into me and I know this cold weather isn't doing me any good. According to medical records only one out of every ten are supposed to come out sterile. Maybe I'll be one of the nine. Now you take care of your beautiful carcass and I'll do the best I can. Don't forget to keep sending me packages and I'll love you always. Just be sweet honey.

Edd

---
Jan. 17,1945

Belgium

Dearest Bug,

Yes, I'm still alive and kicking. My writing is a little far apart so you see. I suppose you've read in the paper what we have been doing. When there's a tough spot to take this outfit seems to be the one called. It is still trying to snow. So far it hasn't melted any. Boy what cold. I'm pretty well fixed on gloves now. I got the pair Mama sent me back in June yesterday. I got a chance to shave this morning. It's been a long time since I've had a bath though. If I ever get back to civilian life I think I'll bathe every hour. Well that is if you'll rub my back. We'll sure have fun going places, doing things or just staying home. Guess I could do most anything if I get out of this all in one piece. Every kraut dead, I say one step closer to my love one. Don't forget to let the rest know you heard from me. Send me some coffee, lunch meat, crackers etc. Got to say so long now.

Love,

Your Soldier

---
Jan 21, 1945

Belgium

Dearest Bug,

I have enjoyed myself the most today and tonight since I've been across. You see we have pulled back for a rest. Yes a long awaited and well earned rest. By the time you get this I guess we'll be back in there pitching again. I am staying at a nice home. The man and his wife have a beautiful home. It is very quiet here. They have a radio and boy have we played it. Have gotten the news every hour and it's good too. Tonight I've heard all the big programs and bands from the States. I could close my eyes and wander thousands of miles away to the one I love. Lots of songs were played that I'd never heard. Indeed I have relaxed for the first time since the invasion. I have more beautiful dreams and built castles in the air. Oh my darling how I dream of those beautiful days with you. If only I could come home to you now today. But I don't guess we've done enough yet. I don't think the German army can hold out much longer. Of course the guerilla war comes too. You know the kind that sneak up behind you. That won't last long though. Oh we'll have some romantic times when it's over.

How's everything? Verlyne never wrote me anymore. I'd like to hear from all of them. The mail hasn't come the last two days. I'm sweating out a stack of sweet letters when it does get here. I guess this looks like a lot of scratching but I must hurry and write Mama. Give my love to all, I've already given it to you, ha. Good night darling.

Love

Edd
---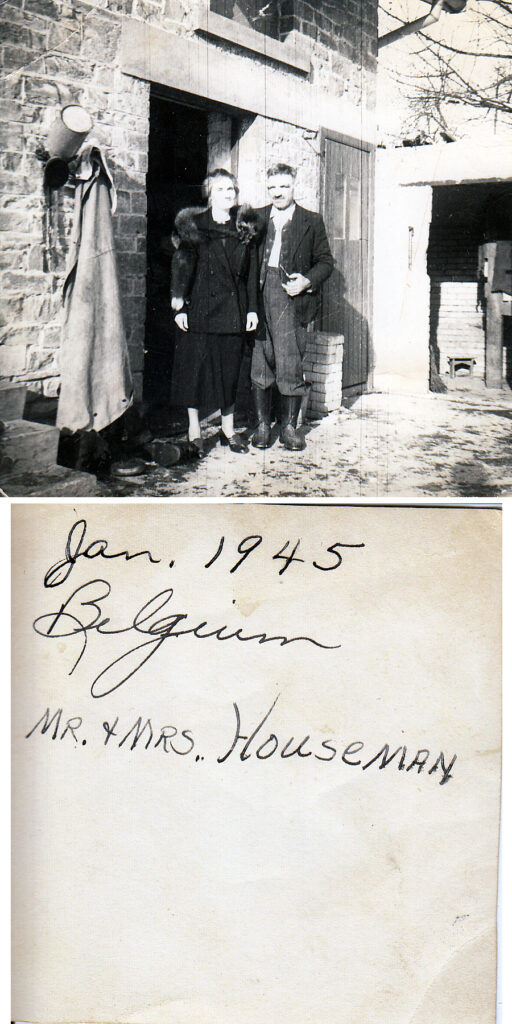 Mr and Mrs Houseman (Huisman?) Belgium, January 1945 (courtesy: M. Hiett)
---
Told by Mark Hiett, son of David E Hiett:
My father spoke highly of the Belgium family but I do not know details about them. He was very moved by the suffering of all the civilians they had contact with and would always get emotional talking about it.
---
---
February 1945
Belgium

Dear Bug,

No letter today. Say I haven't gotten a new letter in a long time. It's all been back stuff. You aren't slowly forgetting me are you? You know I get a V Mail from Dymple everyday. Well I'm still on a rest but don't imagine I will be by the time this reaches you. Guess we'll go in and strike the final blow. I hope it's the last one. I was just listening to the news. It sure sounds good tonight. Those darn flying bombs are still coming over though. I still think you are the sweetest and best girl in the world. So be sweet and wait for your Soldier.

---
February 7, 1945

Dear Lucille,

How's my chicken tonight? I am fine except for the same old thing. It has started raining over here and no telling when it will quit. Boy I sure got wet today. The ground has thawed out and it's really muddy. Everything bogs down. Yes I have a dry place to sleep at the present. I don't know how long I will have it though. I have received a couple of packages from you since last time I wrote you. Received the gloves and shaving bag and stuff. I am very proud of all this, especially the cigarette case and gloves. I don't see how I'm going to use all that powder. Guess I'll have to trade it to some mademoiselles, ha. You know that kind of stuff is hard to get over here. No I'm just kidding. I've been true to you this long, guess I can stick it out a while longer. Say I haven't gotten a letter from you in quite some time. I am sending a picture that was in the New York paper. This picture was took a long time ago. The sargent is not with us any more. He was transferred. Right after this picture, (a couple days), we made an attack. Me and another Joe brought in fourteen krauts. The sargent sent this picture to John Good, one of my buddies. I had an awful time getting this. He wants you to write him a letter of thanks, see? So just stick it in with one of mine, OK? Say do you recognize me here? That's a shell in my hand. I am not a member of that crew any more. I man a machine gun on a half track. Say look, all this may mix you up a little but it's the best I can do. Are you getting me any films for my Kodak? Boy I could send you some good pictures. I may look a little bad in this one. That darn helmet was cocked on my head. Well chicken I got to hurry. Say did you ever get a letter from some of the boys here? Take care of your sweet beautiful self. So long now. Yes I'm in the 2nd Armored and will be see? Just because I don't put it on the address is no sign.

Love

Edd
---
The cover and autograph page of the booklet released in February 1945 with many in Company C signing it. List of names:
Richard D Varner
TEC 5 Paul J Planton
Clifton J Howard
Sgt George J Hydrick

Pvt Ralph Rains
Harley Whitson
W M Cullough
Bert Petsch
PFC Nelson Holder
CPL Thomas J Burgess
PFC Mitchell M De Vaul
PVT John Wayo
PVT Calvin M Kopp
Jim Incandela
Fred Nelson
Earl W Meier
Michael Mucha
Larry Cooper
SGT Joseph F Joyce
CPL Ralph Turner
TEC5 John R Good
Willam C Unger
Erwin Robertson
Kenneth van Albert
Orsmby E Harris
Tom Barnhart
---
---
March 1945
---
Told by Mark Hiett, son of David E Hiett:
You mentioned Co. C working with infantry, he talked about hearing the words "Engineers up front" many times and having to clear the way for the attack on pillboxes through minefields and barbwire with bangalore torpedoes while under fire. I believe his Bronze Star was awarded for being part of a 3 or 4 man team that went into a German occupied town at night and blew up a railroad line. At times they were so close he could hear the Germans talking and smell their cigarettes.
---
Germany

March 5, 1945

Dear Darling,

How's the fat tonight? You know my folks sure do pass some nice compliments to me on you. I sure will be proud when I can find out for myself just how true they are It may not be very long now either. We're sitting on the banks of the Rhine. Don't have any idea where I'll be the next time you hear from me.

You keep mentioning about staying up so late at night. That sounds awful suspicious to me. You've got lots of explaining to do one of these days. Maybe I'll just drop in on you some day kind of unexpected, huh? I'm only kidding honey, I've got to trust you now or never. I'm still waiting for the picture of you. Haven't had any mail lately. It may be down the line somewhere for all I know.I'm really sweating that job. I am anxious to see how it looks.

I'm not in the mood for writing today and can't think of anything to say. I have a few more souvenirs to send you just as soon as I get the chance. Here is a couple of pieces of money you or Cotton can add to the list.

When have you seen the folk? Boy I sure would like to hear from you all. Guess I ought to be getting some mail from you soon. You wanted to know where I got the machine? Well you'd be surprised what we do up here at times. Keep your nose clean honey and I'll be seeing you someday soon I hope. Love me lots and be sweet darling.

Love Always,

Edd

---
Haven't had a chance to mail this so I'll add a little. I got this picture of the squad today and have their names signed. We take lots of pictures but have a hard time getting them developed. I got the proofs you sent last night. I must say you have grown up a bit since last time I saw you. Also got some packages. Well I hope you like this picture. I have seen lots of hell lately honey. Am praying it will soon be over. Bye now.

Love,

Your Soldier
---
March 1945 David Edd Hiett with his squad, 17th Armored Engineer Battlion, Comp C, 3rd squad.
---
Names ont the back of the photo:
Erwin Robertson

Earl W Meier

John R Good

Walter Nepoka (?)

Richard D Varner

---
Germany
March 9

Dear Sweetheart,

Yes I'm still kicking around. We had a picture show last night. Can you imagine that? A show right up here on the Front. It was the first one I'd seen in a long time. Wasn't very good though, some gangster.

Well I guess you see I've made a stripe again. Maybe I can hold it this time. Doesn't worry me in the least though. Over here they are always making and breaking. I'll never forget how I lost the last one and nearly got racked up myself.*

Well how does the news sound to you tonight? Some of the boys are crossing. Did you know I was around the first to reach that river? The civilians couldn't understand how we got there so fast. If we had crossed we would have really made history. Guess we got a write up anyway. Say did you ever get the picture I sent you of me with the gun? (A clipping). It looks to me as though the krauts can't last much longer, but you never can tell what may happen. I have my hopes high anyway. I can already picture myself in civvies again. Wonder how they'll feel? Guess I'll be pretty choosy after wearing these good army clothes. I just got a new pair of boots today.

Guess I can finish now. I just got a haircut. No not short, just regular. That small snapshot I sent will prove how my hair is. I'd like to get all tangled up in that hair of yours. Honey I long for you with all my heart. You're quite a lady now. Doubt if I'd even recognize you. Hope you can read this mess, I'm in a hurry. Bye now.

Love

Edd
---
(* David Edd talk about getting het Private First class rank stripe back after losing it the first time when he crashed a jeep back in England before the invasion when he was driving for his lieutenant.)
---
March 16

Germany

Dear Lucille,

I just got one of those dinky little V-Mail from you. Boy you sure must have trouble writing me lately. I hardly hear from you once a week then it's a darn V-Mail. Guess I'm mad at everything and everybody tonight. I'm tired and disgusted. Sometimes I feel there is no use hoping to ever go home, especially when I hear of guys going home that haven't been over here as long as I have. Pretty soon I'll have to start sweating the Pacific. You know the army wants experienced men. The longer a man stays up here the smaller his chances are. The law of average is bound to catch up with you sooner or later. Then I read about the damn dirty work back home. Boy if I could get my hands on some of those guys that go on strike. I'd like to have some of the big guys that spout off at the mouth to sweat just one air raid or one artillery barrage. When a man gets that feeling that there is no hope, then he can have something to talk about. Let's let some of the big boys come up here. Maybe this war will end then.

I'm sorry honey if I've said anything to hurt you or worry you. You understand what a soldier is up against. I'm about to lose all confidence in all women too. I don't know if the paper and magazines are true or not but they sure tell some tall stories about our women. I've also seen lots of guys right here go around with their heads between their legs because they had heard that their girl or wife had given birth to a baby after being overseas from one to two years. Yes a Joe has to fight lots of things besides Germans. It's raining here tonight. Thank God I have a dry place to lie down. We are sitting still on our front right now. May not be for long though. I'm writing this by a small candle light. Last night I watched the bombers raid the krauts over the river. Saw some planes go up in flames, don't know if they were ours or kraut fighters.

I have sent you a couple of packages lately. Don't know if they went through or not. One of the boxes, I was told, was one safeties come in, so you had better watch it around your mother. Guess I've said enough. Please don't forget to write me and please tell me if anything ever happens to you. Don't keep me lingering like a sucker. Bye now beautiful.

Love

Edd

---
---
April 1945
April 9, 1945

Deep in Germany

Dear Lucille,

Since my letters to have to be passed around, I'll try to write more sensible. Yes it's been two weeks since I wrote you, but it wasn't my fault. Boy we have really been driving. It's plenty dusty too after all the rain. No we didn't bridge the Rhine. In fact I haven't built any bridges. What we've been doing is clearing out towns of krauts. That bridge stuff is something none of us like. Oh I'll tell you all about it someday. It's hard to explain just what we do, cause we do everything including infantry work. The krauts have come out with their air corps pretty strong lately. Don't know where they all come from. We have freed lots of slave labors in this push. They'll try to eat you up on sight. Really a happy bunch to be freed.

I got those spicy first pictures you sent me. They came two days ago. No kidding honey they were really good. The fellows were crazy about them. Whoops I'm slipping again. Got to talk like a gentleman. That's hard to do too. I haven't been around anyone except soldiers that could speak English in so long. I guess I've got where I talk kind of bad. That'll be another job for you when I get back.

Say I thought you were going to get some of the folks to to write me. Well I haven't heard from any of them. Kind of strikes me funny about Roy getting drafted. Guess they're taking them for the Pacific. Sure hope I don't have to go down there. Well honey send me what you can but no cigarettes. I get plenty here. I love you with all my heart.

Love

Edd
---
Told by Mark Hiett, son of David E Hiett:
I remember him telling of going to Buchenwald. He said he decided not to go inside the camp though and bought the pictures either out side the camp or maybe in Berlin. In the April 9th letter he tells of liberating slave labor camps but he never talked in detail about what he actually saw or experienced first hand. I believe he wanted to bring these pictures home to show what they had been fighting for and what kind of evil the Nazis represented. He said that when he first got back some people could not and did not believe what he and many vets were saying about what they saw and went through. That may have been one of the reasons why he and so many of them did not talk about it very much. I remember seeing him get very emotional the rare times when he would talk about what some civilians went through. My niece who is 38 years old now told me that when she was around 10 years old they were learning about the war in school and she knew he had been in it so she asked him if he would come to her class and talk about it. He got real quiet and emotional and just shook his head saying "no I can't." She kept asking and all he would say is "no I can't." She was too young to realize why so her mother took her to another room and told her not to ask Papa about the war because it's too hard for him to talk about.

---
April 22, 1945

Germany

Dearest One,

Have you been worrying much about your soldier? Boy we have really been on a drive. Guess you have already heard all about it in the papers. I mean this division how we spearheaded the 9th Army and so on. Well we are on a rest now. Can not say for how long, just here that is all. I will say one thing though, I really had some close calls up and across that Elbe River. I am in a pretty safe area now though, except for air raids of course. I do not think it will be much longer before all of Germany is occupied. Of course you never can tell what they will do with me. I may go to the Pacific or may stay here, I do not know. I do not think there is a chance for a discharge any way soon though. I got a couple of letters from you yesterday. Was the the first in a long time. We hardly get any mail while on a drive. Oh yes, I gave the fellows the letters the letters you wrote them. They were proud to hear from you. Earl said you kind of threw it up to him about that pin up letter. He is the one with the long mustache. Boy it is really getting long too. That picture was taken back in January. I do not think his wife thinks very much for it either. I would not know, would you? Right now he is tinkering with an old radio. About all we have gotten so far is a lot of buzzing and popping. I got some more pictures of you. They were really good too. You know I have about 60 different poses of you. I would not take anything for them either. How is everything at home? About washed away I guess. I have been reading about it. Really bad I suppose. So you want us to buy a car first, huh? Well I do not know. Everything will have to be figured out when I get back. We have so much to do. Give my love to all and have me a place saved at the table.

Love,

Edd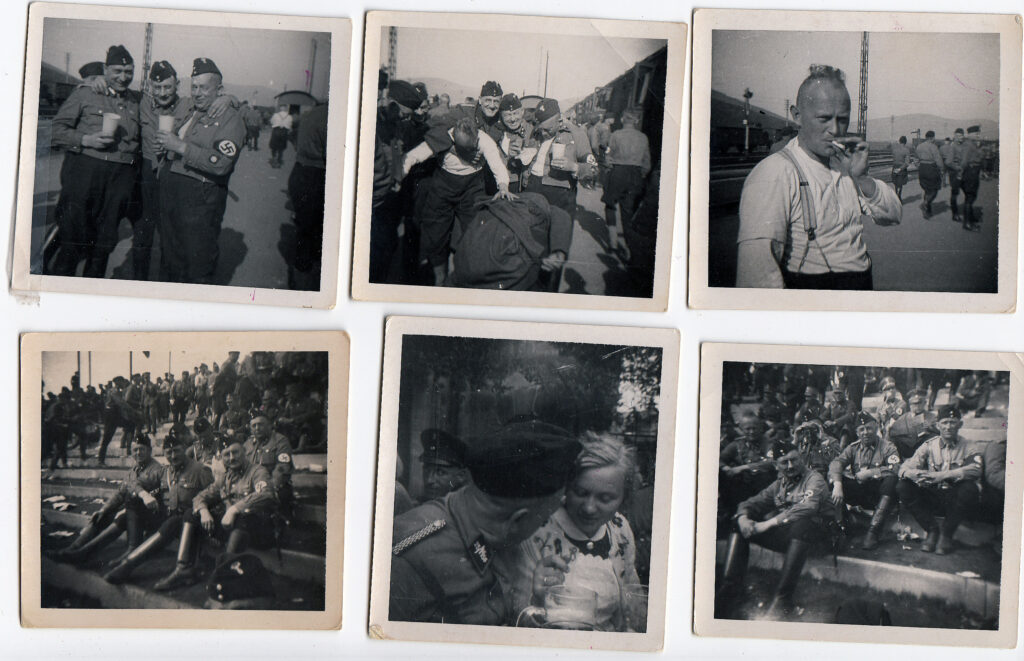 ---
April 24,1945

Germany

Dearest Lucille,

I sure have been receiving some hot letters from you lately. Guess you were burned up at the way I was writing back there. Well I am feeling much better now. In fact I may not have to fight over here anymore. Right now about all we are doing is running the towns. Do not take this too serious because you can not tell what may happen. You said you had gotten your hopes high. Mine are high too, but you almost lost the Engineer up there across that Elbe. Boy I really had some close calls. Everyone has written me about Tommy coming home on furlough. Well I bet I get out of this thing before he does because he is a sailor, ha. Oh well I guess we need the navy too, but he will never be able to tell the experiences I can. How are all the folks on your side? I never hear a line from anyone of them. Just wait until I get my hands on them. I got a package from you today. Had one pack of butts (cigarettes) in it. Thought I told you not to send me anymore. Oh yes about the 300th, I do not think they are so hot. In fact I think they are rear echelon. Got to go now beautiful. Be sweet and remember to have plenty of loving saved up for me. Bye now.

Love,

Edd

---
April 26

Germany

Dear Bug,

Here is a picture for you. I am sending Ma the large one, so you can see it there. It's the same pose and the same old Edd. You know I haven't been called Edd in so long I don't like that name anymore. I sent you another box last night. Hope you get it in good shape. I have some knives I'm sending Pa tonight. You asked about the civilians here. Well there really isn't much difference. The girls aren't as modest and they don't have the clothes and stuff as you people do. Some are clean in their homes and some are dirty same as the States. Of course they treat us nice just as if we weren't fighting their sons and husbands, but I think the majority only tries to win us over in order to get us to treat them easier. We have to do some pretty dirty things sometimes in order to keep things in order. This Hitler Youth is pretty bad. I myself haven't run into any as yet. When we kill a few off everything settles down again. There aren't any men around. Only the old ones or the kids. Oh I'll tell you all about them when I get back.

I have been washing some clothes. Boy they were really dirty. I had worn the sames ones for over a month. They had begun to smell a little, ha. It'll probably take a year to get good and clean again. Awful pretty here today and I'm feeling fine, love you more than one can tell and hope to see you soon. Give my love to all.

Love

Edd

---
---
---
May 1945
May 8, '45

Germany

Dearest Darling,

It's here baby. The day we have prayed and fought for. There is no big celebrating. We were all proud and overjoyed, sure, but no one is celebrating. Well all I have to do now is sweat out the Pacific. Maybe I'll get a furlough home anyway. Damn, I sure hope I don't have to fight anymore. I know everyone must be expecting me home. I have no idea when I'll be there. Right now we are just occupying. Have a nice home with electric etc. and a bed. We have been living in homes all along when it was possible. Sure is a pretty day and I'm feeling fine. Pressed myself a clean shirt a little while ago and I must say it really looks sharp. I put the creases in too. About the women here consorting with us. If a soldier is caught talking, or anything else, to a girl or man he is court martialed and fined an enormous sum. So you don't have to worry about that. I must say though I have seen some real pretty girls here.

Sure is some good music on the radio. Lots of new songs I've never heard. About the dances you said we'd go to. You'll have to teach me how to dance first. Oh darling I long for you so. My heart aches for you my sweet. I'm gonna prove it too, someday. Say hello to everyone for me and keep praying for me darling. Bye now.

Loving you always,

Edd
---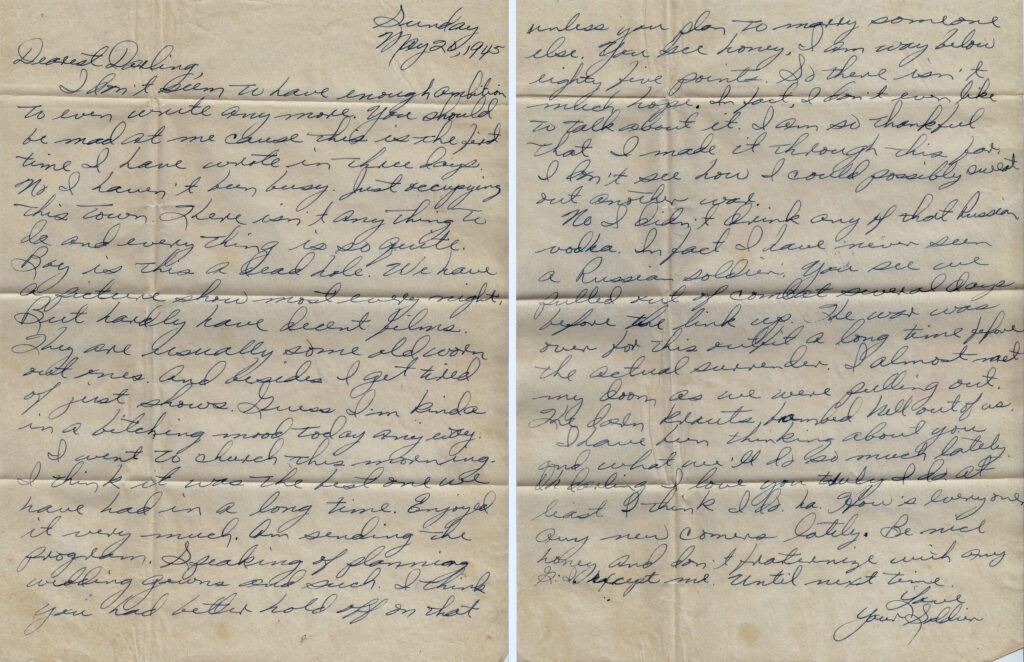 Letter 5.20.1945 (Courtesy Mark Hiett)
Sunday

May 20, 1945

Dearest Darling,

I do not seem to have enough ambition to even write anymore. You should be mad at me because this is the first time I have written in 3 days. No I have not been busy, just occupying this town. There is not anything to do and everything is so quiet, Boy this is a dead hole. We have a picture show most every night, but hardly have decent films. They are usually some old, worn out ones and besides I get tired of just shows. Guess I am in a bitching mood today anyway. I went to church this morning. I think it was the best one we have had in a long time. I enjoyed it very much and I am sending the program. Speaking of planning wedding gowns and such, I think you had better hold off on that unless you plan to marry someone else. You see honey, I am way below 85 points. So there is not much hope. In fact, I do not even want to talk about it. I am so thankful that I made it through this far, I do not see how I could possibly sweat out another war. No I did not drink any of that Russian vodka. In fact I have never seen a Russian soldier. You see we pulled out of combat several days before the link up. The war was over for this outfit a long time before the actual surrender. I almost met my doom as we were pulling out. The darn Krauts bombed the hell out of us. I have been thinking about you and what we will do so much lately. Oh darling I love you truly, I do. At least I think I do, ha. How is everyone, any newcomers lately? Be nice honey and do not fraternize with any G.I.s except me. Until next time.

Love,

Your Soldier
---
June 1945
18 June 45

Germany

Dear Bug,

This will be my last letter for a few days. We are going to move to a new location and I don't guess I'll have time to write for a couple days.

Today the most impressive thing happened to me. The Belgian government gave or rather presented that famous award to the 2nd Armored for the liberation of their country. I sent the paper to Pa so you can read about it. But today we staged the largest most perfect parade I have yet to see. If I was a news correspondent I don't think I could tell it good enough! The band played, had a thirteen gun salute, then, just as the Belgium fellow finished pinning the cord on an officer and the flag, thirty eight P47's came in one at a time just above our heads. There was one so low I think I could have touched it. Everything was very impressive. I saluted so many times my arm's sore. A company of armored cars, 2nd Armored, escorted the big shots with sirens wide open. That cord on my shoulder sure will look good. We are the only ones in the U.S. Army that has one of the such.

I know well what's always on your mind. When will you come home? I only wish I knew. There has been lots of rumors floating around. The only one that sounded reasonable was the one I've already told you, and I'm not sure about it. I'm always dreaming about going home. I guess someday I will. So we just got to sweat it out baby. I'm still looking forward to that letter telling me about your trip, or maybe you haven't got back yet. Nope I didn't get a single letter today and reading the paper didn't help. All those fellows going home and meeting their folks. Say couldn't you ever get me any film for my camera? I sure would have liked some pictures of that parade today. Well guess I've said all I know, except I love my beautiful darling. Bye now and be good.

Love

Edd
---
Read more about the Belgian fourragere here: Awards and Citations
---
---
---
July 1945

David E. (Edd) Hiett his buddy Mike (Michael) Mucha Berlin July, 1945 (Courtesy Mark Hiett)
---
August 1945
4 August 45 Berlin

Dear darling, I don't know no why I'm writing because I certainly haven't been receiving any. I can't quite figure it out. Guess everything is going to the Pacific. Kind of looks like I might have to go. So far I don't know. But from all indications it looks that way. Time will tell so don't do worry your pretty little head off. I am driving a 2 and a half ton truck now. Like it ok. Keeps me occupied. I don't have time to sit and think about home as in the office. Still raining here. Every afternoon we get a shower. Kind of like a habit or regular routine or something. Now what has my darling been doing for herself. Much excitement around the old home front lately? Yes I guess the Soldiers are pretty bad there. It's gonna be and hard on some guys when when they go back to civilian life. I guess they think the uniform authorizes them to do such things. What few that do those things sure make it tough for the rest of us. They completely ruin the name of our uniform. Well I am still getting plenty of smokes. A little beer now and then too. I am not gonna try to say how much I love you cause words can't. Here is a picture of me and Mike he looks older here. He is 38. Love your Edd.
---

Letter 8.26.1945 (courtesy Mark Hiett)
Sunday August 6, 1945

Germany

Dear Darling,

I got in last night from a five hundred mile trip. I am doing lots of traveling now baby, so I won't write as often. You asked what I hauled. Well supplies mostly, but this last trip was guys going home. I took my oldest and best buddies on this one. Dugan, Mike, Earl all the old ones. Sure is lonesome around here today. But I was proud to see them get to go home. The service stations are all operated by G.I.s all along the road. The Red Cross has coffee and donuts always. Things like this kind of help out on these long trips. We are getting beer in our P.X. rations now too. As a whole one might say things have improved for us here. Although I went to the kitchen when I got in last night, (hungry and tired), and couldn't get anything to eat. Lucky for me I'd been getting packages from you all.

I still haven't heard a thing about going home, as far as I'm concerned. No I don't think it will be sooner than December. You asked about our celebration of V.J. Day. Well honey the war had been over for us a long time ago. I got out of bed V.J. Day, turned on the radio and heard Peace. That's about all it was to it. Everyone knew at breakfast and were proud. But no shouting or such. We aren't hero's or such. The real ones are those still out there on the field. Yes they died with their boots on.

"I just heard that some of my buddies died in a plane crash on the way home."

The sun is shining today. Wish I were home with you baby. How's the fat? Honey I think you have matured more. Look more lady like and prettier and sweeter. You're my darling always.

Love

Edd
---
September 1945
---
---
November 1945