The portrayal:

2nd Armored, 17th Armored Engineer Battalion
17th Armored Engineers "We pave the way!"
On oktober 1st, 1933 the unit was initiated as the 17th Engineer Battalion (Heavy Ponton) Motorized.
Op 10 juli 1940 werd de eenheid toegevoegd aan de 2nd Armored Division en hernoemd naar 17th Engineer Battalion (Armored).Activated on 1 July 1940, as an organic part of the Second Armored Division on july 15th 1940 at Fort Benning, Georgia.
On the 10th july 1940 the unit was designated "17th Engineer Battalion (Armored)" under a Table of Organization that called for a Hq and Hq Company, three line companies, "A", "B", and "C", and a bridge company "D" with a Medical Detachment and Chaplain attached.
On july 15th 1940 assigned as an organic part of the Second Armored Division 1940 at Fort Benning, Georgia.
On January 8, 1942 the unit is designated 17th Armored Engineer Battalion. The 2nd Armored Division is led from April 1942 by the well-known Major General George S. Patton.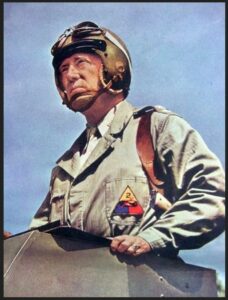 The 17th Armored Engineer Battalion plays an important role in all operations of the 2nd Armored Division. The Engineers made sure that the armored divisions and ground forces could move as quickly as possible. For this the Engineers had to make the roads passable, this is also the origin of the motto of the 17th Armored Engineers: "We pave the Way!" That meant clearing roads of debris, repairing damaged bridges, building temporary bridges, clearing and building minefields. But also blowing up obstacles and scaffolding and repairing railway lines, for example. This regularly under enemy fire, usually the Engineers are the first to endure the German counterattacks. The Engineers were extra trained to have skills for the various specialist assignments. Engineers could also be deployed as regular infantry units when the situation called for it.
Do you want to get a good impression of ​​what else Engineers do?
Then view the original 1944 film images in which everything is carefully explained!
ENGINEERS FILMREEL 1944:
Some original photo's van 17th Armored Engineers in Europa