Distinctive Unit Insignia van het 17th Armored Engineer Battalion
Wat is het?
De "distinctive unit insignia" (DUI) is een insigne waarmee onderscheid wordt gemaakt in militaire eenheden binnen het leger. Meestal is de vorm van een wapenschild, een kleur die de achtergrond van de eenheid benadrukt en een wapenspreuk. Het Amerikaanse leger heeft een afdeling "Heraldiek en Wapenkunde" welke de DUI samenstelt en toekent.
Binnen het leger wordt de DUI ook wel "crest" genoemd. Dit verwijst naar het bovenste gedeelte van de "Coat of Arms", een symbolisch klassiek wapenschild.
De distinctive unit insignia is oorspronkelijk goedgekeurd voor de 17th Engineer Battalion (Armored) op 19 mei 1941.
Beschrijving:
Een zilverkleuring en roodkleurig ge-emailleerd voorwerp, 2,86 cm in hoogte. Bestaande uit een wapenschild met een gepantserde handschoen die een verplaatsbaar brugdeel vastgrijpt.
Daaronder een zilverkleurig naamlint met daarin met rode letters geschreven "We pave the way" (wij plaveiden de weg).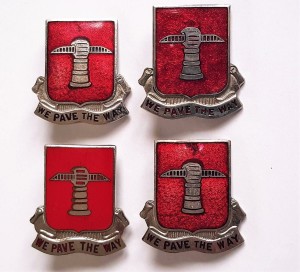 Symboliek:
Het schild is rood van kleur wat kenmerkend is voor de Engineers. De gepantserde handschoen staat voor de kracht en agressiviteit van de eenheid. Het verplaatsbare brugdeel verwijst naar de constructie onderdelen van de Engineers.