The story of Corporal (Ingve)Samuel (Sam) James Larson
A.S.N. 37284366
Company E, 17th Armored Engineer Battalion
Born: September 13, 1907
Deceased: June 5, 1985
---
The Diary from 1943 of Samuel James Larson
Diary that Corporal Samuel James Larson kept for a short period of time on the journey by ship from the Mediterranean Sea to England prior to D-Day
We have done research on all the information that Samuel wrote on his diary/ notebook. We managed to find some interesting new information and clues and can clearify why and what Samuel wrote these notes in his book.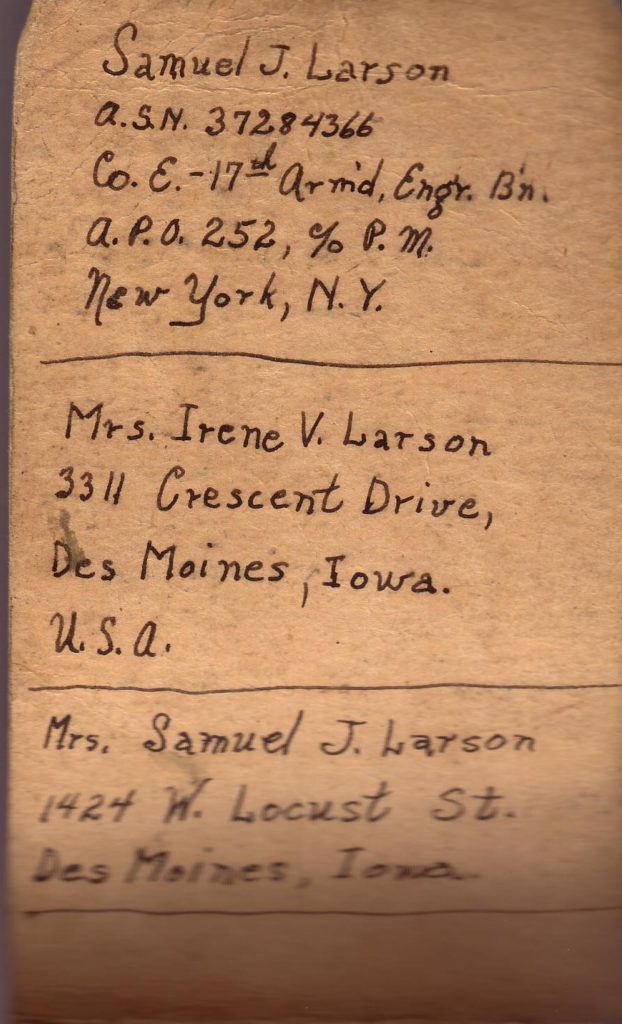 A.S.N. 37284366
Company E, 17th Armored Engineer Battalion
A,P.O. 252 P.M
New york N.Y.
This is the adress of the Army Post Office where people could send letters to Samuel Larkson
---
This is the street where Mrs Irene Victoria (Anderson) Larson house was in 1943
From the Diary:
Mrs Irene V. Larson
311 Crescent Drive,
Des Moines, IOWA
U.S.A.
---
This is the house of (probably) the parents of Samuel J Larson
(in the diary Samual wrote the adress of his home where he lived with his wife and we assume that he wrote the adress of his parents)
From the Diary:
Mrs Samuel J Larson

1424 W(est). Locust st. Des Moines,
Iowa
---
Diary from Corporal Samuel J Larson
from November 20, 1943 to December 5, 1943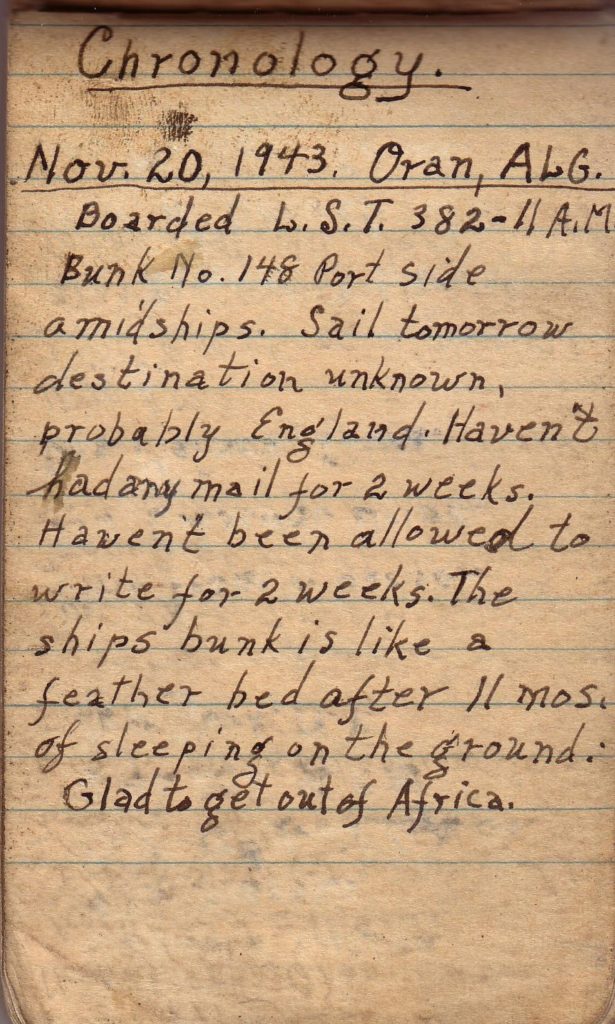 ---
The transcribed diary from Corporal Samuel J Larson from November 20, 1943 to December 5, 1943
Transcribed by Bas Dekker
November 20, 1943. Oran Algiers
Boarded LST 382 11AM. Bunk number 148 port side amidships. Sail tomorrow destination unknown. Probably England. Haven't had any mail for 2 weeks. Haven't been allowed to write for 2 weeks. The ship bunk is like a feather bed after 11 months of sleeping on the ground. Glad to get out of Africa.

November 21st 1943, Oran Harbor
Anchored outside breakwater. Scheluded to leave this evening. LST means Landing Ship Tank.

November 22nd. 7:15 AM leaving Oran. Rough Weather. Headed west towards Gibraltar. Joined convoy from Sicily 11:30 AM.
7:00 PM General Quarters alarm. Gunfire and flares to the east. All clear 7:30 PM

November 23rd. Rough weather & rain all last night. Clearing off this morning. Sighted land 1:00 PM. Sailing past Rock of Gibraltar – 5:50 PM Heading into Atlantic. 38 ships in convoy. Don't know where we are going yet, hope it's home.

November 24.
9 AM – sailing merrily along. Averiging about 6 miles per hour. Calm sea sighted another convoy 1:30 PM Joined convoy 5:00 PM. Sea getting rougher. About 60 ships now.

November 25 Thanksgiving day. Sea pretty rough pitching + tossing. 1:00 PM. Had a swell dinner, Turkey and all the trimmings. Best meal since I left States. 6 PM Sea still rough. Can hardly walk around. Our ship has coffin corner position in convoy. Our position about 500 miles West of Gibraltar. Will soon head North for England.

November 26 1:30 PM just started on new course. Heading due North. British isles bound.

November 27 8:00 AM sighted 2 English patrol bombers. General Quarters alarm at 10:15 AM. Subs in the vicinity. 2:30 PM Still alerted changed course to Northwest. Storm Brewing. Getting colder.

November 28 Hot time last night. First General Quarters alarm at 11:50 PM. Subs contacted. All clear at 12:30 AM. Second General Quarters alarm at 03:00 AM. Subs try to get in again. No dice all clear 4:15 AM. Third General Quarters alarm 7:00 AM All clear 7:30 AM. 3:00 PM One of our escort vessels reports that she sank a sub last night about 12 O'clock.

November 29 A real storm is brewing. The waves are breaking right over our ship. This boat is flat bottomed and not made for ocean travel. It's really taking a beat today. 4:00 AM Sea calming down a bit.

November 30 Sea is almost back to normal. Have about 6 more days of sailing before we expect to see land.

December 1 Running into another storm. This one coming in from the west. 5:30 PM Our 13 LST's split from rest of convoy. Now headed for invasion point in Southeast England. Only 80 miles from France.

December 2 Still fighting a bad storm. Mountainous waves breaking right over ship.

December 4 Four days of violent storms. Not far from England now.

December 5 Expect to dock at Plymouth around noon. Pretty cold. 5:00 PM Entering Plymouth harbor. Pretty big town. Several British battleships and cruisers anchored here. Tied up to bouy number 2 inner channel at 6:35 PM.
---
12-2020
Headquarters 2nd armored division

public relations sections

12th October 1944

EXPLANATORY NOTE:

The following articles were sent for publication to the United States by the United press and associated Press following the release of The Division from the breakthrough at St. Lo to September 2. Between them the two press associations cover every daily newspapers in the United States.

By Henry Gerrell
United cross war correspondent

FIRST UNITED STATES ARMY, October 4, 1944 – "the galloping ghost" of the allied forces – The second armored division — is now operating in the first army area "somewhere in Germany."

It was this outfit that made headlines under the ambiguous term "American Armor" in the dash through France intro Belgium. Covering 60 miles in three days, the Division took Reavais and Montdidier in Northern France, smashing enemy armor and motor transport which ran unexpectedly into steel fist.

The division hit the Belgian frontier September 2, 1944, at 9:30 a.m. and streaked toward Tournai. Reconnaissance units of the Division were in Tournai some hours before it was officially announced that American units were in Belgium.

On enemy column destroyed just outside Orchies, France, by tank and small arms fire alone numbered 165 vehicles. It has tried to slip through between combat command but was caught on a smooth straight highway and hacked to pieces on all sides.

It was also revealed today that the Second Armored Division, which is known to the Germans as "Roosevelt's Butchers", snapped shut the outer ring of the Falaise-Argenten pocket when it swung northward to capture the Ferry Crossing at Elboeuf, just below Rouen, on august 26. At the time, the capture of Elboeuf was hailed as a tremendous Canadian victory but the Second Armored then under wraps as a ghost force, demanded and received a memorandum receipt for Elboeuf before turning the town over to the Seventh Canadian brigade, which subsequently entered the town from north.

The memorandum receipt was conceived as a means of preventing later historical arguments as to who took what, and is a prized possession of the Division Hostorian.

In the Elboeuf offensive, the second Armored, during the period from August 20 to 26, destroyed 93 tanks.

The division disappeared August 1 after the famous St. Lo breakthrough. Through a narrow corridor between Mortain and the sea, the Division slipped southward and then swung east to Domfront, thereby flanking six German panzer divisions, which at that time were attempting to cut through to Avranches and sever the American First and Third armies. Constant pressure and continual flank attacks by the second Armored Division prevented the most powerful German counter-attacking force since D-Day from knifing through Mortain to the sea.

When the counter-offensive failed the remnants of the German Panzer Divisions fled toward the Falaise-Argentan gap, the Division again outsmarted the German High Command by racing, not for Falaise, but for Elboeuf ont the Seine. In the offensive from Domfront to Elboeuf, the Division traveled 150 miles in 12 days. In its wake it left a trail of death and carnage wherein elements of the German Second SS Panzer Division, 116th Panzer Division, 17th Ground Air Forces Division, 344th infantry Division, as well as many smaller units were destroyed. It crossed the Seine in the vicinity of Mantes-Gassicourt on August 20 and has been dark horse ever since.

By Don Whitehead

Associated Press War Correspondent

SECOND ARMORED DIVISION HEADQUARTERS, OCOTOBER 4 (AP) – When this battle stained division rolled in a Dutch town, the foreman of a coalmine called at headquarters to express his appreciation for liberation.

"The Germans didn't leave us much to give you, but we wondered of your soldiers would like to use the showers of the mine?", he asked. "They sure would," replied the Commanding General, and since then thousands of boys have had hot baths.

Sergeant Waldo B. Tinloy, 1206 Peach Tree Street, Atlanta, Georgia, wiped the soap from his eyes and said, "It's been a hell of a long time since I've seen anything like this. My last real bath was in England before the invasion. We've been moving too far too fast to even wash our faces most of the time".

That's literally true, as this Armored Outfit, which has been rolling hard since the breakthrough at St. Lo, has been helping in the mighty drive of the First Army through France, Belgium and Holland.

The second Armored Division is the most experienced Armored Division in the United States Army with three campaigns behind it – North Africa, Sicily and France. It was the Second Armored Division which swept across Sicily with the Third Infantry Division to capture Palermo.
---
The canteencup that Samual Larson engraved with all the places he went by during his tour through Europe
Corporal Samual Larson had engraved the names of all the places that he went in World War Two. You will notice that on the bottom it says "Irene", which is the name of his wife, also deceased. When she gave the cup to her grandson in 1986, the first thing he did was pop the handle up, revealing her name which the handle had hidden. She immediately got tears in her eyes. She knew he had engraved the cup, but she had no idea he had engraved her name on it. She had never seen it with the handle popped up.
The locations that are engraved in the canteen cup: Casablanca, Rabat, Port Lyauty, Fedala, Meknes, Fes, Sidi Bel Abbes, Oran, Mers El Kebir, Arzew, Mosta ganem, Tlemcen, Bougie, Taza, Guercif, Port Au Poule, Tunis, Djedeida, Ferryville, Bizerte, Sedjenane, Mateur, Beja, Souk El Arba, Tabarka, Ain Draham, Bone, Constantine, Affreville, Morrocco, Algeria, Tunisia, Sicily, Normandy, Germany, Wales, England, France, Belgium, Holland, Mons, Albert, Canal, Vire, Falaise Gap, Evreux, Uback, Roer River, Maastricht, Omaha Beach, Carentan, and St Lo.
---
Notes made during his service in the ETO
Corporal Samuel Larson was Driver of the Halftrack named "Ellen", it seems like he was responsable in a way as he wrote the ammount and type of ammonition that should be carried "On Person" and for the "truck".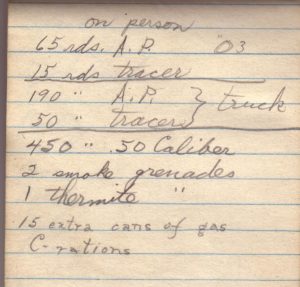 From the notebook:
On person

65 rds (rounds) A.P. (armored Piercing) "03 (the caliber)
15 rds (rounds) Tracer (round that leaves a licht trail in the air)
————————————————————————-
Truck
190 "(rounds) A.P. (Armored Piercing)
50 " (rounds) Tracer (round that leaves a licht trail in the air)
————————————————————————-
450 " (rounds) .50 caliber (for the heavy Machinegun .50)
2 smoke grenades
1 thermite " (grenade)
15 extra cans of gas (gasoline)
C-rations (cans of rations with army food)
---
Note with the names of the men he served with in E Company.
We see some names numereous times in the note book, we know that Rice was the "assistent driver" and that Samuel Larson was the "Halftrackdriver" of the same halftrack, named "Ellen"
The list below with the names have a link to the findagrave webpage if available
Adase
(this is Joe Adase. Link to webpage)

Lavassar
(no further information)

Strickland
(no further information)

Larson
(this is Corporal Samuel Larson)

Rice
(Rice is the Assistant Driver in the halftrack besides, Corporal Samuel Larson who was the Driver)

Smith
(we know three "Smith"s who served als 17th Engineers in ww2, not one of them was in E company)

Quinn
(Another note of Samual Larson mentoined that he lives in Robstown, Texas)
(Unconfirmed information, Staffsergeant Rhea Royall Quinn, ASN 38159848 link to webpage)
(see the Robstown Record (Newspaper) – November 8, 1945, Robstown, Texas)

Borree
(This is "Raymond L. Borree". Link to webpage)

Dolce
(no further information)

Browne
(no further information)


---
Note he made about the Brockway named "Ellen" with the cargo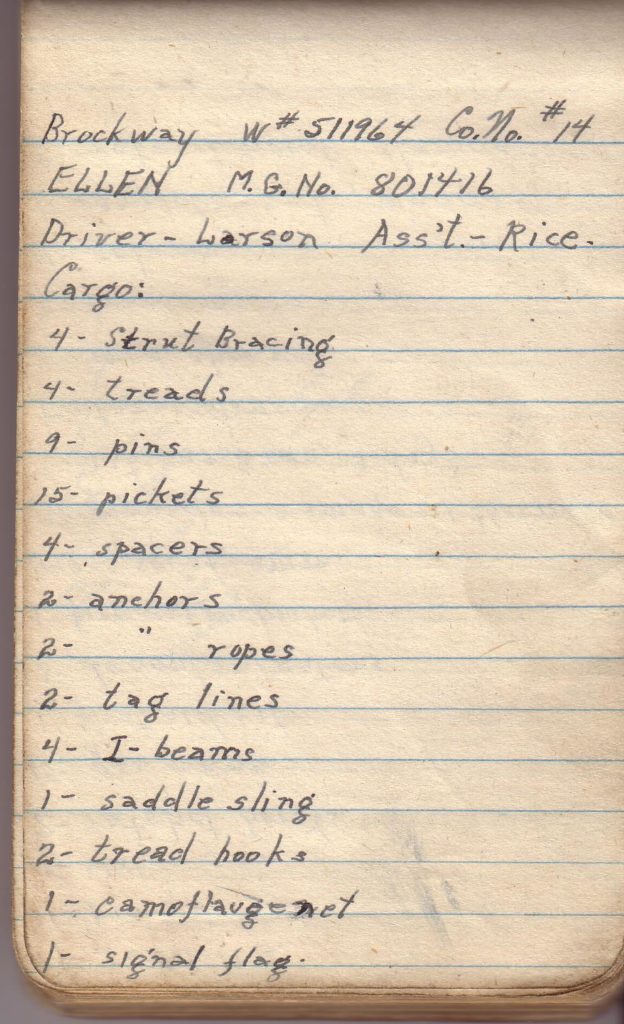 Brockway W# 511964 Co. No 14
ELLEN M.G. No 801416
Driver – Larson
Ass't – Rice
Cargo:
4 strut bracing
4treads
9 pins
15 pickets
4 spacers
2 anchors
2 " ropes
2 taglines
4 I beams
1 sadle sling
2 tread hooks
1 Camoflage net
1 Signal Flag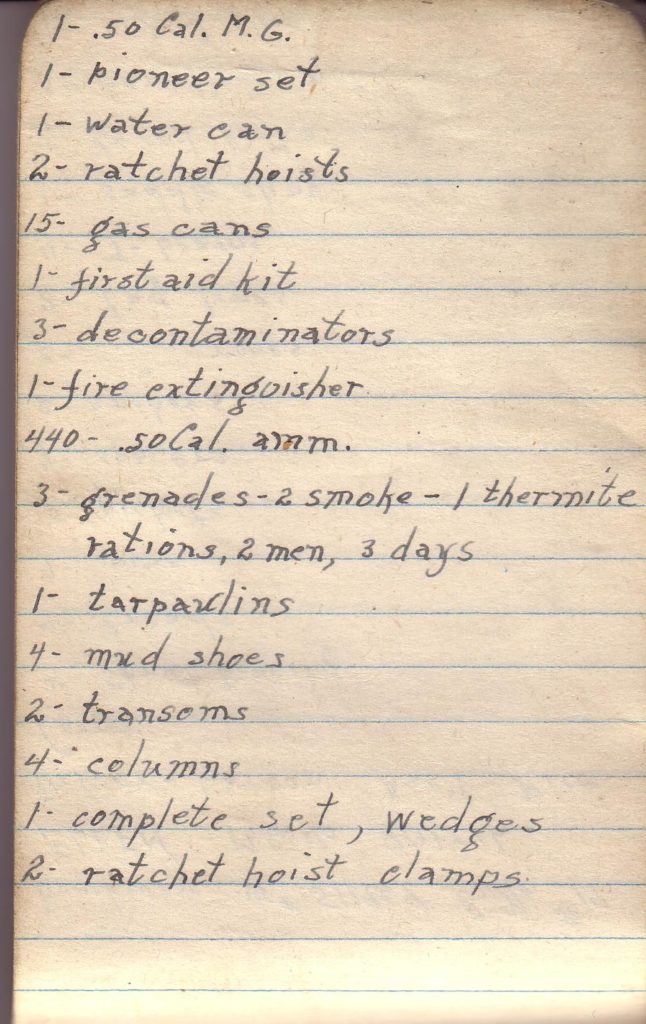 1 .50 Cal. M. G.
1 pioneer set
1 watercan
2 rachet hoists
15 gas cans
1 first ais kit
3 decontaminators
1 fire extinquisher
440 .50 cal. amm.
3 grendes – 2 smoke – 1 thermite
rations, 2 men, 3 days
1 tarpaulins
4 mud shoes
2 transoms
4 columns
1 complete set, wedges
2 ratchet hoist clamps
There is an photo reportage about the 17th Armored Engineer Battalion from E company as Wesel, Germany. It happens te be that the Brockway that Corporal Samuel Larson wrote about in his notebook can be seen on one of those pictures. The name given to the Brockway is "ELLEN" from E company 17th Armored Engineer Battalion. With the vehicle number # 511964 that correspondes with the note the Corporal Larson made.
On the night of 23 March, Company E and C of the 17th Armored Engineer Battalion,
part of U.S. 2nd Armored Division, constructed treadway rafts to prepare the crossing of the Rhine River about five kilometres south of Wesel.
Bridge construction started at 9:45am and by 4:00pm the first truck crossed the floating Pontoon bridge.
Over 1,152 ft (351 m) of M2 treadway and 93 pneumatic floats were used in just six hours and fifteen-minute construction project,
record setting for the size of the bridge.
It took twenty-five 2-and-a-half ton GMC CCKW trucks to transport the bridge parts to the construction site, part of the Red Ball Express
(Source photos and text: from the facebook page of Paul L James – Historian)
(Edit 1: For more information see the full article about the Treadway bridge across the " Rhine" on 23 March 1945 near Spellen, Germany)
Read more about the building of the treadway bridge in the unit history "Phase I – Bridging the Rhine – 24 March 1945"
---
Another note with the names (probably of the men he served with in E Company)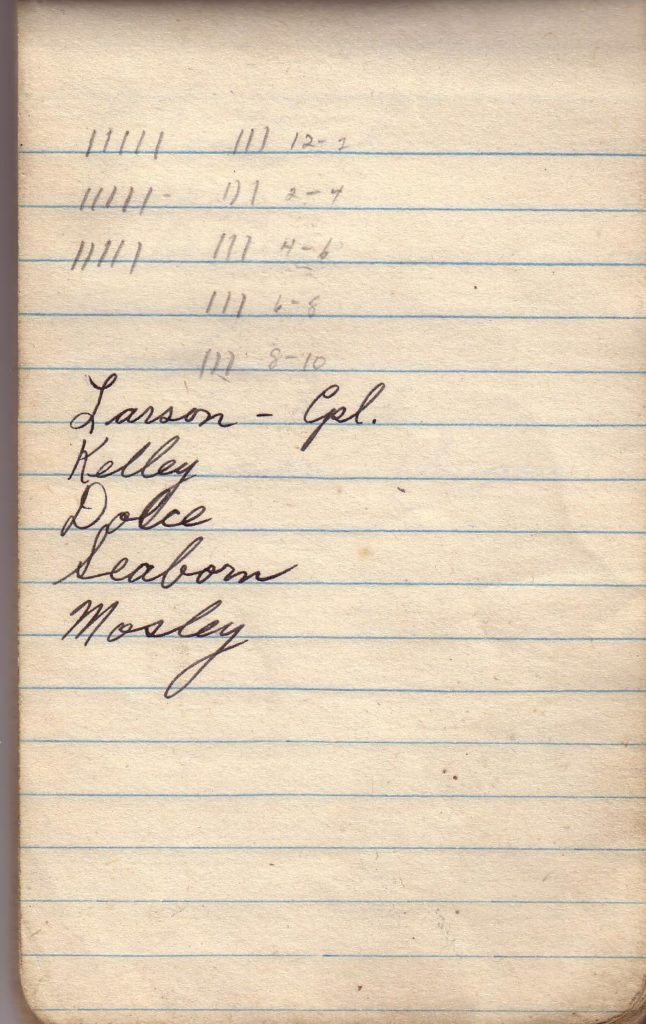 The list below with the names have a link to the findagrave webpage if available
Larson – CPL
(this is Corporal Samuel Larson)


Kelley
(no further information)

Dolce
(no further information)


Seaborn
(no further information)


Mosley
(no further information)
---

Note he made during his R&R in Amby, Maastricht, Holland
We know that the 2nd Armored Division were at : Rest & Recreation" for some weeks around Maastricht. In the unit History is also mentioned that the Engineers were billeted in the houses of civilians who were very kind to "their" soldier. From letters of several "17th Engineers we know that there were new friendships made.
The most logical explanation of the adresses of houses in Maastricht is that Corporal Samuel Larson was billeted at these familys.
The "Hoofdstraat" was renamed on may 25th 1970 to the new name "Ambyerstraat Zuid".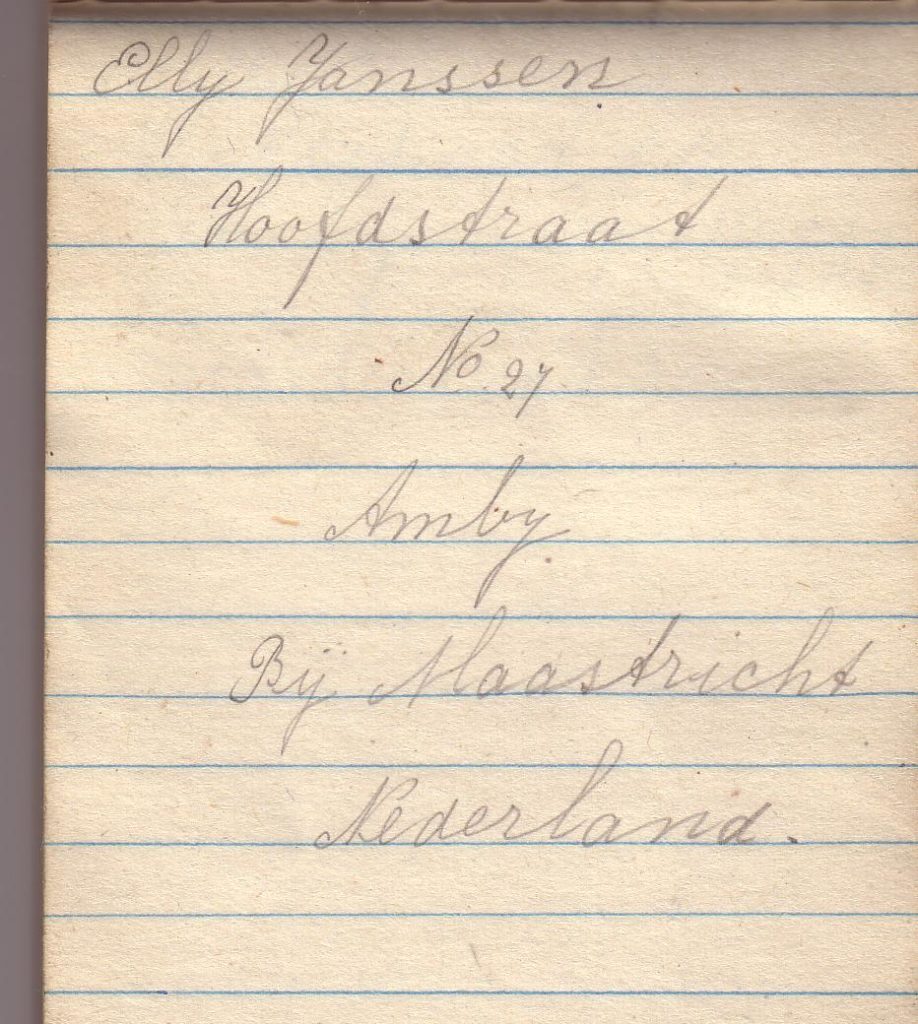 Elly Janssen

Hoofdstraat

No. 27

Amby

Bij Maastricht

Nederland.
---
Hoofdstraat 54

Amby (Bij Maastricht)

(Nederland)
---
Note with hospitals in Holland, England and the United States
The list of Hospitals that Samuel Larson wrote in his notebook seems to be the hospitals that he visited as a patient. He must have been wounded seriously because he was sended back, from Holland to England and finaly back to the States. It is very interesting to see how many hospitals he visited, what an enormous organisation that must have been.
He probably was wounded badly and by the time was healed the war must have been over.
Because the Evacuatoin Hospitals move frequently we know that he was wounded between early October 1944 and 16 november 1944.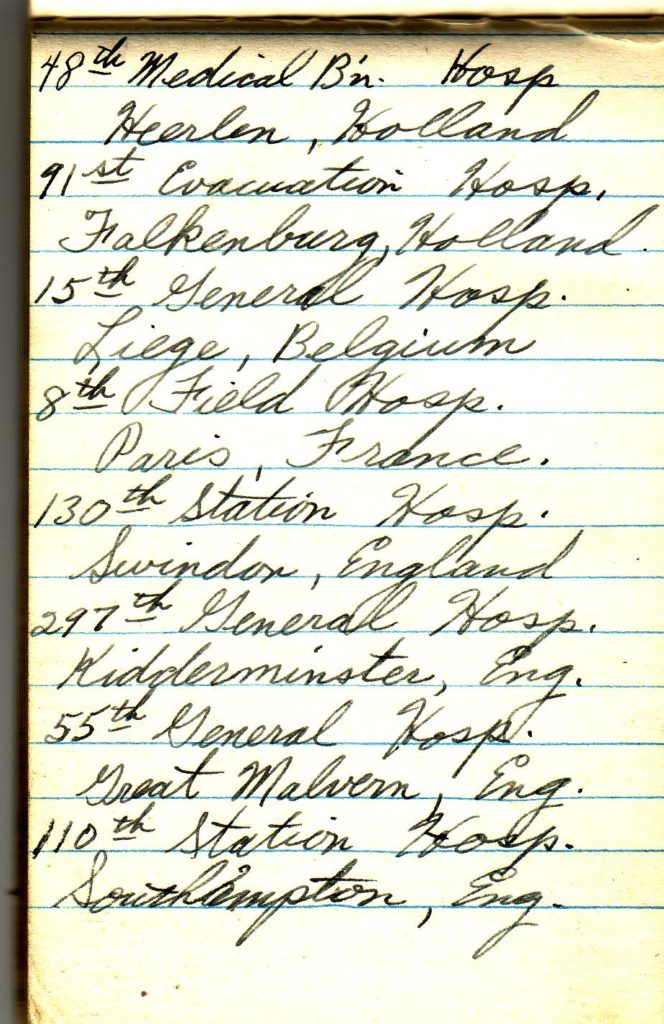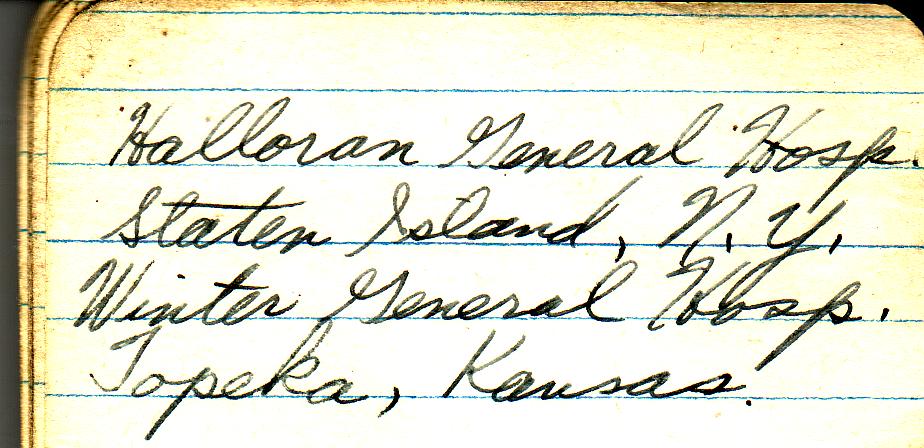 Transcribed text
(Transcribed by Bas Dekker)
48th Medical Battalion hospital
Heerlen, Holland
91st Evacuation Hospital
Falkenburg, Holland
15th General Hospital
Liege, Belgium
8th Field Hospital
Paris, France
130th Station Hospital
Swindon, England
297th General Hospital
Kidderminster, England
55th General Hospital
Great Malvern, England
110th Station Hospital
Southampton, England
---
The hospitals analysed that Corporal Corporal Samuel J Larson visisted
48th Medical Battalion Hospital
Heerlen, Holland*
*(The 48th Medical Battalion was of the 2nd Armored Division, the same unit that the 17th Engineers were in.
The 48th probably took him to the 111th Medical Battalion, Evacuatoin Hospital in Heerlen.
The 111th Medical Battalion, was billeted in the "Gasthuisstraat 21 " and that was the former "St Claracollege" te Heerlen with an Evacuation Hospital
91st Evacuation Hospital
Valkenburg, Holland
(The 91st was housed in the "SS HitlerJugend Reichshule"in Valkenburg en received the first patients on 1 October 1944
and departed for Germany on 16th November 1944 between this period Samuel Larson was in this hospital. More information: on this page)
The Reichshule was established in the former "Jezuïetenklooster" Kloosterweg 34 in Valkenburg. More information: on this page)
15th General Hospital
Liege (Luik), Belgium
Corporal Samuel J Larson was transfered to the 15th General Hospital Liege (Luik), Belgium, earlyer than the 16th November 1944.
The 15th General Hospital had two locations but we know for sure that he went to the first location, Abbey of the St. Lawrence of Liege.
The hospital moved to the "Fort Citaldelle" in Liege after the first lokation was hit by flying V1 bombs on 24th of november 1944, with heavy casualties.
Link for more information about the 15th General Hospital.
The 15th General Hospital, Hospital Plant # 4345, opened in Liège, Belgium, in a former Belgian military hospital on 21 September.
After arrival in the city of Liège, the men were quartered in luxurious modern houses and hotels, while the site for the hospital proper was situated on top of a coronary hill, called Saint-Laurent, the 1000-bed 15th General Hospital finally opened in Liège, Belgium on 21 September 1944 in a former Belgian Military Hospital. Source: med-dept.com.
8th Field Hospital
Paris, France
The 8th Field Hospital was stationed in "Le Bourget" France (Advanced Landing Ground built around the current French airfield in the northern outskirts of Paris) it was operational from 29 Aug 44 – 1 May 46. That would be the period that Corporal Samuel J Larson billeted in this hospital. He was in this hospital as preperation to be flown to England, located bear the Airfield.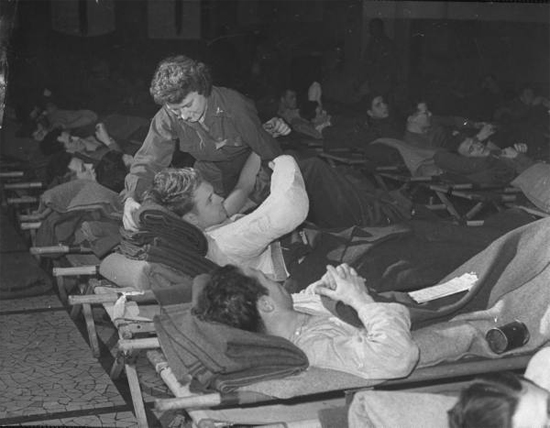 130th Station hospital
Swindon England
Corporal Samuel J Larson was in the US 130th Station Hospital as first location after being flown in to England. This was only a temporary Hospital, he was then sent further for recovery.
The US 130th Station Hospital had officially opened at Chiseldon Camp on 03 October 1943, with most of its early patients suffering from training injuries, but in June 1944 the hospital became a key location for the handling of casualties arising from the D-Day landings. It was a transit centre, receiving casualties evacuated directly from the battle zone, either by rail or on USAF Dakotas via airfields at Blakehill near Cricklade, Lyneham, Down Ampney and Broadwell Membury, all in England. Nowadays there is nothing left of Chiseldon Camp. (Source: swindonweb.com)
297th General Hospital
Kidderminster, England
In this hospital Corporal Samuel J Larson must have done some recovering but for unknown reason was again tranferred to he next hospital.
The 29th General Hospital was near Kidderminster, at a place called "Camp Bewdley". It was an area with more camps named "Burlish Camp", more info here.
It opened on 17th July 1944 and closed on 29th June 1945, it could handle a total of 1442 patients. (Source: http://burlishcamp.co.uk)
The campsite is now a being build on but the nearby Rifle Range of that camp still is there.
55th General Hospital
Great Melvern, England
In this hospital we think that Corporal Samuel J Larson worked on his recovory unstill he was stable enough to be flown back to the States.
The 55th General Hospital was assigned to the hospital site located at Malvern Wells, Worcestershire, England during WW2. Five General Hospitals had been established (see Blackmore Park in World War Two) in this immediate vicinity, all within a radius of two miles. The 55th General Hospital had a position a little higher than three of the others on the slope leading up to the Malvern Ridge, whose highest point is 1,395 feet above sea level. The site occupied half of the Worcestershire golf course, reducing it to a nine-hole capacity. The view out over the valley below & across to the Bredon Hills was as beautiful & impressive as that of the steep ridge to the west which towered above. (Source: 55th G.H Archives.)
The exact location of the 55th General Hospital is "Wood Farm or Malvern Wells, Malvern, Worcester, England.

110th Station Hospital
Southampton, England
After being stable enough Corporal Samuel J Larson was transported to the 110th Station Hospital, a temporary place from where he woulb be shipped over to the States.
In a formal ceremony on 19 May 1856, Queen Victoria participated in the laying of the foundation stone for the "Royal Victoria Military Hospital" (RVMH), commonly referred to as Netley Hospital. Sixty miles northeast of Netley, England the normally tranquil Bushy Park was being transformed into a military camp. By early 1944 it was converted into Camp Griffiss, the Supreme Headquarters of Allied Expeditionary Forces (SHAEF). From there, General Dwight Eisenhower directed Operation Overlord, the code name for the Allied forces assault on German occupied north-east Europe. The American forces needed a hospital to serve as a primary site to deal with the expected influx of casualties. RVMH was in the right place to serve one of its last major roles in its long history. By mid January 1944, RVMH was transferred to the U.S. Army to establish the 28th U.S. General Hospital at Netley, which would become U.S. Army 110th Station Hospital, occupying a single story building on the northern side of the property. By February 1944, the main building of RVMH was occupied by Base Hospital 12 U.S. Navy. (Source: http://hekint.org)
Here is a videolink of the History of the hospital.
The Chapel is the only part left standing of the Royal Victoria Military Hospital, the rest was demolished after a big fire in the 1960's.

Halloran General Hospital,
Staten Island, New York, USA
The Corporal Samuel J Larson was probably trasported from on ot the hospital ships to the Halloran General Hospital, near the harbor on Staten Island. And then moved to the last Hospital in Kanses.
The Halloran Hospital at Willowbrook, Staten Island, was an so called Port and Debarkation Hospital, it had to recieve large numbers of transients; troops awaiting shipment overseas, or returning from overseas, as well as patients being returned to General Hospitals in the Zone of Interior for further treatment. During 1942, and also in 1943, special Port Staging Area Hospitals were constructed for the care of transient troops and local personnel. These medical installations differed mainly from local Station Hospitals, because of their limited personnel and services, such as surgery, which was only set up to cope with possible emergencies. (Source: www.med-dept.com)
Also known as the Willowbrook Institution, it was built in 1942. Although it was originally meant to be a facility for disabled children, it spent it's first few years as a Army hospital. In 1947, it was finally opened as originally planned, and the institution was then named the "Willowbrook State School". Throughout the years, the school faced tremendous problems including lack of funding and understaffing, leading to absolutely deplorable living conditions for the increasing population of children. This led to a notably controversial study that caused a public outcry. People said that the place was nothing more than a warehouse for disabled children, abandoned by their families or the city's foster system itself. A class-action lawsuit was filed against the Institution and a settlement in the case was reached on May 5th, 1975. Finally, the state announced that they were planning on closing the school and the last children left the building on September 17, 1987. Read more here. The main building was eventually demolished to wipe out the bad remories of the Instition. The related building ar still in use as College School, suprisingly enough.
Location of the former Halloran Hospital and Willowbrook State school, now a college campus
Winter General Hospital
Jopeka, Kansas, USA
The last hospital that Corporal Samuel J Larson visited was the Winter General Hospital Jopeka, Kansas, USA where he eventually should be recoverd to some point.
The hospital was one of the oldest Hospitals dating back to the Civil War. Read more about the history of the hospital here.
---
Note of an adress, likely of another 17th Engineer from his unit named "Pierson"
---
Machinegun number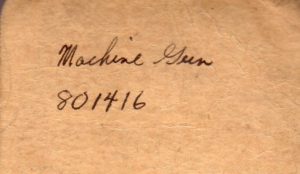 Machine Gun
80146
(This could be the .50 Heavy Machinegun weaponnumber of the .50 that was mounted on the Halftrack. For some reason it was neccesary to know the number of the weapon of your vehicle, that could be when the weapon was at maintanance section)
---
Note of clothing items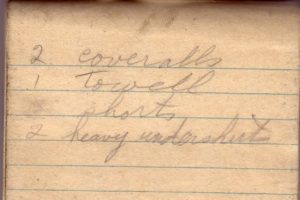 2 Coveralls

1 Towell

3 shorts

2 heavy undershorts
---
Note in the dairy of CPL Larson with family adresses for sending letters overseas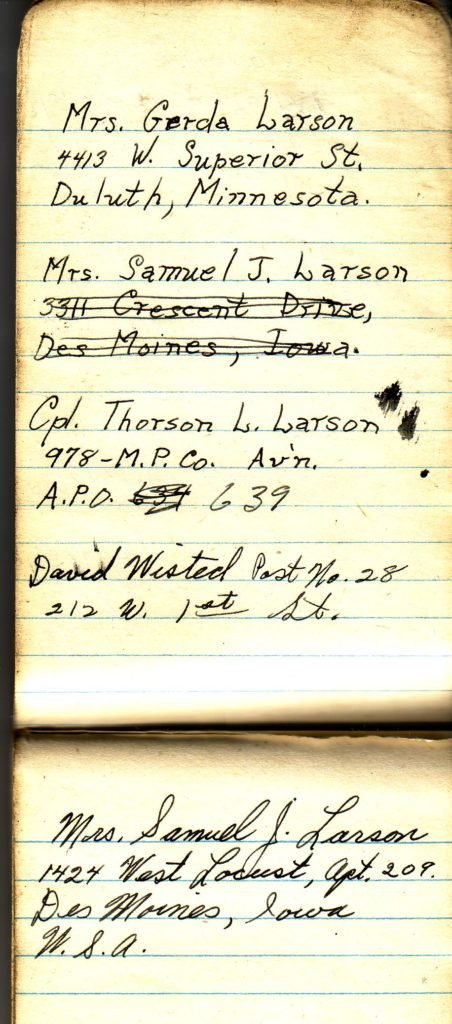 ---
Note in the dairy of CPL Larson with adresses for sending letters overseas, for friends?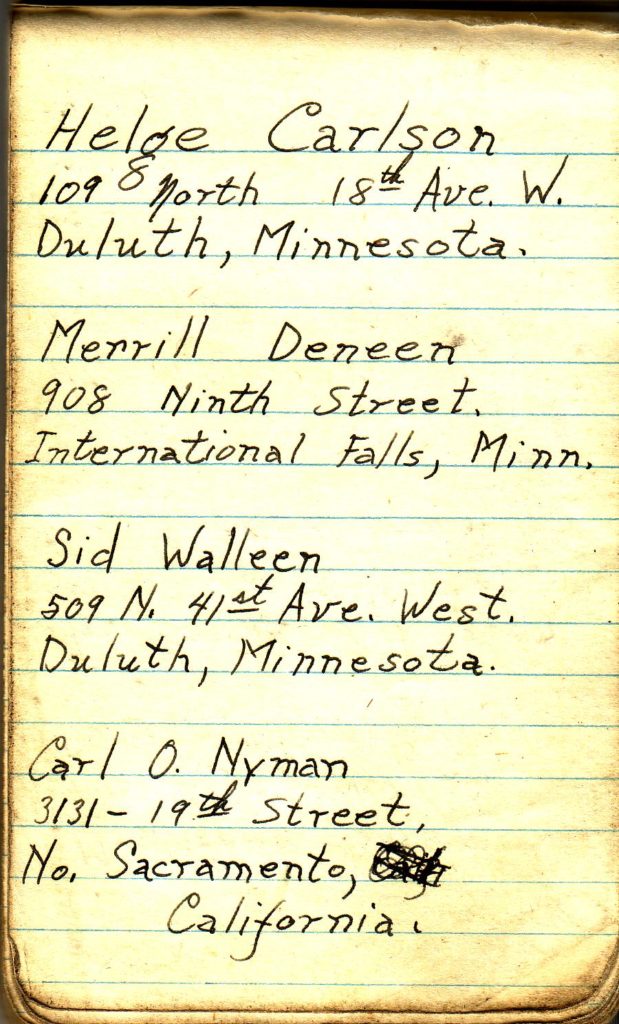 ---
Note in the dairy of CPL Larson, with names of French towns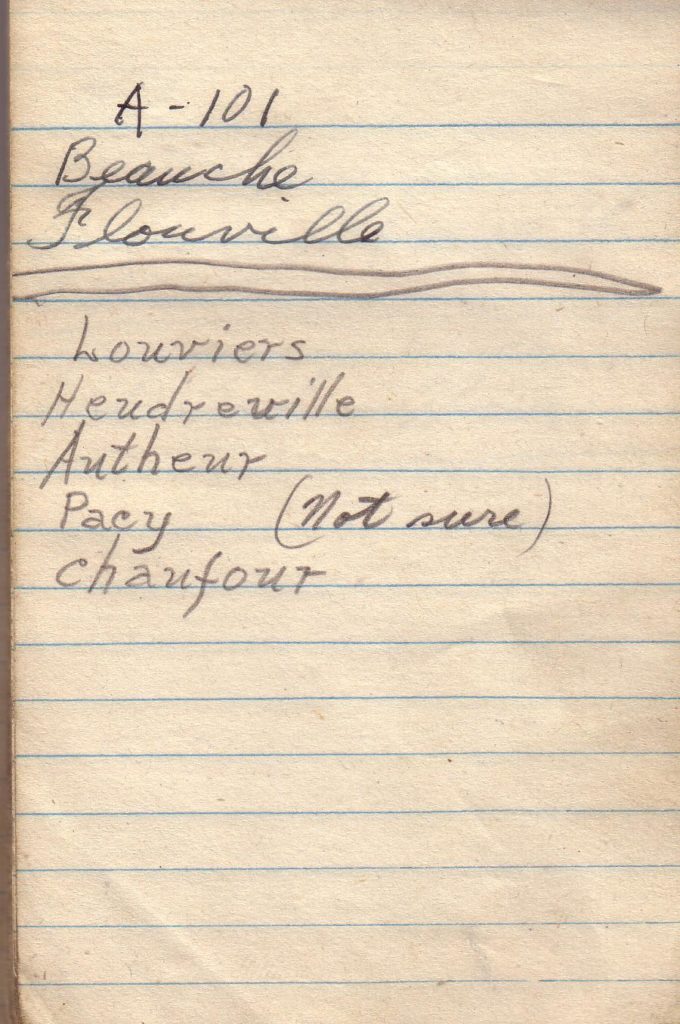 Beauche (France)
Flouville (France)

Louviers (France)
Heudreville (sur-Eure, France)
Autheur (Autheuil-Authouillet, France)
Pacy (sur-Eure, France)
Chaufour (Chaufour-lès-Bonnières, France)
This is the route E-Company had driven between august 18th and august 27th 1944, capturing Elbeuf, on the 26th and moved on to Pacy-sur-Eure where a couple of days where spent re-equipping. (Source: Unit History 17th Armored Engineer Battalion)
---
Note in the dairy of CPL Larson, with Payment information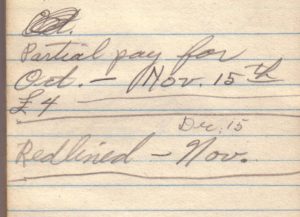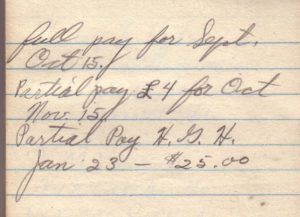 ---
Note in the dairy of CPL Larson, with names and adresses. Soldiers from his unit or friends?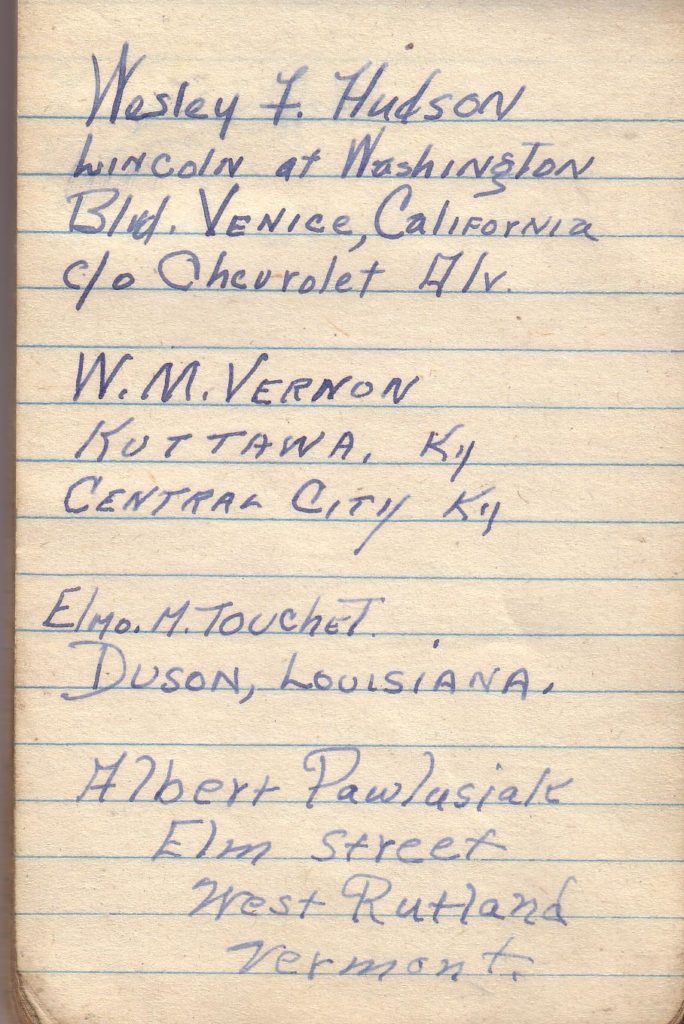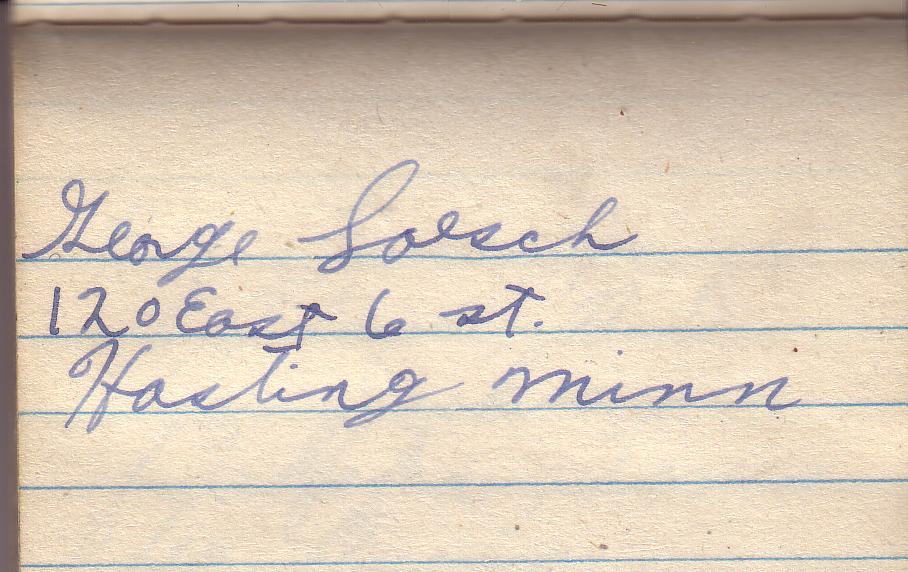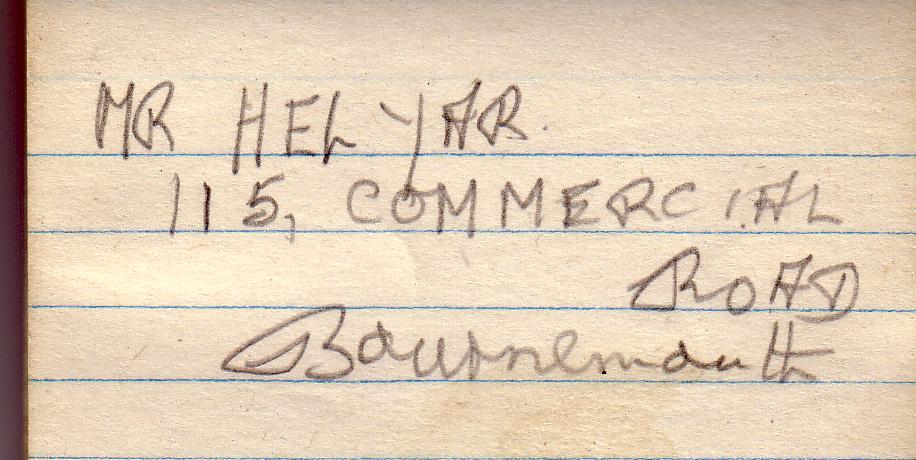 ---
Note with the names of the men he served with in E Company.
We see some names numereous times in the note book, we know that Samuel Larson was the "Halftrackdriver" of the same halftrack, named "Ellen"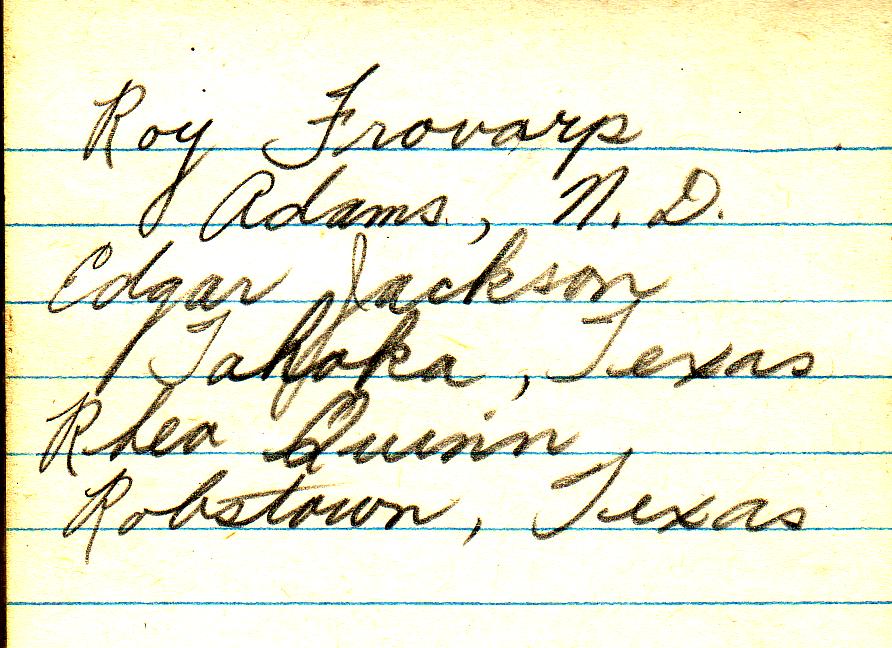 Roy Frovarp, Adams, North Dakota
(This is Roy B. Frovarp ,link to webpage)
Edgar Jackson, Tahoka, Texas
(Unconfirmed information: Edgar Eugene Jackson, link to webpage)
Rhea Quinn, Robstown, Texas
(Unconfirmed information, Staffsergeant Rhea Royall Quinn, ASN 38159848 link to webpage)
(see the Robstown Record (Newspaper) – November 8, 1945, Robstown, Texas)
---
Relics CPL Samual Larson took back to the States after the war
---
Birth
Ingve Larson (original first name, later changed to Samuel James)
Sep. 13, 1907
Duluth
St. Louis County
Minnesota, USA
---
| | |
| --- | --- |
| Name | Ingve Larson |
| Event Type | Census |
| Event Date | 1920 |
| Event Place | Duluth, St Louis, Minnesota, United States |
| Gender | Male |
| Age | 12 |
| Marital Status | Single |
| Race | White |
| Race (Original) | White |
| Can Read | Yes |
| Can Write | Yes |
| Relationship to Head of Household | Son |
| Relationship to Head of Household (Original) | Son |
| Birth Year (Estimated) | 1908 |
| Birthplace | Minnesota |
| Father's Birthplace | Sweden |
| Mother's Birthplace | Sweden |
| Sheet Letter | B |
| Sheet Number | 5 |
Household

Role

Sex

Age

Birthplace

John Larson
Head
M
45
Sweden
Gerda Larson
Wife
F
39
Sweden
John Larson
Son
M
19
Sweden
Thor Larson
Son
M
16
Sweden
Hannah Larson
Daughter
F
15
Sweden

Ingve Larson

Son
M
12
Minnesota
Jennie Larson
Daughter
F
10
Minnesota
Ruth Larson
Daughter
F
9
Minnesota
Eleanore Larson
Daughter
F
6
Minnesota
---
US Sensus 1940
| | |
| --- | --- |
| Name | Samuel J Larson |
| Event Type | Census |
| Event Date | 1940 |
| Event Place | West Point Judicial Township, Calaveras, California, United States |
| Sex | Male |
| Age | 32 |
| Marital Status | Single |
| Race (Original) | White |
| Occupation/ Industry | Truckdriver/ Construction Material |
| Relationship to Head of Household (Original) | Head |
| | |
| Birthplace | Minnesota |
| Birth Year (Estimated) | 1908 |
| Last Place of Residence | Duluth, St Louis, Minnesota |
---
Family Samuel J Larson
Nels John Larson (1874 – 1936)
Gerda Wilhelmina Swenson Larson (1881 – 1960)

Spouses:
Loiz Arlee Little Roznovsky (1908 – 1975)
Irene Victoria Anderson Larson (1908 – 2002)* Link: more info on Irene V. Larson
Children:
David Allan Larson (1928 – 1979)*

Siblings:
Thorson Lars Larson (1903 – 1969)*
Hannah Elizabeth Larson Nyman (1905 – 1968)*
Samuel James Larson (1907 – 1985)
Eleanor Grace Larson Walleen (1913 – 2005)*
(there are more siblings named in the 1920 Sensus)
---
Burial:
Death: Jun. 5, 1985
Peoria
Maricopa County
Arizona, USA
---
Link to the "Findagrave" page: Samuel Larson
---
Research © by: Martijn Brandjes
Text © by: Martijn Brandjes
Photos © by: William Erickson